Trying to decide between the 20ft and 40ft container for your shipments? In this blog, we'll help you choose the right size for your cargo. Also, find out how to get 20ft and 40ft units at the best prices on the Container xChange platform. 
20ft and 40ft containers are two of the most commonly used container types and sizes in the industry. They're suitable for transporting all kinds of dry cargo. 
However, choosing between them can be tricky. Before making this decision, it's important to know the container dimensions, capacity and cost of each size. Luckily, with Container xChange, comparing prices is a quick and easy task. 
We're a shipping container marketplace with over 50,000 containers available in 2,500+ locations worldwide. What's more, all of our members are vetted, so you can rest easy knowing you're working with reputable suppliers. 
Read on to learn how to select the right container size to ship your cargo, at a price that suits your budget.
20ft and 40ft container dimensions and weight capacity
First things first, let's look at the standard 20ft and 40ft container dimensions and weight. You can then compare this with your cargo load to see which one best suits your needs.
| | | |
| --- | --- | --- |
| | 20ft dry container | 40ft dry container |
| Internal length | 5.9m / 19.4ft | 12.03m / 39.5ft |
| Internal width | 2.35m / 7.8ft | 2.4m / 7.9ft |
| Internal height | 2.39m / 7.9ft | 2.39m / 7.9ft |
| Payload capacity | 25,000 kg / 55,126.9 lbs | 27,600 kg / 61,200 lbs |
| Cubic capacity | 33.2m3 / 1,172 cu ft | 67.7m3 / 2,389 cu ft |
If neither of these sizes fits your cargo requirements, don't worry. You can always opt for the 40ft high cube shipping container. High cube containers have the same dimensions as their 40ft counterpart, but with an extra foot of height. Perfect for packing in more cargo, or moving taller shipments. Curious about other varieties? Learn more about the different shipping container sizes now. 
Now that you've got the basic measurements, it's time to find out why 20ft and 40ft dry van  containers are so sought after. 
Why is the standard 20ft and 40ft container size so popular?
Standard shipping containers (also known as dry containers) are popular due to their simplicity and versatility. 
You can transport a wide variety of dry cargo in this container type, including:
Because of their standard size, simple design and strong steel frame, standard dry containers are also easy to stack on ships.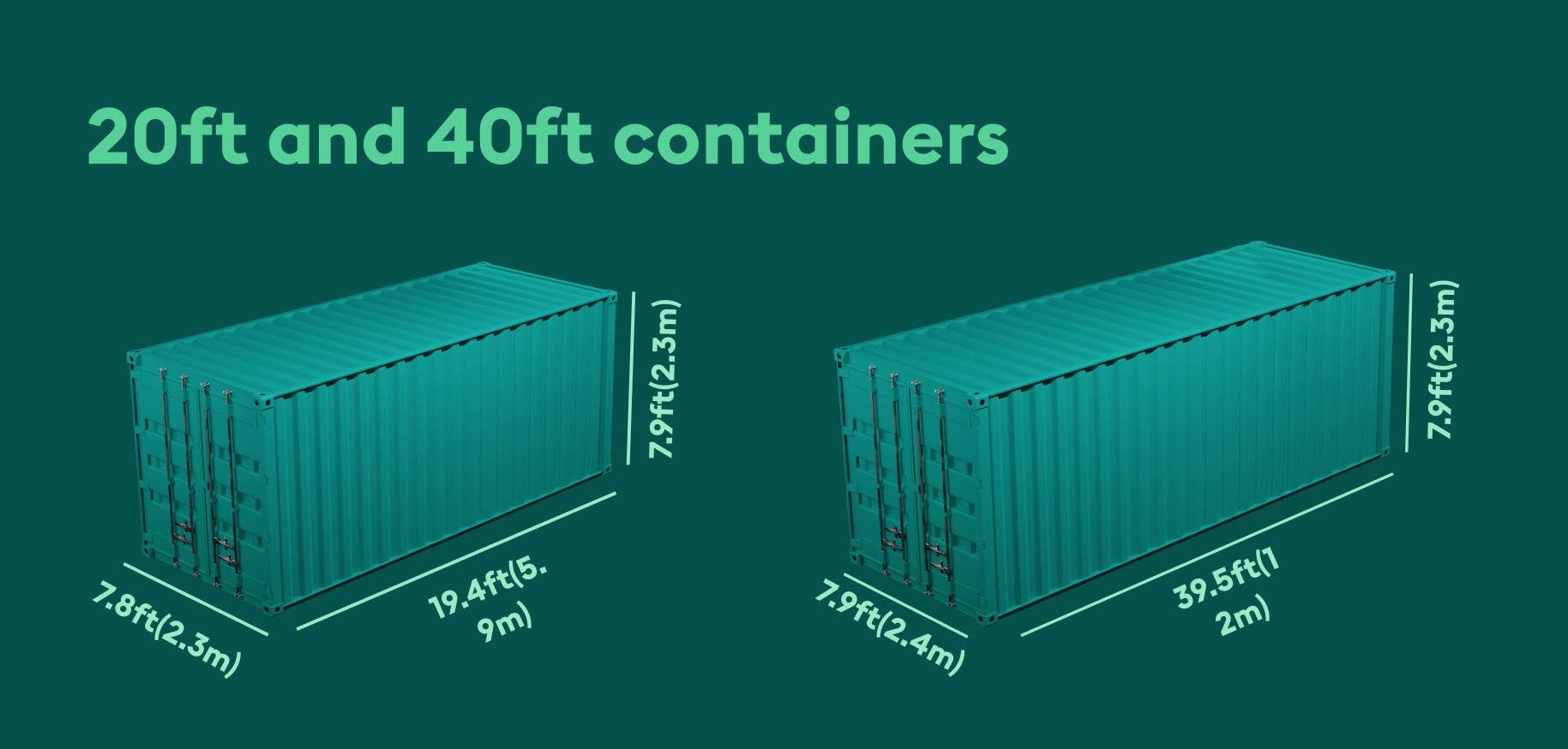 What's more, the 20ft shipping container is called a Twenty-foot Equivalent Unit (TEU). It is used as the standard unit of measurement in the shipping industry.
Cargo volumes, as well as the capacity of vessels and ports are usually measured in terms of how many TEUs they can hold. The 40ft container is known as the Forty-foot Equivalent Unit – abbreviated to FEU. 
How much can you fit in 20ft and 40ft containers?
So you've seen the dimensions and weight capacity, but you might still be wondering; what exactly can you fit into each container size? In a 20ft container you can fit:
The contents of a 3-bedroom house 
10 pallets (each carrying 60 boxes)
In a 40ft container you can fit:
The contents of a 5-bedroom house
2 to 4 cars (depending on the size of the cars)
20 pallets (each carrying 120 boxes)
Please note that these are estimated cargo amounts and not exact figures.
If either 20ft or 40ft containers sound like the right fit for your shipment, you can browse container offers right now.
On Container xChange you can choose from 50,000+ containers available from vetted suppliers. So what are you waiting for? Simply input your location and the container you want, then press 'search' to browse and compare offers today.
0 sales offers found
Currently no match for your search
Change your search criteria or fill out the form below to get notified via email when there is a new match for you on xChange!
Gate-buy
How much do 20ft and 40ft shipping containers cost? 
If you're interested in finding out about the prices of standard containers, here's how much you'll shell out for cargo-worthy containers in popular locations:
| | | |
| --- | --- | --- |
| Region | 20ft dry container (USD) | 40ft dry container (USD) |
| North America | $1,310 | $1,615 |
| India | $883 | $1,600 |
| China | $1,040 | $1,428 |
| Northern Europe | $850 | $1,050 |
As you can see from the above prices, generally speaking, the 40ft container is only around 30% more expensive than the 20ft – for double the capacity! So if you need to transport larger loads, opting for one 40ft instead of two 20fts is going to save you a lot of cash. 
20ft vs 40ft: How to choose the right container for your cargo
Choosing between 20ft and 40ft containers comes down to two main factors: The container price and your cargo volume.
Price:

If we compare prices, the 20ft container is cheaper than the 40ft. However, if you need more containers for larger shipments, it doesn't make sense to simply use more 20ft containers. As we saw in the price section above, 20ft containers may be half the size, but they're not half the price, so you won't be saving opting for the smaller size. It only makes sense to opt for the 20ft if you've got small shipments.
Cargo volume:

If your cargo load is larger, on the other hand, it's best to opt for the bigger container size. You'll be able to pack in more cargo, for only around 30% more than you'd pay for a 20ft. Do take into account, however, that larger containers will be more expensive to store, as they take up more space.
Now you're fully equipped to make a decision between 20ft or 40ft containers. You just need a platform where you can buy containers at competitive prices, from reliable suppliers. Click the banner below to find container deals from vetted partners on xChange today.

3 things to keep in mind when choosing a 20ft and 40ft container
Before you go ahead and start looking for 20ft and 40ft units to purchase, here are a few important things to keep in mind:
Size of the shipment
You'll need to make sure you know the exact dimensions and weight of your shipment before deciding on the container size you need. You don't want a situation where you buy containers only to discover that all of your cargo doesn't quite fit, or there's too much space left in the container.
Shipping container insurance
Unfortunately, containers get damaged, dropped and even fall off ships. To cover yourself in these situations, it's best to organize container insurance.
Luckily, with the xChange Insurance Manager, it's quick and easy to get insurance on all of your units. Covering your bases will protect you from the unexpected financial difficulties that may come with container damage or total loss. 
Other shipping costs
Besides the size of the shipment, cost of insurance and the price of the containers themselves, you'll also have to keep in mind the following charges, among others: 
Ocean freight costs:

These are charged per container, and are calculated from loading at the port until discharge at the destination port.
Terminal handling charges:

THCs

are charged by both the load port and discharge port, to cover the costs of handling containers, including storage.
The agreement between you and the carrier/shipping line/freight forwarder will determine who pays each charge.

How to buy shipping containers from trusted suppliers
Now that you know all about the 20ft and 40ft dry containers, how to choose the right size for your shipment, and the average prices in different regions, it's time to find out how to get containers for yourself. 
Decide on the container size and condition
Once you've decided between the 20ft and 40ft shipping container, you'll also need to choose the condition you prefer. This will depend on your budget as well as what you're shipping. 
Browse container offers to find the best deal
Next, hop onto Container xChange to start browsing available offers that fit your criteria. You'll be able to compare multiple deals all in one place to select the one that best suits your needs.
Negotiate the price with the supplier
When you've found the container offer that works for you, it's time to negotiate the price and discuss the finer details of the sale directly with the supplier. You heard right – no fuss, no middleman!
Make safe payments with the xChange Wallet
Now it's time to pay for your containers. If this part leaves you feeling anxious, you can finally put those concerns to rest. With the xChange Wallet, all payments are 100% safe and secure. Plus, keep track of all of your transactions in one place – so convenient! 
Sounds easy right? Then it's time to become a member of Container xChange. You'll get to enjoy the following benefits:  
Choose from 100,000+ container offers
Check the reviews and ratings of all members before deciding who to work with
Work with 1,500+ vetted partners in one place
100% payment protection every time you trade containers
Want a personalized tour of our trading marketplace? Then click the banner below now to set up a free demo with one of our experts. You'll be buying 20ft and 40ft shipping containers at the best prices for your budget in no time at all.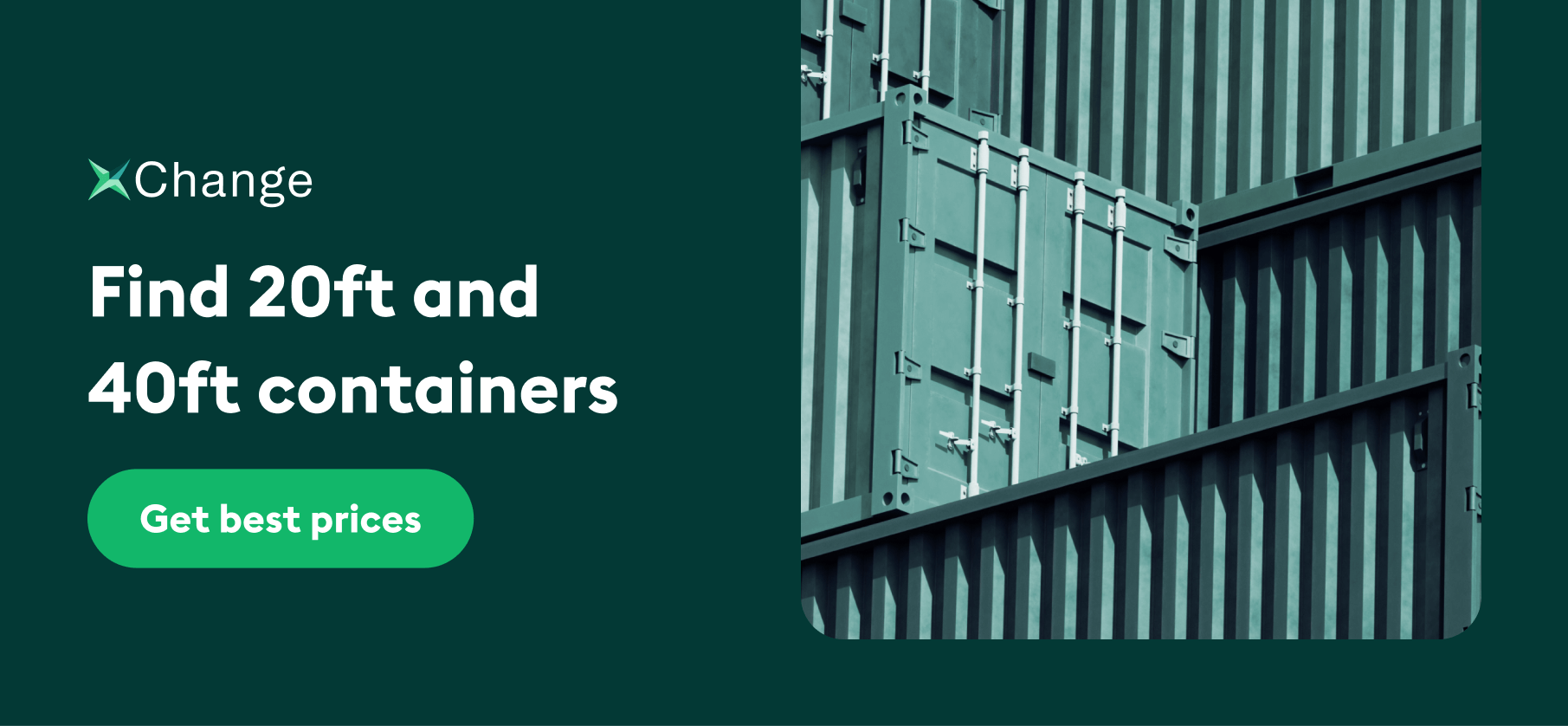 How big is a 40ft shipping container?
A standard 40ft shipping container has an internal height of 7.9ft (2.3m), an internal width of 7.8ft (2.3m) and an internal length of 19.4ft (5.9m).
How much does a 40ft container cost?
A 40ft container in cargo-worthy condition costs anywhere between USD $1,300 to $2,500. The price depends on a variety of factors such as location, supply and demand and the market situation.
How much does a 20ft container cost?
A 20ft container in cargo-worthy condition costs between $800 and $1,600. The price depends on the location, supply and demand, and age of the container.
Summary
Article Name
20ft and 40ft container: Guide to uses [+ Best prices]
Description
If you're looking for a 20ft and 40ft container, this blog is your complete guide. Plus, buy them at the best prices on Container xChange.
Author
Publisher Name
Publisher Logo