Empty container transport is an industry-wide challenge. It's an expensive affair and increases your company's carbon footprint. To overcome these hurdles our blog is here to help you with ways in which you can save costs and reduce your empty container transportation.
There are millions of containers making trips all around the world every year. But so many shipments spell trouble in some cases. At times, after the cargo has been unloaded at the destination, the empty container is left sitting there for many days or even months collecting expensive surcharges.
This happens when there is a surplus of containers in one place and a deficit in the other. This is because of an import and export imbalance (i.e., one place has more exports than imports and vice-a-verse).
Now to have these empty containers repositioned takes up a lot of money, especially in certain ports like India. But we know a way to help you save on these unnecessary expenditures. If you already know what empty container transport is, you can skip the next section below and scroll down to how we can help you save money with transporting empties right away.
Else, you can continue to read the section below.
What is empty container transport?
An empty container is exactly what it sounds like. Empty containers are shipped when they're in places that have a surplus of containers. You as a container owner can also decide to move your empty containers, simply if there's a lack of network at the location.
An example:
Exports are shipped from Germany to India. The export exceeds the imports. Therefore, Germany doesn't have enough containers coming back (deficit of containers). When the containers arrive in India, cargo is discharged and the empty containers pile up at the ports since the import here exceeds the export (surplus of containers). Sitting in port they collect surcharges such as:
Handling charges at terminals and port
Port storage and maintenance at warehouses
Inland transportation
Seaborn repositioning
All these costs plus the cost of moving the empty container back to Germany make empty container transport an expensive practice.
Have a look at how the container transportation chain looks like below: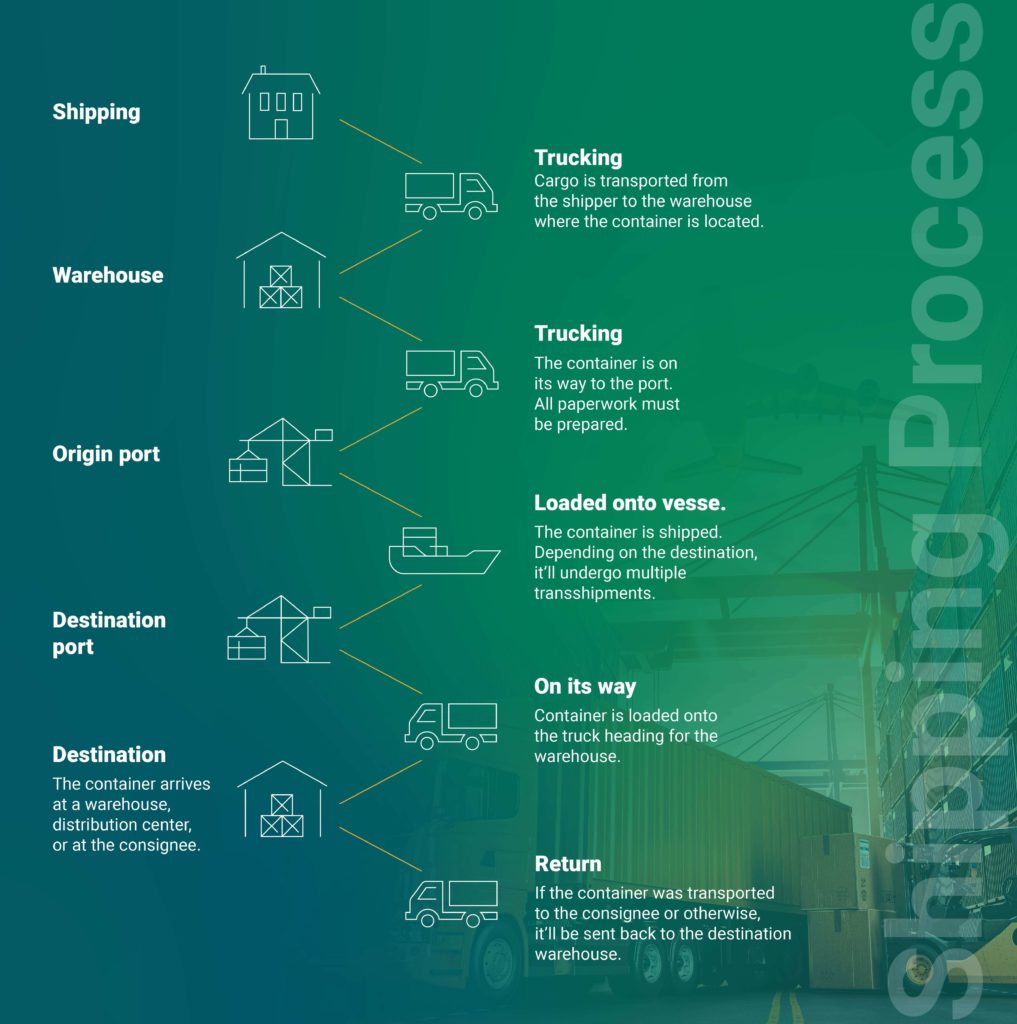 How xChange can help you curb costs related to empty container transport
Container xChange can help you to move your empty boxes to your desired destination cutting out all the above surcharges. How? Well, by one-way leasing.
What is one way leasing? With one-way leasing, you use the container only one way e.g., Germany to India.
If you're a container user, you can find one-way containers easily on Container xChange and get your cargo moved to its desired location by paying the usual consignment charges. And as a container supplier, you can use our platform to lease your box for that one journey. This is without incurring the costs of empty container repositioning and other port surcharges. It's a win-win for all parties involved.
And once you have the cargo moved, you can sell the container again on our platform at a good price and help in repositioning them!
With one way leasing, the advantages you get apart from avoiding repositioning costs are:
Lower insurance costs
Decreased risk of accidents
Lessens your chances of cargo being robbed or stolen
Are you ready to save hundreds of dollars in repositioning your empties? Then let our expert team help you every step of the way. We have something for the container user and the container owner to help simplify their work.
If you're a container user our team can show you our marketplace in action and help you connect with 1000+ vetted members who are ready to lease their containers one-way! Negotiate great deals that suit your budget at your fingertips. And source your box from our list of 10,000+ boxes in 2,500 locations worldwide. You get the most competitive market prices with zero hidden fees.
If you're an owner, we can find you a trusted and certified user to move your box for you one way. You can automatically update your one-way offers easing your manual load and finding new partners.
Get on the one-way leasing adventure today and see how much you can save up every month on container surcharges. Click the banner below to get started.

How much will it cost you?
Phew! You've found a way to avoid the costs that come with empty container transport. Now, here's a quick but clearer picture of how much money you'd actually be saving for your company with one way leasing.
Every year the global fleet of shipping containers makes more than 200 million trips worldwide. But the hard fact is every third container being moved is empty. It's no surprise then that every year empty container transport costs the industry more than $60 billion. A whopping cost that's equivalent to over 12% of the operating costs for shipping lines – yikes!
You don't have a thing to worry about though because we've got your back.
Empty container transport management made easy with Container xChange marketplace
Imagine you have 100 containers stuck in India. Now, a container user is interested in using your boxes to ship cargo to Shanghai. The user leases your containers one way. You get your container moved for free without having to deal with the administrative hassle of figuring out slots on the vessel, trucking, and so on. And they get their cargo moved too.
With Container xChange, you get this advantage by sitting behind your computer screen and scrolling through container users interested in moving your containers for you. All these container users are already vetted, so you know they're trustworthy. On one hand, they are able to reach out to you directly if they're interested in your offer. You'd, on the other hand, be able to see peer reviews from former partners – and see whom they've worked with so far. This increases trust and partnership in the long run.
If you see a company you like, you can send them a message and negotiate terms like free days and per diem. All are based on the industry standard contract you've all filled out beforehand — making your negotiations smoother and your work faster.
After that, you can stay up-to-date on the whereabouts of your one way boxes with automated container tracking.
The user has 10,000 boxes to choose from at competitive prices with no hidden fees. And 1000+ vetted credible suppliers to make negotiable deals with our market price transparency.
So, as you can see our online neutral platform, makes it easy for container owners and users to find trustworthy one-way partners. So go on and click our banner below to let our team give you a hand with your empty container transport.

Empty container transport: Common FAQS
What is empty container shipping?
The empty shipping containers are loaded with a new batch of cargo and shipped from the port to their new destination. They are shipped to their new destination sans cargo due to empty shipping repositioning. Or, they get piled up at depots and ports.
What is empty container repositioning?
Empty container repositioning refers to moving empty containers from an area with a surplus of containers to a location with a deficit. For container owners, empty container repositioning has a substantial economic downside. Every year, moving empty containers costs the industry more than $20bn.
What are empty containers?
An empty container is exactly what it sounds like. Empty containers are shipped when they're in places that have a surplus of containers. You as a container owner can also decide to move your empty containers, simply if there's a lack of network at the location.
Where are empty containers stored?
A depot serves as a temporary storage facility for shipping containers until it's time for the reloading cargo.
Summary
Article Name
High prices of empty container transport [+how to save money]
Description
Find out how you can save money on expensive empty container transport charges by reading our blog to start saving today.
Author
Publisher Name
Publisher Logo