Shipping emissions contribute to climate change by producing greenhouse gasses. Read this blog to find out ways in which IMO and the shipping industry are working to curb these emissions.
What you'll learn:
Avoiding empty shipping repositioning can reduce shipping emissions.
Shipping produces 940 million tonnes of CO2 annually, which is 2.5% of global GHG.
IMO has drafted a framework to reduce GHG emissions called Initial IMO GHG Strategy.
EEDI promotes the use of energy-efficient engines and equipment.
How to avoid empty shipping repositioning with xChange.
Shipping emissions are a long time cause of concern for environmentalists. The vessels are heavily dependent on fossil fuels — producing harmful greenhouse gasses (GHG). These emissions contribute to the rising temperatures, and eventually to climate change.
Thankfully,  there are ways in which we can cut down emissions. If you're wondering what you can do, then we have a solution for you. Don't worry —  we'll not ask you to stop shipping! Just to avoid empty container repositioning.
Believe it or not — you can cut down the shipping emissions by organizing better. When you avoid moving empty containers, you lessen the shipping industry's environmental burden. You're preventing the unnecessary burning of fossil fuels.
With xChange, you put an end to empty container repositioning by leasing out your boxes for one-way use.
On our online marketplace, you can easily connect with verified shippers to lease your boxes. This way, you'll earn while you move your container, and also prevent unnecessary shipping emissions.
Interested to give it a try? Use our public search to find shippers today. Just select the 'I want to supply' option and enter your pick-up and drop-off locations. Start now!
Impact of shipping emissions on climate change 
Shipping emissions are, in fact, a serious problem. You know by now that shipping emissions are mainly GHG. These harmful gasses — including carbon dioxide (CO2) — are directly responsible for triggering climate change.
In fact, you'd be surprised to know that the shipping industry produces 940 million tonnes of CO2 annually, which is 2.5% of global GHG. Let's try to understand how big this number is.
If you're shipping from China to Europe, you're producing 1.913 kg of CO2 per container. If 20,000+ TEUs per vessel are moved on almost 90,000 cargo ships annually, the amount of CO2 produced will be overwhelming.
We can't stress enough on how severe the climate impact will be. If left unchecked, such carbon emissions can increase by 50-250% by 2050, according to an International Maritime Organization (IMO) study.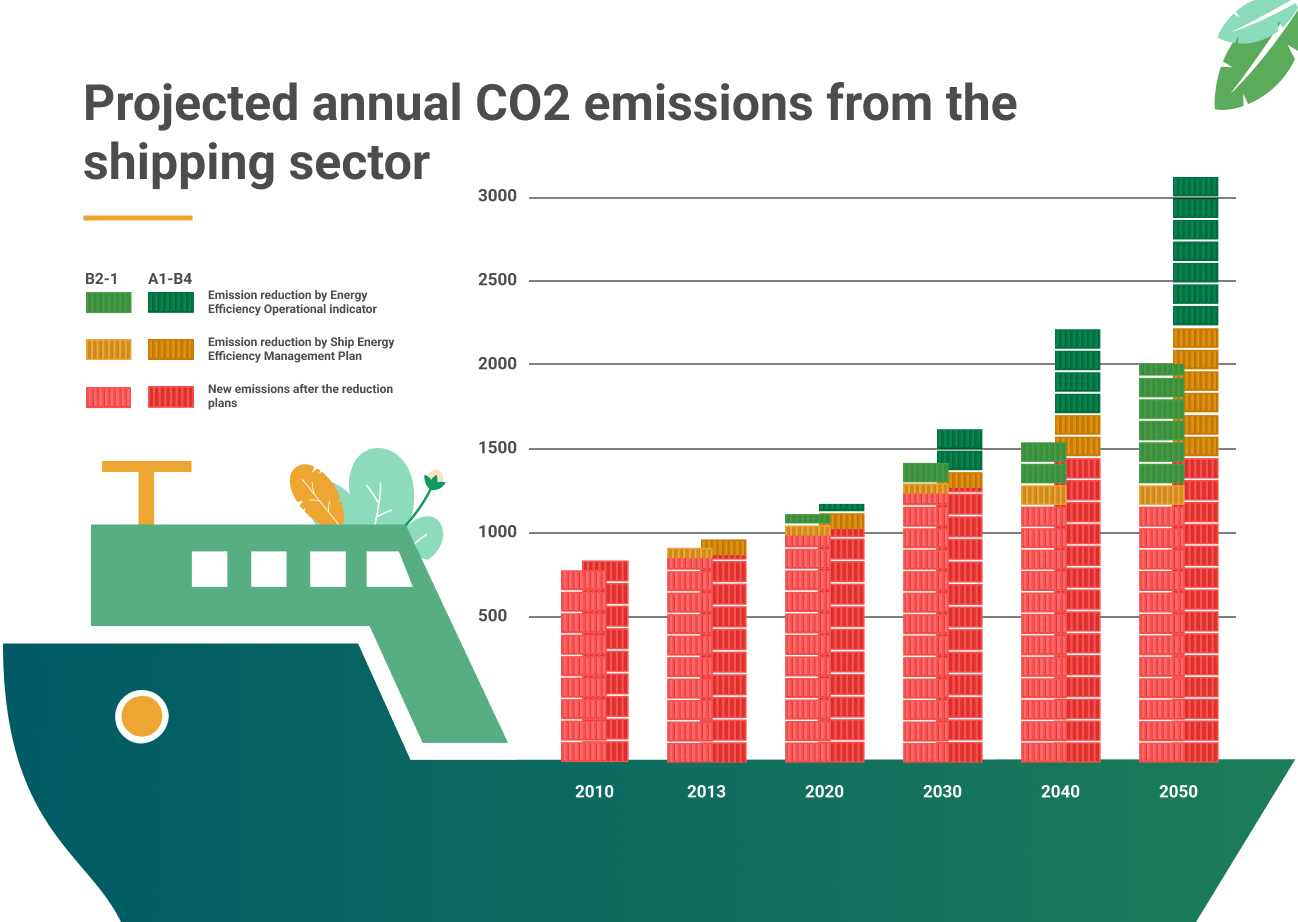 At present, the IMO is undertaking measures to prevent shipping emission-induced climate change. One of the important steps taken by IMO is to draft the Initial IMO GHG Strategy. Let's look at it in detail.
Initial IMO greenhouse gas strategy 
In 2018, IMO drafted a framework to reduce GHG emissions in international shipping. This framework is called the Initial IMO GHG Strategy.
The strategy has two objectives to help achieve the temperature goals set by the Paris Agreement.
Reducing the total annual GHG shipping emissions by 50% by 2050 as compared to 2008 levels.
Phasing out the shipping emissions as soon as possible in this century.
You must be wondering if it's as easy as it sounds. The objectives set out by the strategy sound promising but whether they're realistic is yet to be seen.
Ambitions of IMO GHG strategy
To achieve their goals, IMO will work in three aspects. These aspects are defined as levels of ambitions in the strategy. To put it simply, the IMO wants to fulfill their goals by achieving the following three ambitions.
Declining the carbon intensity of ships with the help of Energy Efficiency Design Index (EEDI).
To decline the carbon intensity of international shipping.
For the GHG emissions from international shipping to peak and decline.
IMO data collection system 
There's a lot that IMO needs to do in order to fulfill their goals. The first step is definitely to invest in research and innovation.
Establishing an IMO data collection system is one of the many steps taken by the body to understand the shipping industry better. According to the system, the owners of large ships (above 5,000 gross tonnage) have to report on fuel consumption of their ships.
Now, how does this help? The data collected from the system will help IMO in making decisions for enhancing energy efficiency and reducing GHG emissions. Already in practice since 2019, the collected data will play a major role when the initial IMO GHG strategy will be revised in 2023.
You can also track the quality of fuel by using blockchain technology. Read this blog to find out how.
Additionally, IMO has also been banking on EEDI to increase energy efficiency in shipping. Let's get a quick overview of EEDI.
EEDI promotes reduction in shipping emissions
The cutting down of shipping emissions can only happen if the ships become more energy-efficient. Here, the Energy Efficiency Design Index (EEDI) plays a major role.
What is EEDI then? The index is a technical measure that checks the energy efficiency of new ships. In a way, EEDI promotes new ships to use less polluting equipment and engines in their build.
Now, how does it do that, you may think? The EEDI requires a minimum energy efficiency level per capacity mile (e.g. tonne mile) for ships of different types and sizes. So, the ship builders and designers have to build vessels that meet these energy efficiency requirements.
These levels are tightened every five years. As a result, the shipping industry has to constantly innovate and come up with more energy efficient ship designs.
The implementation of Initial IMO GHG strategy, IMO data collection system, and EEDI falls on the carriers owners and operators. But as container owners, you can also do your bit to reduce shipping emissions.
You can reduce shipping emissions by avoiding empty shipping repositioning. This doesn't mean that you have to stop moving your boxes. Instead of shipping them empty, you can lease your boxes to shippers who need them.
This way, they'll move the boxes for you on your desired route. And you don't even have to pay the freight rate. Don't forget to count the rent you'll receive as an added bonus!
Are you wondering where you can find such shippers? We've got 1000+ members on our online marketplace waiting to connect with you. Join our platform today to move your boxes sustainably. Click on the banner below to learn more.
6 ways to reduce shipping emissions 
As you know by now, reducing shipping emissions is not a one day affair. We all have to join hands to minimize pollution caused by shipping. While IMO strategy will always play a big role, there are more ways in which the shipping industry can become more energy-conscious.
Let's look at 6 ways to reduce shipping emissions.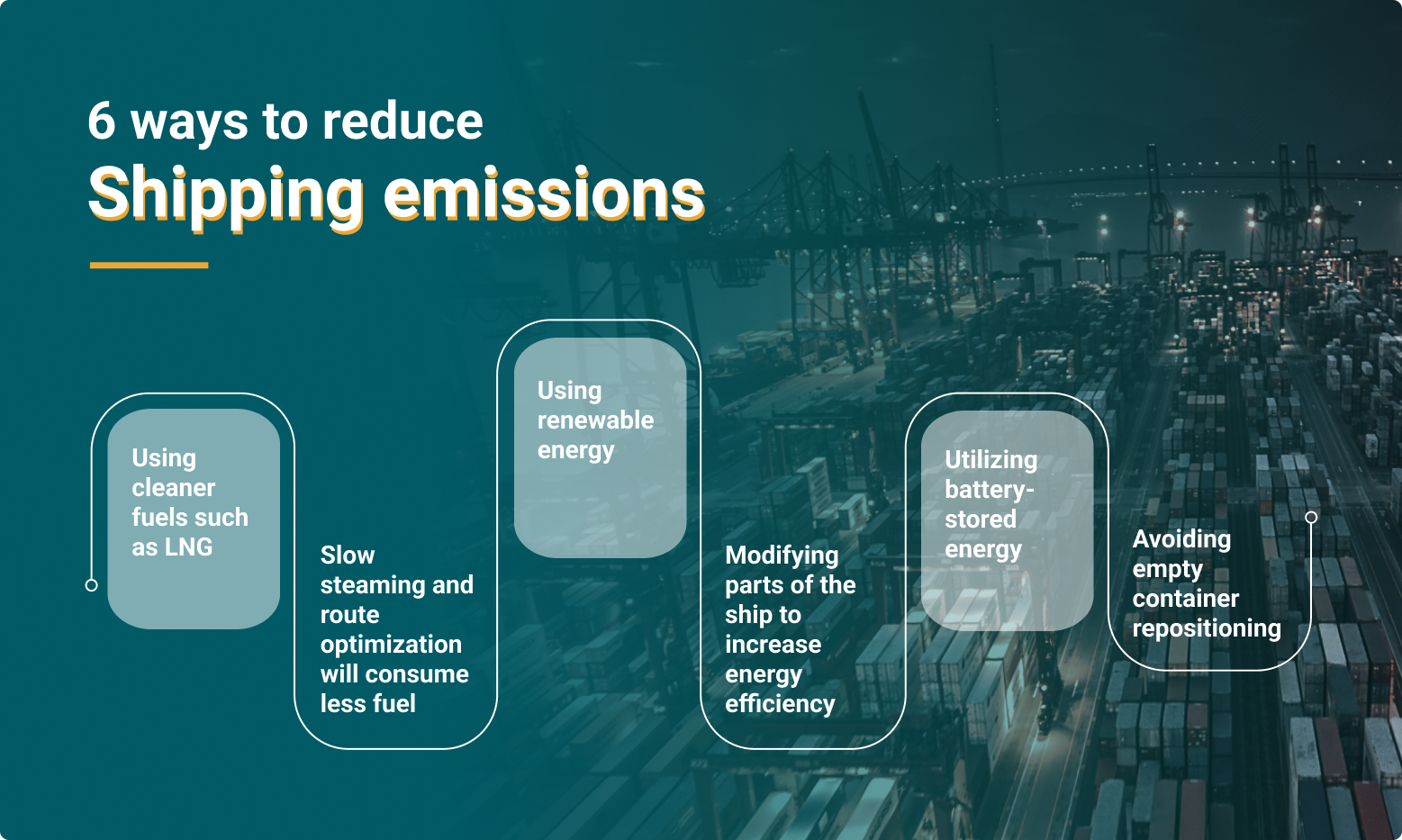 Utilizing battery storage 
The progress in energy storage will allow decarbonization. It'll pave the way for all-electric ships. You'll find it interesting to know that "Ampere"—  the first all-electric ferry in Norway cuts shipping emissions by 95% and costs by 80%.
Norway is going even one step further and planning the first autonomous electric container ship. This ship could replace a total of 40,000 truck journeys a year.
Slowing down the speed to reduce shipping emissions
There's been a lot of debate about this, but slow steaming can surely reduce fuel consumption. Let's look at the numbers.
A 12% reduction in at-sea average speed leads to an average decrease of 27% in daily fuel consumption. If you're decreasing the fuel consumption, you're also decreasing the GHG emissions.
You can also minimize the fuel consumption by voyage and weather-based optimizations.
Taking incremental measures 
Incremental measures are mostly short-term but would reduce emissions per vessel by as much as 5%. You can improve the hull design, propeller optimization and waste heat recovery to bring about such measures.
Potential upgrades for ships also include reducing the friction with water. You can fit ship bows with bulbous extensions below the water line to reduce drag. Or even paint hulls with low-friction coatings.
Using renewable energy to reduce shipping emissions
You know that using renewable energy reduces carbon emissions significantly. In shipping, using wind-assist or wind-power for propulsion can be one such use of renewable energy.
It's a surprisingly old idea for the next generation of ships but several trials have already been done. Cargill and Wessels have tried kite systems. Enercon and Norsepower also installed different rotor designs on ships.
Switching to green fuel 
It's the most hotly debated measure. More than 90,000 ships account for the burning of nearly 2 billion barrels of the heaviest fuel oil.
The most-significant reductions come with a fuel switch to low sulfur content. According toInternational Maritime Organization's 2020 regulation, only 0.5% sulfur can be used in commercial ship fuel globally. This sulfur cap will reduce the emission of sulfur dioxide (SO2).
You must've also heard of liquified-natural gas (LNG) as one of the green fuels. Unfortunately, it's not as green as one hoped for. Head over to this blog to find out more about LNG.
Avoid shipping empty containers
Did you know that every third container is being moved empty? Equipment owners reposition their empty containers due to trade imbalances. But while doing so, you're enabling unnecessary burning of fossil fuels.
By avoiding empty container moves, you can save up to 30% of pollution caused by cargo ships. Let's look at how you can stop moving your containers empty with xChange.
Prevent empty shipping repositioning on xChange
On xChange, you can make your container available for one-way leasing. When you do that, you invite shippers to lease your container on your desired route. They'll move your boxes, pay you the rent (if applicable), and save you from paying freight rate. It's a win-win! And a bigger win in curbing unnecessary shipping emissions.
All you've to do is subscribe to our membership plan to unlock this global network. We've 1000+ container suppliers and lessors making transactions in 2500+ locations across the world.
Just connect with a vetted partner, negotiate  a deal on your own terms, and get your boxes repositioned in no time. Interested to know more about xChange? Click on the banner below to talk to our experts today!
How much CO2 is produced from shipping?
The shipping industry produces 940 million tonnes of CO2 annually. This accounts for 2.5% of the world's total CO2 emissions.
Why is shipping bad for the environment?
Shipping is bad for the environment because it produces greenhouse gasses. These GHG emissions lead to climate change.
Who is responsible for shipping emissions?
According to international guidelines, the shipping emissions produced when a ship is sailing between two countries are the responsibility of the International Maritime Organisation (IMO). When the ship sails between two ports of the same country, the responsibility for emissions falls on that country.
[custom-related-posts title="Related Posts" none_text="None found" order_by="title" order="ASC"]
Summary
Article Name
Shipping emissions: Find 6 ways to reduce [+IMO GHG strategy]
Description
Shipping emissions are harmful for our climate. Discover 6 ways to reduce these emissions, and learn about Initial IMO GHG Strategy and EED.
Author
Publisher Name
Publisher Logo