Do you want to get a storage shipping container hassle-free without surfing through hundred pages online? Then you have come to the right place. Container xChange can help you in picking your box at the best price.
If you're a part of the container industry, the anxiousness you feel when looking for the perfect container never lets up. It's not only difficult to narrow down a type but it's also hard to get a good deal for it. This is where we step in and help you score a storage shipping container and get the best price for it.
On Container xChange, you'll find 50,000 containers to choose from in 2,500+ locations worldwide. In terms of costs, we offer full market transparency with competitive pricing and zero hidden fees. So, you only get pocket-friendly deals with us in just a few clicks. You also get to see all the prices stated upfront, so you can compare the prices with each other and choose what's best for you.
You get to work with 1000+ certified companies to guarantee your safety when it comes to procuring containers. All our members on the xChange platform go through a mandatory vetting process. This is to ensure that you only work with verified names.
Before we continue, if you're looking for a container for a one-time purpose, you can opt for the free-buyer account and fulfill your requirement. Enjoy benefits such as buying containers from leading companies, price visibility, competitive prices, and more. Click on our public search below to get started on good deals on boxes in your location.
What are shipping containers for storage?
To get back to the topic at hand. As the name suggests, a storage container is a shipping container that is mainly used for storage purposes. So essentially, it's a reusable metal box that is used to store any kind of goods you might have. They are built for repeated use and are easy to fill up and empty as per the requirement.
How can you be sure that your goods will remain safe in these boxes? Well, these containers are wind and watertight and keep the goods safe from damage. They are also cheaper to buy than new containers and can be used for long-term and short-term storage. All your storage needs are taken care of with these boxes.

Find a storage shipping container on xChange for your needs
So if you have goods that need to be stored, use the Container xChange online neutral marketplace to secure the perfect box. We have over 10,000+ transactions per month on our platform and have competitive prices on boxes. Not only do you get to pick from several container types, but, you also get to compare and negotiate prices to find a deal that best suits your needs. This means you don't have to pay a dime over what you want to.
You can also make these deals with renowned names in the industry like Kuehne + Nagel, Seaco Global, and COSCO directly by calling them or chatting with them on our platform. These big players can help you elevate your business and get the best deals in the market. This also helps you build a great portfolio for your business and increases your profitability, making your success as convenient as it gets.
The best part is, on our platform you get to see the profiles of all companies (big names and smaller companies) and have a look at the ratings and reviews given to them by their partners. This helps you make informed decisions about whom you want to work with.
To get access to suppliers and containers around the world, all you need to do is complete a mandatory vetting process, that's it. Click on the banner below to let our expert team show you how to get started, and have your questions answered along the way.
New and used storage shipping container
For storage purposes, used storage shipping containers that are cargo worthy (CW) are often the popular pick.
Containers such as Grade A boxes are brand new shipping containers. They're never-been-used, strong steel boxes with tight seals to keep cargo safe on long-distance shipping routes. They're of the highest quality brand and have little to no scratches or marks on them. If you compare these to the used boxes which have been around a lot longer, they may not be as strong due to the repairs over the years, which is indicative of their lower prices.
CW boxes can be stained or have marks of repair but they are fit to be used for freight storage. Although they have conditions attached to the repairs they get, their interior has to be a minimum of 50 percent mark free for you to store your goods in. Some scuffing or scratching and minor surface rust are acceptable, but too much damage is not a good sign for storage. So pay attention to these aspects when choosing your box. It's always wiser to analyze your needs before you pick a new container or opt for a used one.
Have a look at the image below to decipher the various container conditions of new and old boxes to see what best suits your needs.
Prices of used storage shipping containers on xChange
Now the prices across different countries for a used storage shipping container differ, this variation depends on the container conditions, and changes in the markets that impact the demand and supply ratio. Hence, getting an idea of what the prices are across locations can help you make wiser decisions.
If you want to get a better idea of the prices we offer on our platform, have a look at the average standard storage shipping container prices in 3 cities on our online marketplace.
Before we get you the overview, here's what one of our members has to say about xChange:
"During the few months that we have used xChange, we have saved more than 40,000 EUR." – Transinsular, Transportes Maritimos Insulares, S.a.
In the same way, we helped Transinsular, we can help you too. Let's show you how by first giving you an idea of the average prices of cargo worthy containers you'll find on our platform.
Los Angeles
Cargo worthy containers in Los Angeles are gaining traction. The average price of a 20ft costs US $1,650, a 40ft HC costs US $3,000 and a 45HC costs US $3,950.
Hamburg
A storage shipping container of 45ft HC in cargo worthy conditions in Hamburg will cost you an average of US $4,466, a 40ft HC will be US $3,300 and a 20ft will be US $2,083.
Shanghai
You can get a cargo worthy 40ft HC container in Shanghai at an average price of US $4,516, a 45ft HC at US $5,512, and a 20ft storage shipping container at US $2,272.
If you want more insights into container prices in major areas and the container availability index (CAx) of key ports, you can have a look at our August report: Where are all the containers?
If you download our August report, you will be privy to information such as:
The American port of Salt Lake City is topping the list for 40fts at $3000. Houston is right behind at number two with 40fts trading at $2925 at the port.
Since April, the prices had been falling for 40fts. From July to August, for 40fts in China, they rose very slightly from $2296 to $2300.
In week 35, major ports in China such as Qingdao and Tianjin scored high on the container availability index (CAx). Qingdao had scores of above 0.8 while Tianjin maintained numbers above 0.7. This trend is predicted to continue.
To know more about container prices and availabilities around the world download our report here.
12 types of storage shipping container units and designs for shipping cargo
If you're still on the fence about what container type would be best to store your goods in, let us quickly take you through the different kinds of standard and special types of containers you can use for storage. Remember that you can find all these container types on our platform.
20ft 
Famous for dry cargo, this box is often water-resistant to shield your goods while in storage.
40ft 
This storage shipping container, as its name suggests, is 40FT in dimensions and is used for storing larger volumes of dry cargo.
40ft and 45ft HC
High Cubes are used for cargo that is larger in size; especially bigger in height.
Reefer container
If you have goods that need to be stored in certain temperatures, then reefers are your go-to. They're container-sized refrigerators.
Double door container
The boxes have double doors that swing open outside on both ends. So, you can drive a car straight through here and exit from the other side without having to reverse.
Open-top container
These containers have an open top. The roof is covered with tarpaulin sheets instead of a solid roof. Best for large cargo.
Pallet wide container
Pallet wides are designed specifically to carry wooden Euro pallets that are commonly used within Europe.
Flat rack container
If you need to store heavy goods and cargo that need loading from the top or sides, this container is for you.
Side door container
Also known as an open side container, it has extra doors that open on the long side of the container on top of the doors at the end.
Hard top container
These boxes are similar to open containers with the difference being a detachable steel roof instead of a tarpaulin sheet.
Tank container
Tankers are used to store and transport all kinds of liquids.
Insulated container
This container type is vital to our cold chain. They keep the same temperature inside the container, regardless of the temperatures outside its four walls.
If you want to read up on these container types in depth, have a look at our blog on container types here.
Storage shipping container and the market dynamic
You already know how hard it's been to get a hold of a container during the last two years of the pandemic. It was a challenging time to witness the port congestion, logjams, and canal crisis that surfaced.
Fast forward to 2022, the storage shipping container market is now recovering and catching pace again. The demand is soaring and being met by the players in the industry.
But how do you find a credible source to pick your box? How do you smoothen the process of getting the right box at the right price?
Let's find out.
Get a storage shipping container for your goods on Container xChange
With Container xChange, you can easily navigate through our platform, to find your box from the variety of containers we offer. You can also go to our partners' profiles and check out their reviews and ratings for yourself alongside another xChange community privilege where you can connect with big players without any third party involved.
Along with affordable deals on containers, we also provide an easy payment handling system through the xChange wallet. We take care of all your payments by sending you only one consolidated bill at the end of the month. This makes the payment process much easier for you.
So, with smoother transactions, business growth, best prices, and reports helping you strategize smartly for your business, xChange proves to be a catalyst to your overall growth.
So come onboard and become a member to gain access to live price negotiations, container insurance, easy payment handling features, real-time container tracking, and other great benefits. Secure the best deals, build your network, and seamlessly pick your boxes and track containers in real-time as a part of the xChange community. You can enjoy all this and many more perks on our platform. Click the banner below to connect with our expert team and get a demo to see the marketplace in action.
Storage shipping container: Common FAQs
Is a shipping container good for storage?
For storage purposes, used storage shipping containers that are cargo worthy (CW) are often the popular pick.
What are the types of standard containers?
Standard containers include 20ft, 40ft, 40ft HC and 45 ft HC.
What is the price of a 20ft used container?
The average price of a 20ft DC cargo worthy container in Los Angeles is US $1,650.
What is the price of a 40ft used container?
The average price of cargo worthy 40ft HC container in Shanghai is US $4,516.
[custom-related-posts title="Related Posts" none_text="None found" order_by="title" order="ASC"]
Summary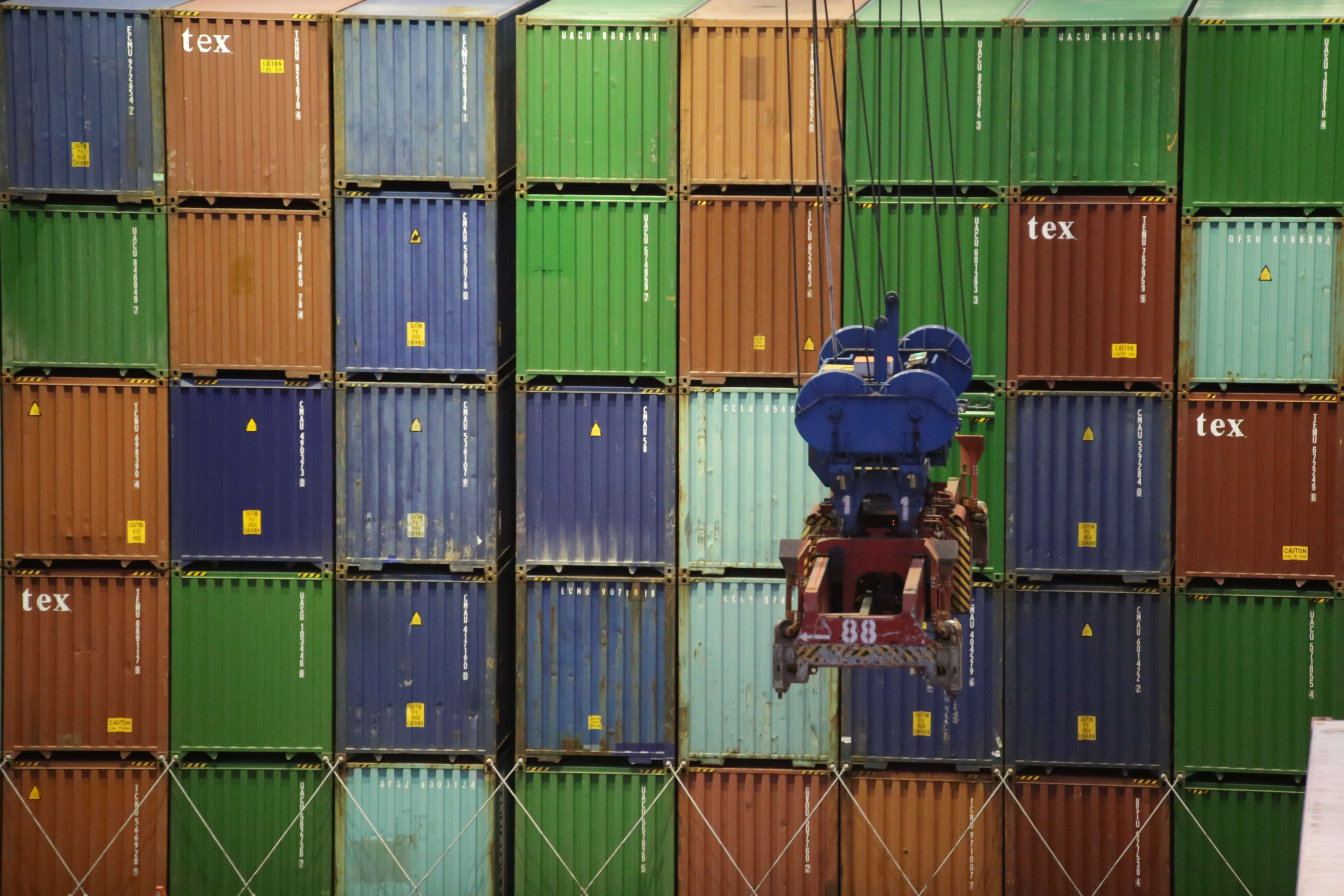 Article Name
Looking for storage shipping container? Find the best deals here
Description
If you require a storage shipping container, you've clicked on the right blog. Find your box at affordable prices right here.
Author
Publisher Name
Publisher Logo