When you search for container leasing companies, you get hit with a tonne of results. It's tough to figure out which companies suit your needs the best and who has the best prices. Read this blog on container leasing company rankings to get an overview of the market. Just came here because you want to lease containers? Get in touch with our expert team to find the best leasing options.
Global trade has certainly seen both — the highs and the lows of uncertain times. And with some regions having high demands for goods and some having less, container leasing is your best bet at avoiding unforeseen delays and charges.
The shipping industry has realized this benefit. As a result, the leasing market has matured rapidly over the past years. The competition is so intense that there are only 13 global container leasing companies of substance left.
Now, contacting each of these giants to get quotes and comparing prices that meet your budget can be time-consuming. But don't worry, leasing containers from trusted names is now easy!
At Container xChange's leasing platform, you can find leasing offers from such reputed companies in one dashboard. Now, wouldn't that save you a lot of time, frustration, and money?
Go ahead and test it yourself. Use our public search to find containers on your route. Just enter your pick-up and drop-off locations, and hit the search button. You'll instantly get a list of containers and their leasing rates.
The top 10 container leasing companies
Now that you know how easy it's to lease a container from trusted names in the business, let's get right to the list of top 10 leasing companies in the order of their TEU fleet capacity.
Other major container leasing companies include Raffles Lease, Trident Container Leasing, Unitas, and Conical.
If you want more information about each of these top 10 container leasing companies keep scrolling down.
1. TRITON International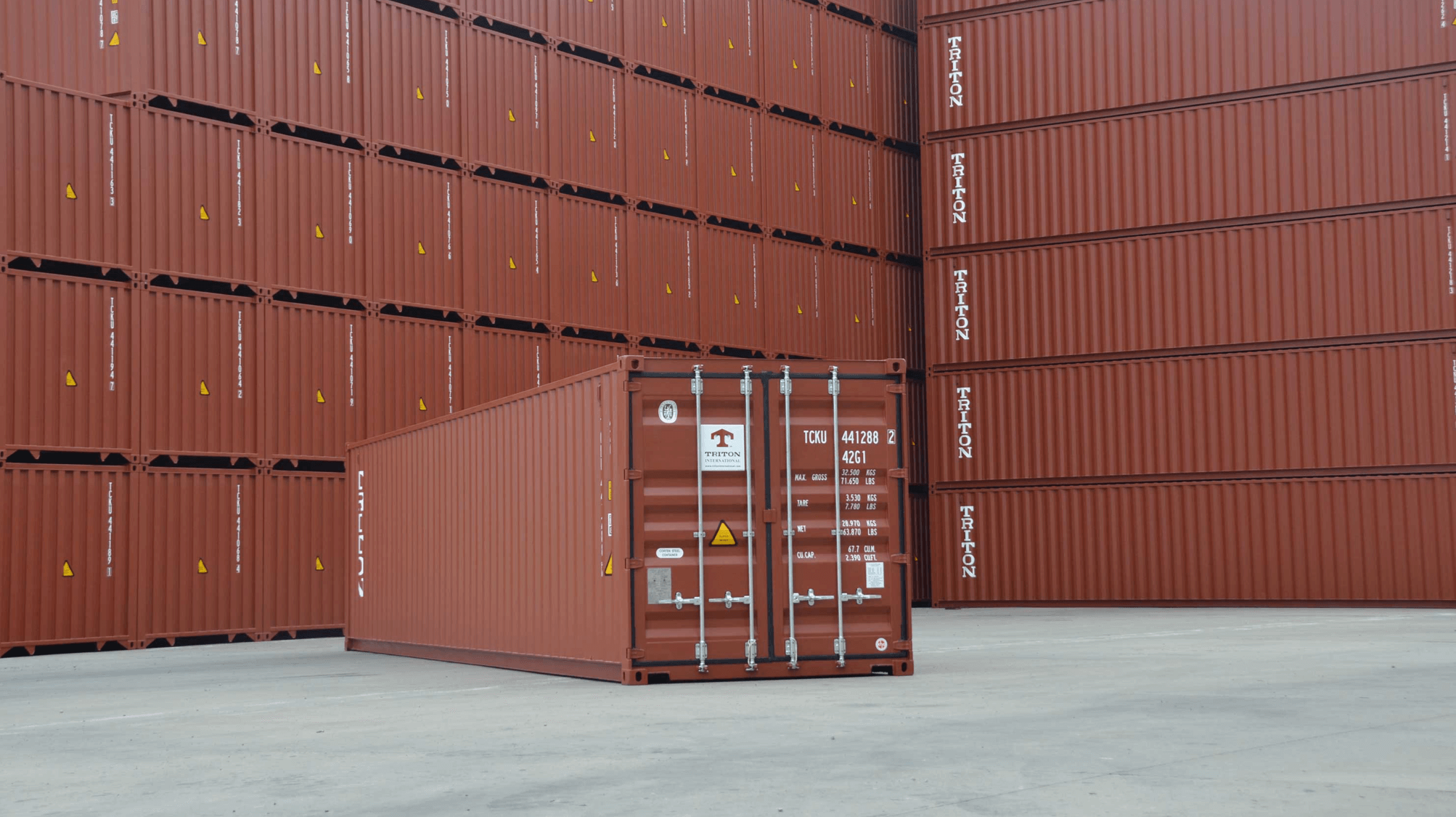 Year founded: 1980
Headquarters: Hamilton, Bermuda
Website: https://www.tritoncontainer.com/
Triton International is the world's largest lessor of intermodal containers and equipment. The leasing company has a fleet of 7.1 million TEUs. With 19 offices in 14 countries, the extensive global network allows Triton to have the lowest cost ratios in the industry.
The container leasing company has an illustrious clientele. Triton supplies to the world's leading shipping lines such as CMA CGM, COSCO Shipping, Hapag Lloyd, HMM, Mediterranean Shipping Company, ONE Line, Yang Ming, and Maersk.
You can lease dry containers, reefers, open tops, tank containers, pallet-wide, and flat rack containers from Triton. You can also get other equipment  such as chassisWhat is a chassis? Chassis, in freight & logistics, refers to a skeleton framework with wheels on it used to move containers. It is also called intermodal chassis or container chassis. Similar to ... More, gensets, and roll trailers. Triton also offers access to 400+ container depots across 46 countries worldwide.
2. Textainer container leasing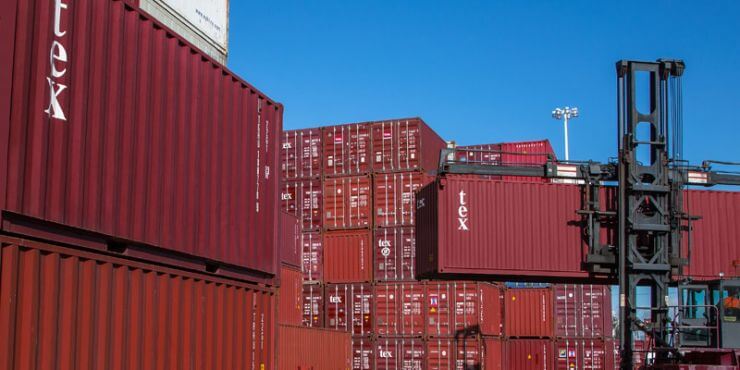 Year founded: 1979
Headquarters: Hamilton, Bermuda
Website: http://www.textainer.com/
Second on the list of container leasing company ranking is Textainer. It has a fleet of 4.4 million TEUs. The company operates 14 offices in the world and maintains a strong presence in all the major trading centers. Textainer is also one of the biggest sellers of used containers. In addition to their main activities, they're a proud supplier to the US Military.
You can lease dry containers, reefers, tank containers, and other specialized containers from Textainer. It also has access to 400 depots globally.
 3. Florens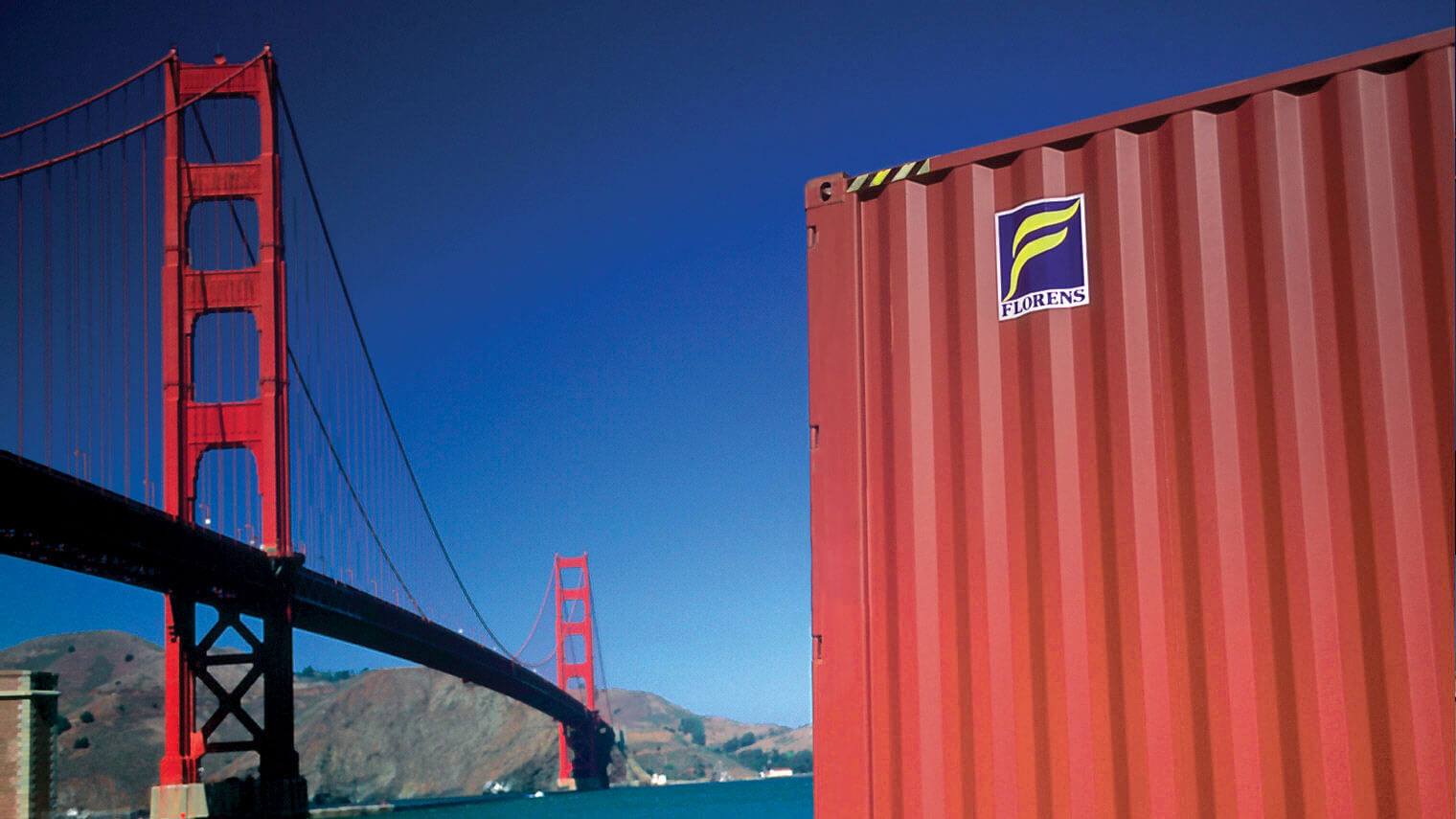 Year founded: 1987
Headquarters: Hong Kong
Website: https://www.florens.com/
Florens is the third-largest container leasing company with a fleet of 3.9 million TEUs. With 20+ offices in 10 countries, Florens has an active presence in America, Europe, and Asia. The leasing company is a wholly-owned subsidiary of COSCO SHIPPING. It has captured about one-fifth of the global market with the world's top 20 shipping lines as its customers.
You can lease dry containers, reefers, open tops, and tank containers from Florens. It also offers access to 300+ depots in 5 continents.
4. Seaco Global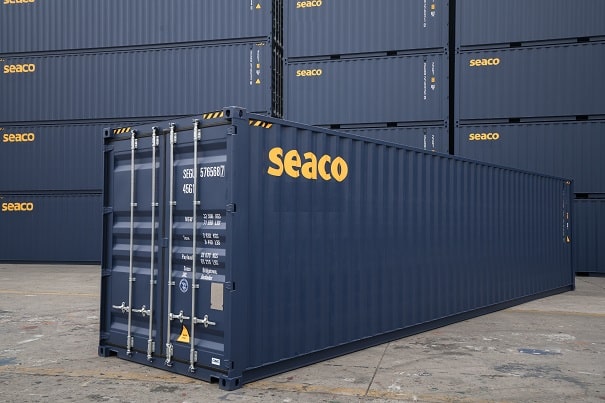 Year founded: 1998
Website: http://www.seacoglobal.com/
GE Seaco (joint venture between Sea Containers and GE) was incorporated in Barbados in 1998.
Seaco is also one of the world's largest container leasing companies by CEU, providing a fleet of approximately 2.4 million TEU across a diversified fleet of Dry Boxes, Reefers, Tanks, Dry Specials and Swapbody containers. Seaco provides new container equipment for leasing to 800 customers worldwide, delivering container equipment from 189 port locations across 44 countries, operating 349 third-party depots and supported by an established network of 200+ Seaco employees across 24 Sales & Support offices, providing expertise in regional and global container leasing.
5. Beacon Intermodal
Year founded: 2008
Headquarters: Boston, USA
Website: https://www.beaconintermodal.com/
A group company of Mitsubishi HC Capital Inc, Beacon Intermodal is the fifth largest container leasing company. It has a fleet size of 1.8 million TEUs. Operational in 11 offices worldwide, the containers from Beacon Intermodal are present in 125+ ports worldwide. It's a full-service company offering its customers leasing, resale, and asset management.
You can lease dry containers and reefers from Beacon Intermodal. The company also has access to 180+ depots worldwide.
6. CAI International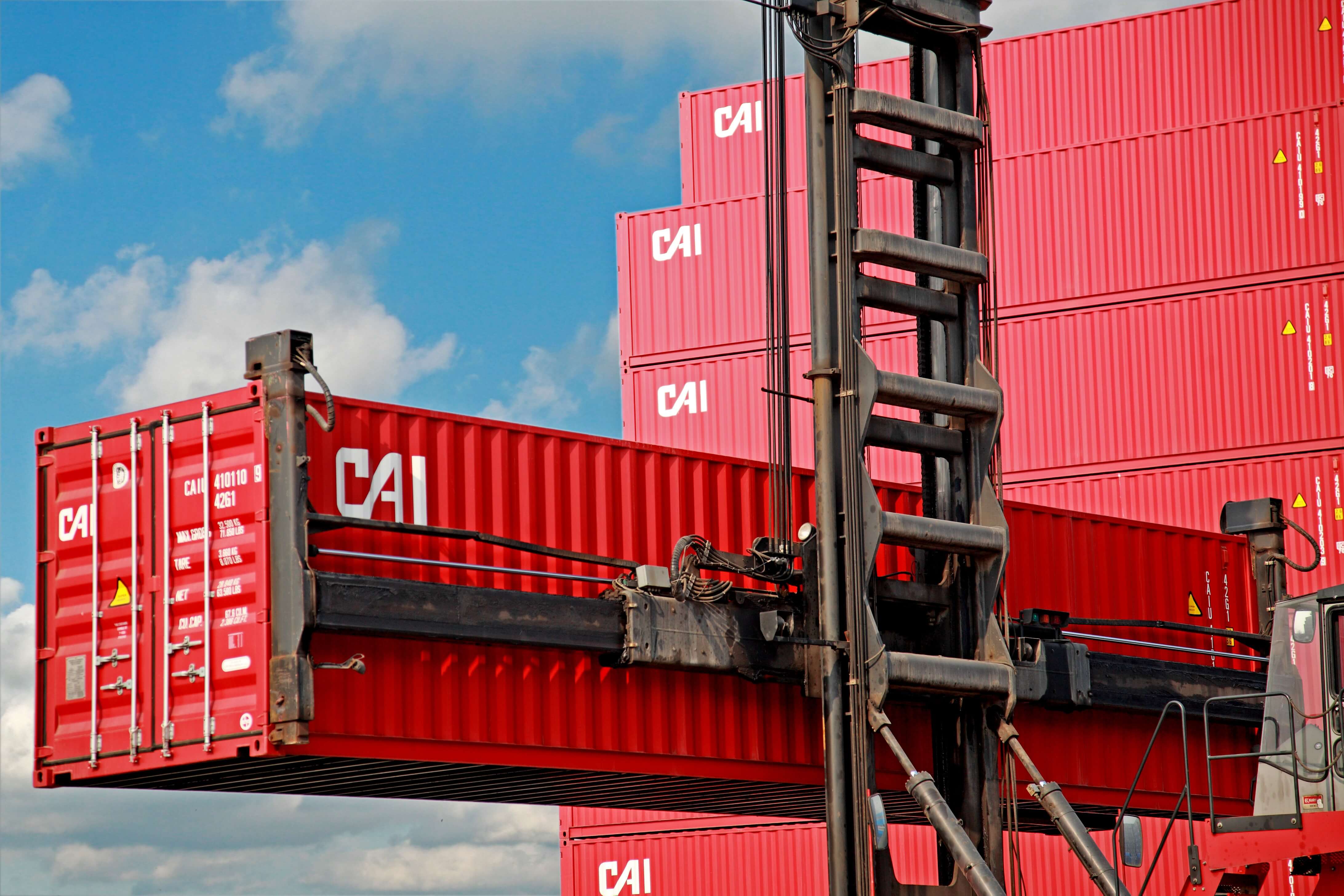 Year founded: 1989
Headquarters: San Francisco Bay Area, USA
Website: https://www.capps.com/
Sixth on the list of container leasing company ranking, Container Applications International (CAI) has a fleet size of 1.5 million TEUs. The American company maintains a global presence with offices throughout Europe, Asia-Pacific, and North America. Additionally, CAI offers containers for sale to its customers.
You can lease dry containers, reefers, open tops, flat racks, and pallet-wide containers. The company also leases gensets and swap bodies. CAI has a network of 250+ depot facilities in 48 countries.
7. SeaCube Containers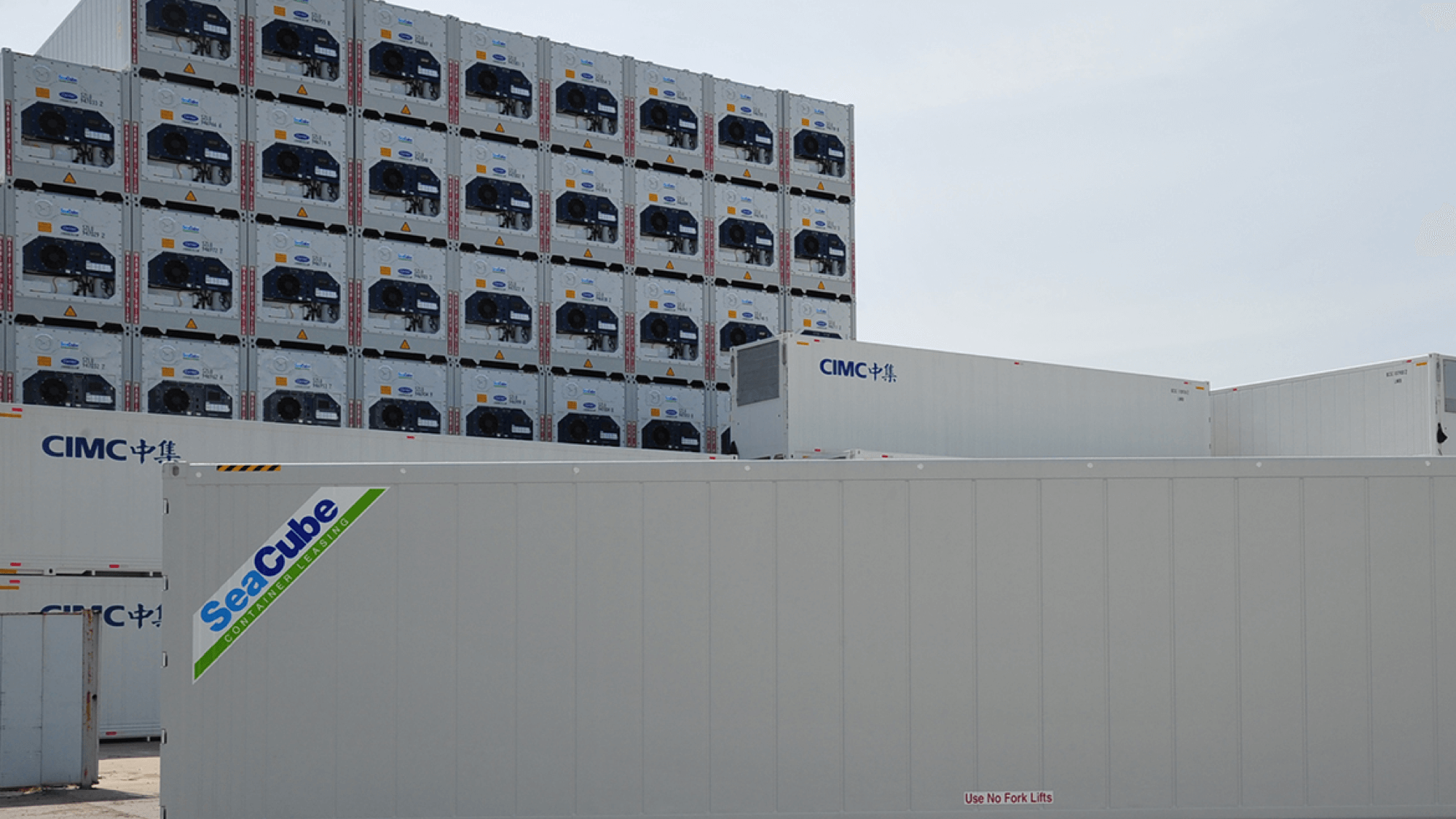 Year founded: 2010
Headquarters: New Jersey, USA
Website: https://seacubecontainers.com/
SeaCube is the world leader in leasing and selling reefers. The company claims to have the most advanced and eco-friendly refrigerated containers. With 1.2 million TEUs in service, SeaCube has a well-connected network in Europe, America, and Asia.
You can lease dry containers, reefers, and gensets from SeaCube. The company is a global leader with 200+ depots worldwide.
8. Touax Container Solutions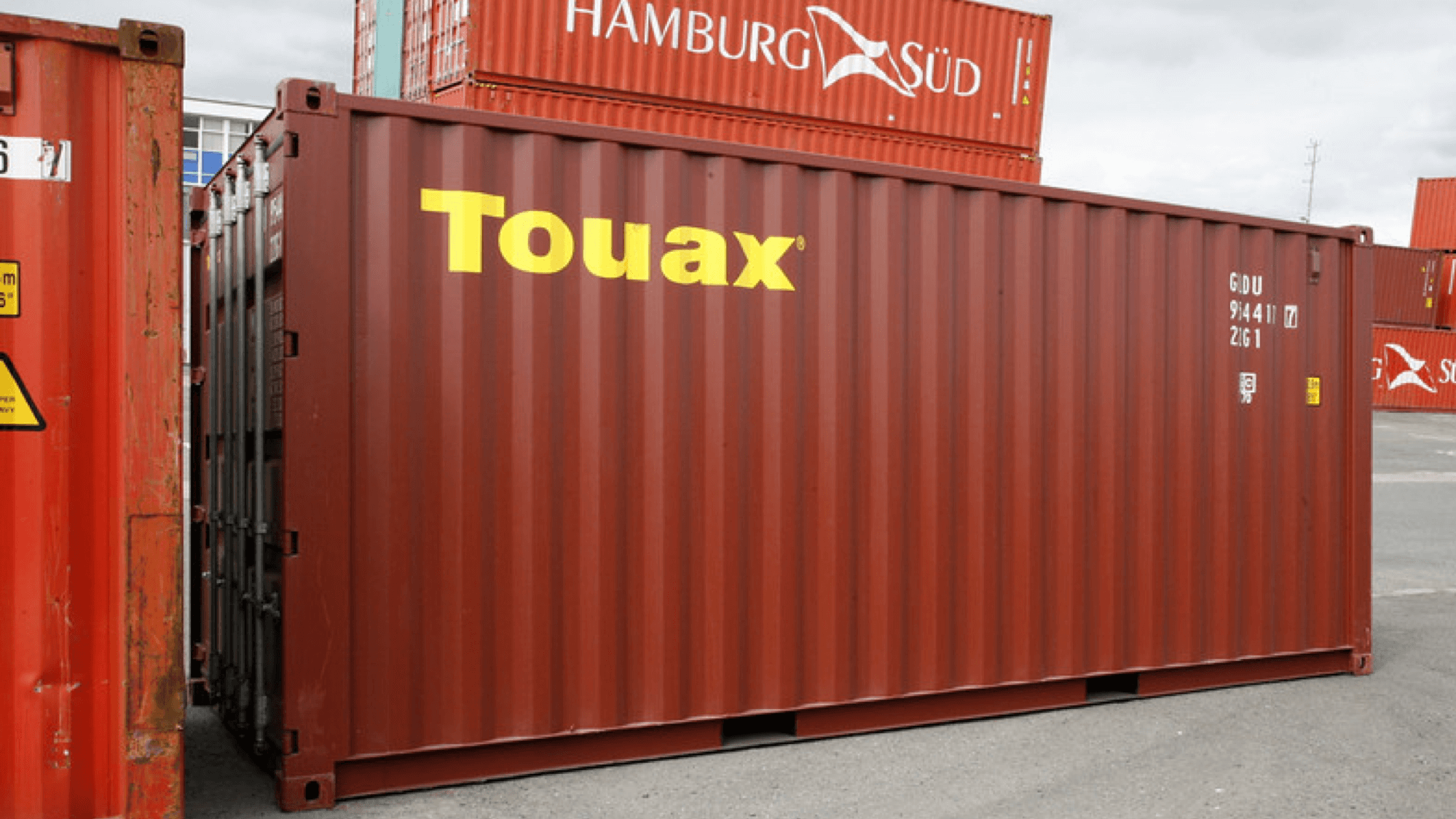 Year founded: 1975
Headquarters: Paris, France
Website: http://www.touax.com/
Touax is the biggest European container leasing company with a fleet size of 393,064 TEUs. The company leases railcars, barges, and containers. It has expanded its container leasing operations in Asia, North, and South America, and Europe.
You can lease, buy, and trade new and old equipment from Touax. It also has 200+ warehouse partners all over the world.
9. Blue Sky Intermodal
Headquarters: Buckinghamshire, UK
Website: http://www.bsiu.com/
Ninth on the list of container leasing company companies, Blue Sky Intermodal operates from Marlow, UK. It has a fleet size of 300k+ containers. The company specializes in providing long-term leases of standard containers and related products to shipping lines. They also sell new and used containers globally for use in secondary and domestic markets.
10. CARU Containers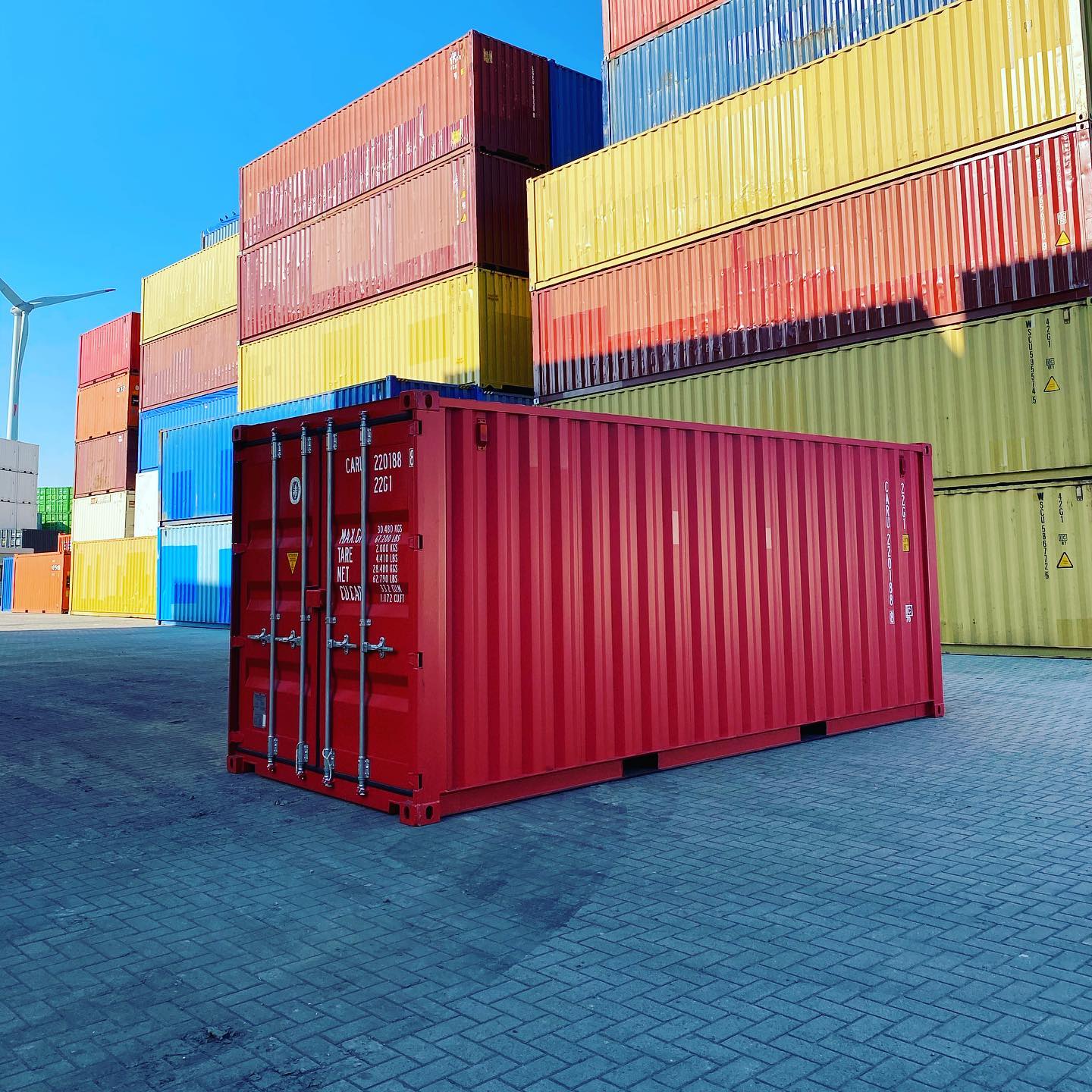 Year founded: 2000
Headquarters: Rotterdam, Netherlands
Website: https://www.carucontainers.com/
Lastly comes CARU Containers, a container trading, and leasing company. With 10 offices worldwide, the company is operational in 70+ countries all over the world.
You can lease old and new dry containers, flat racks, open tops, and double-door containers from CARU. They also provide customized storage containers. The company also works together with 200+ depots globally.
Find top container leasing companies on Container xChange
With such a big list at your disposal, there are many options for you to choose from depending on your needs. But where do you start? We know that the process of leasing containers can get overwhelming. One search on Google, and you're flooded with search results that lead you nowhere. You don't want to enter into shoddy deals with suspicious players. And you certainly don't want to pay more than what it's worth.
That's why we've created an online neutral marketplace that makes leasing, buying, and selling containers easy. Our platform records 10,000+ transactions by 1500+ vetted members every month. Let's tell you how the platform works.
Let's say you're looking to lease containers to ship goods from Los Angeles to Shanghai. You can simply log in to our leasing platform and enter your pick-up and drop-off locations. As soon as you hit the search button, you'll get a list of offers from leasing companies in one dashboard. This way, you get to know the leasing rates of different companies. You can compare the offers to book yourself a deal that meets your budget. You also have the benefit of accessing leasing companies across 2500+ locations worldwide on our platform, so your options are aplenty. We also house some of the top-ranking container leasing companies in the world, with whom you can negotiate deals directly without a middleman.
So, if you want to lease containers from shipping industry bigwigs like Seaco, Trident, SeaCube, and other trusted names check out our leasing marketplace to grab a great deal on your box.
Overview of the container leasing market
You now have the lowdown on the top 10 container leasing companies and where to connect with these big names to lease your boxes – yay! But before you start leasing boxes, we wanted to give you an understanding of the current leasing market trends and the benefits of leasing.
As you know, the role of container leasing companies is to lease shipping containers or manage fleets for investors. Their operations include acquisitions, leasing, re-leasing, selling, and trading intermodal containers.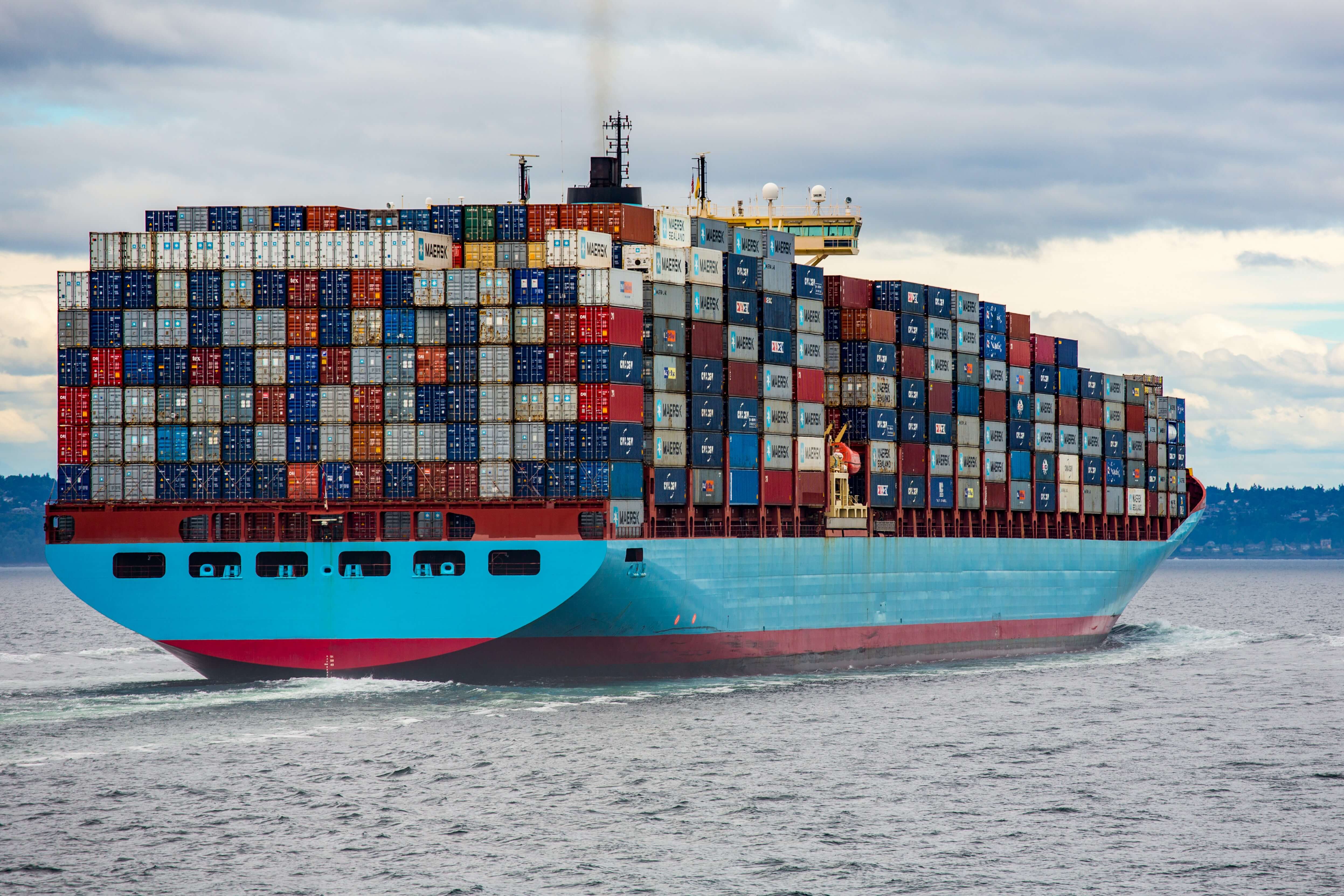 Container leasing companies provide a steady stock of containers to shippers, freight forwarders, and carriers. In fact, almost 52% of the world's containers are owned by leasing companies. In 2021, the global market size for container leasing was valued at $5.2 billion. Now starting from 2023 till 2027 the global container leasing market is estimated to grow by 32. 86 mn teu, accelerating at a CAGR of 16.
This growth has been brought about by shippers and carriers choosing to lease containers. So, why are they leasing instead of buying? To gain flexibility and save money.
There are many advantages of leasing containers. If you choose to lease your containers, you'll increase your flexibility. You'll also save storage fees, and avoid maintenance costs. Speaking of the benefits, one-way container leasing is another way in which you'll be able to save big bucks. We'll get you the intel on one-ways in just a few mins.
Learn more on how you can save money by container leasing here.
Container xChange's report on the top 10 ten container leasing companies
Gain more insight into the current leasing market and the evolving trends to look forward to in our report on the top 10 container leasing companies. You will get a detailed analysis on how:
Top companies are not increasing their leasing fleets but still investing, expanding, and diversifying into the industry.
Reefers and tanks are gaining popularity, while dry containers continue to remain a vital commodity.
Owning containers instead of simply managing them gives the leasing company more flexibility and control.
Sustainability will soon be a rife consumer demand, which Seacube and CARU in particular are noticing.
Conglomerates like Mitsubishi and COSTCO are noticing the huge potential of the leasing market. They are looking to acquire and/or merge to turn a profit but also gain flexibility in their own shipping needs.
Download the report to know what key players of the industry are doing now to grow their businesses and sustain their position.
Top 10 container leasing companies: Types of container leases
Since we're talking all things container leasing, another major aspect to look into is the types of lease agreements. It's essential you know the types in order to choose the suitable one.
| | | | |
| --- | --- | --- | --- |
| Agreement | Duration | Maintenance and Repair | Drop-off Location |
| Master Lease | Variable | Leasing Company | Restrictive |
| Long-Term Lease | 5-8 years | Lessee | Very restrictive |
| Short-Term Lease | Greater than 6 months | Lessee | Very restrictive |
| One-way lease | Variable | Lessee | Shipper's desire |
Now as promised, let's deep dive into the one-way lease. As we mentioned earlier, with one-way leasing you can save a few hundred dollars. But how exactly, you ask? Well, firstly, if you go for a one-way lease, you pay rent according to the pick-up charges and free days. The free days are the number of days you can use the containers for free before you start paying per diem charges.
Secondly, if you're shipping from a port with a container surplus to one with a deficit, the container owner will happily adjust the free days and pick-up charges according to your needs. As a result, you'll have to pay much less than the standard leasing rate.
One-way leasing is, undoubtedly, the safest bet in uncertain times. A global survey conducted by Container xChange found that shippers are preferring one-way leasing instead of getting equipment from carriers in 2022. Almost 50% of the respondents said they've chosen one-way leasing. Simply because one-way leasing gets the job done without putting a dent in your pocket. Paying high surcharges to carriers is one of the biggest challenges faced by shippers today. With one-way leasing, you bring your own container. Therefore, you don't have to pay demurrage and detention charges to the carriers – nice, right?
Lease boxes from a top 10 container leasing company on Container xChange
You've now understood the benefits of opting for a one-way lease agreement and have looked through the top 10 container leasing companies. So, now's the time to make a foolproof plan for one-way leasing. And, with Container xChange you can put your plan into action by finding golden deals on one-ways.
On our leasing platform, you can simply enter your requirements for one-way leasing and get offers from container suppliers from all over the world. You can take your time to compare the deals and choose the offer that suits you the best. Our payment handling feature is here to secure and simplify your transactions by sending you one consolidated bill and nothing more. You can also track your boxes in near real-time and get updates on ETAWhat is estimated time of arrival?  Estimated time of arrival, commonly known as ETA, is a frequently used term globally to denote the time of coming. In the shipping & logistics industry, it is ... More and misuse warnings.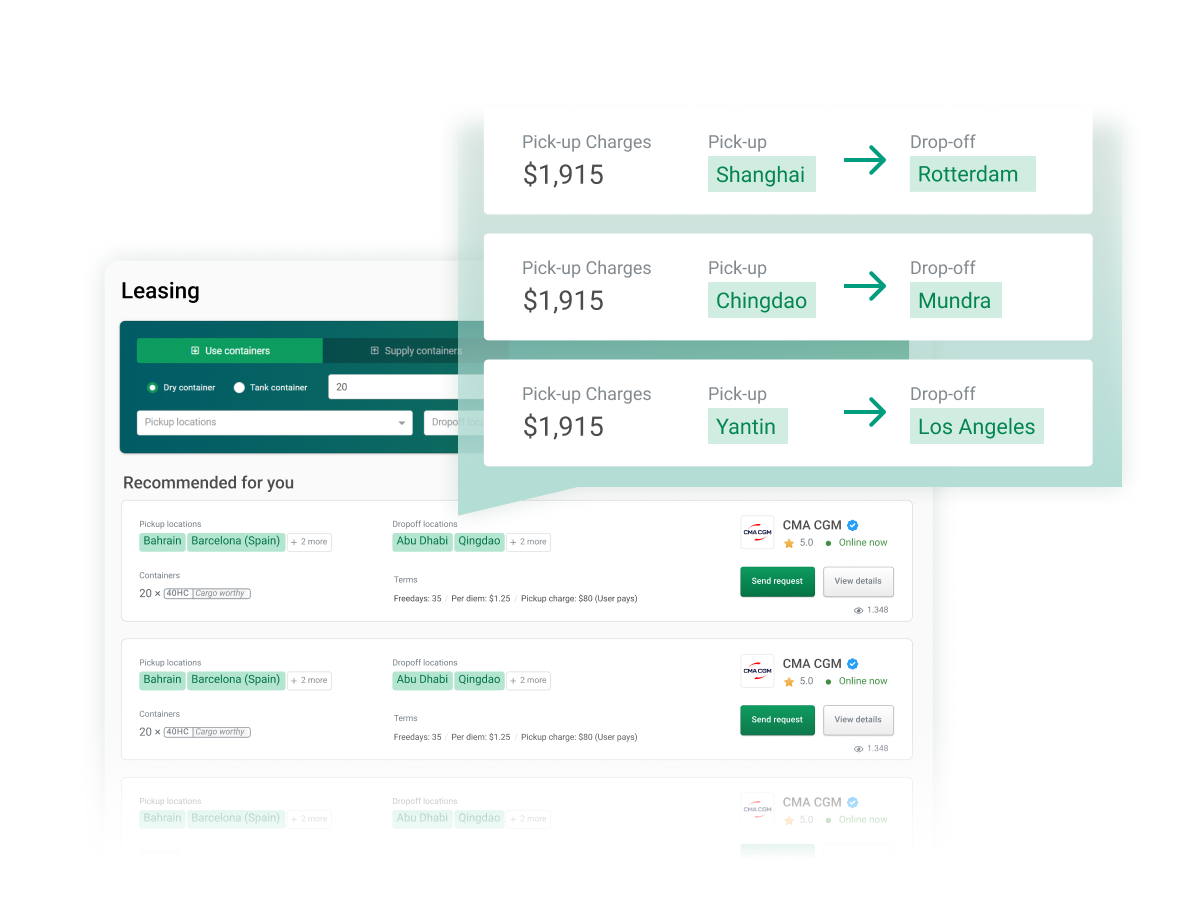 Also, you don't have to worry about being cheated, because you'll only get genuine offers with us, as every xChange member goes through a mandatory background check before they can make deals on the platform. You can also see the performance reviews and partner ratings on their company profile on xChange.
So, maybe you want to lease containers at low prices? Or maybe you're looking to safely ship your perishable cargo in SeaCube's advanced reefers. Or you want specialized containers and related equipment from Seaco. On our platform, almost 1500+ vetted members are buying, leasing, and selling containers in 2,500+ locations daily. Why are you waiting? Hop on board our platform today!
To 10 container leasing companies: Common FAQs
How do you lease containers to shipping companies?
On xChange's leasing platform, you can find a network of shipping lines, freight forwarders, and shippers looking to lease containers. Just connect with interested players and lease your containers on mutually agreed terms.
What are different types of container leasing ?
There are four types of container leasing arrangements. You can lease containers through a master-lease, long-term lease, short-term lease, or one-way lease.
Who owns all the shipping containers?
Almost 52% of the world's containers are owned by container leasing companies. The rest of the containers are owned by shipping lines and shippers.
Summary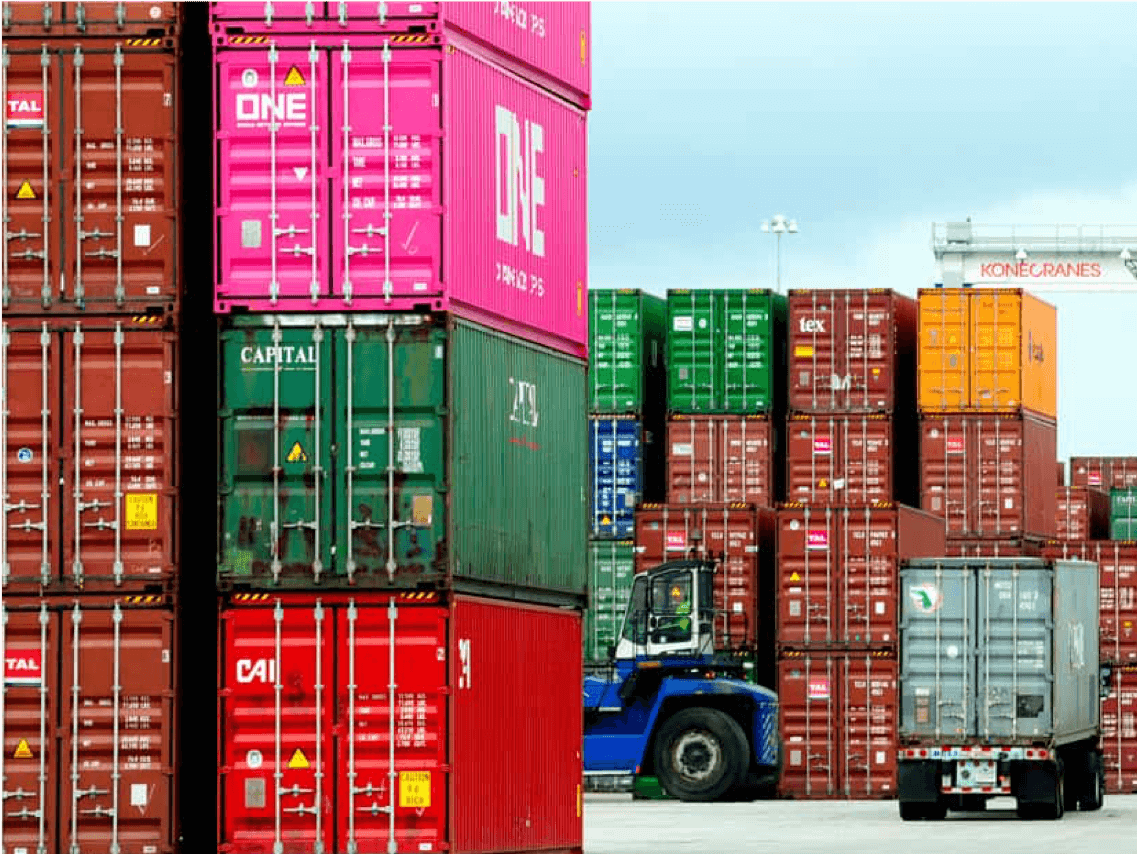 Article Name
Top 10 container leasing companies [+ the ultimate list 2023]
Description
Know everything about the top 10 container leasing companies on this blog so you can make informed decisions about leasing your next box.
Author
Publisher Name
Publisher Logo