Shipping alliances enable carriers to share their resources. Read this blog to find out all about these alliances and the recent discontinuation of the 2M alliance between Maersk and MSC. 
In the shipping industry, low pricing and wide service coverage are two important elements that carriers must offer to make their business profitable. To facilitate this, three major shipping alliances (2M, THE Alliance and Ocean Alliance) were formed. By forming alliances, carriers were able to increase their customer base globally and offer low prices. 
Recently, two major carriers, Maersk and MSC have called off their 2M alliance after working together for 7 years. According to the terms of the deal, they would completely separate all of their operations by 2025.
Maersk and MSC have a large customer base and naturally, customers were worried about how this discontinuation would impact them. However, both carriers have reassured that this dissolution will have no immediate impact on their services. 
We'll discuss more about the 2M alliance later in the blog, but if you're interested in keeping up with the latest shipping industry news, we've got the perfect solution for you. 
At Container xChange, we regularly publish container logistics research reports each month. In these reports, you get detailed insights into the current global happenings of the shipping industry and how they can impact your operations. Plus, we publish predictions about the coming months so you can plan your logistics better and make more profits!
Want to get your free copy of our latest report? Simply click the banner below and download the report now.

What are shipping alliances?
A shipping alliance, often referred to as an ocean alliance, is a group of ocean carriers that create a cooperative agreement together. This agreement covers a number of trade routes through cooperation among its members on a global scale.
These cooperative groups of carriers commit to vessel-sharing agreements to help cover as much of the shipping market as possible. Carriers, essentially, combine their fleets of cargo ships within each alliance. This means they gain access to vessels owned by other carriers. Often, carriers also agree to move containers on each other's behalf. 
Now, you must be wondering why carriers enter into such alliances. Shipping alliances help carriers create a monopoly over the ocean shipping market. You'd be surprised to know that based on Alphaliner's ranking of all the shipping lines, the 3 major alliances collectively accounted for 80% of the global container market. Leaving just 20% for the other smaller global/regional carriers.
Let's learn more about these 3 major alliances and how the end of the 2M alliance will affect the container market. 
Three major shipping alliances
The three major shipping alliances include the top 10 shipping lines. Here's an overview of these alliances.  
Major Shipping Alliances 2023
Alliance
Members 
Details of alliance 

2M

MSC, Maersk 

Formed in 2015 with the aim of ensuring competitive and cost-efficient operations. The alliance has come to an end and will discontinue by 2025. 

Ocean Alliance

CMA-CGM, Cosco Group, OOCL and Evergreen

Formed in 2017 and renewed for 10 years ending in 2027. The alliance has 330 ships, out of which 111 ships are operated by CMA CGM. The alliance has a capacity of  3.8 million TEUs.  

THE Alliance

Hapag Lloyd, NYK, Yang Ming, MOL, K-Line, HMM

Also launched in 2017, THE Alliance has 241 ships calling more than 1150 ports and covering 3.3 million TEUs. 
Now that you have an overview of these alliances, let's take a look at them in more detail.
2M Alliance: Maersk and MSC  
The 2M alliance was formed between the Danish shipping line Maersk and the Swiss-Italian shipping company Mediterranean Shipping Co (MSC). The alliance was formed in 2015, covering Asia-Europe, trans-Pacific and trans-Atlantic trade routes. The HMM had also joined 2M in 2017 for a three-year partnership and later joined THE Alliance. 

End of 2M alliance and its impact
In January 2023, Maersk and MSC jointly announced that they'll discontinue their alliance by 2025. The 2M agreement had a minimum term of 10 years with a 2-year notice period of termination. The announcement of 2M's termination may signal the beginning of a broad industry-wide restructuring of current operational contracts, particularly on the important east-west trades.
According to the announcement, "Discontinuing the 2M alliance paves the way for both companies to continue to pursue their individual strategies." Experts believe that Maersk is looking to become an end-to-end logistics service provider. On the other hand, MSC wants to expand their operations as a shipping company. For this purpose, MSC has acquired 271 secondhand ships since August 2020, with a capacity of just over 1 million TEUs.
So how does this discontinuation affect others in the shipping industry? Since both companies together control about one-third of the world's container capacity and have over 4 million TEUs independently, it's sure to create some effects. 
For starters, it'll create more competition between Maersk and MSC. As freight forwarders, you may notice a fall in the shipping rates, as both companies will compete more directly with each other on the Asia-Europe, Transatlantic and Transpacific trades. 
Similarly, if you're a customer of Maersk or MSC, you may also notice some positive changes in the services offered in the coming years to retain and attract more customers. 
Experts also believe that both companies will have to increase their ocean fleet to keep up with their customer's demands and ensure smooth transportation of cargo.
Ocean Alliance: COSCO, OOCL, CMA CGM & Evergreen
Ocean Alliance was launched in 2017 for an initial period of five years between COSCO Shipping, OOCL, CMA CGM, and Evergreen. In 2019, the companies confirmed the extension of the duration to ten years until 2027. 
The Ocean Alliance includes 330 container ships and an estimated carrying capacity of 3.8m TEUs. This alliance also has Ever ACE, the largest mega ship with a capacity of 23,992 TEUs.
Ocean Alliance offers a total of 38 different services including 19 transpacific services, 11 services between Asia and Europe (+the Mediterranean), and 4 services between Asia and the Middle East.
Did you know: Ocean Alliance members have canceled 53 Asia-Europe west bound sailings scheduled from 1 January to 17 February 2023? If demand falls further after the Chinese New Year, more such blank sailings can be expected. Read our latest report to find out more. 
THE Alliance: Hapag-Lloyd, ONE, and Yang Ming 
Launched in 2017 by Hapag-Lloyd, ONE, and Yang Ming, THE Alliance combines 3.5m TEUs. That's approximately 25% of the global container capacity. On top of that, THE Alliance has also revealed that it will deploy a fleet of 249 ships. They will connect 76 ports throughout Asia, North Europe, the Mediterranean, North America, Canada, Mexico, Central America, Indian Subcontinent, and the Middle East.
In 2019, they optimized port-pair connections to accommodate customers' needs for greater reliability and stability in service quality. In April 2020, HMM from South Korea joined THE Alliance and increased its total capacity by 519,000 TEUs. Thereby, increasing THE Alliance's global market share from 25 to 30%.
As a part of THE Alliance's ongoing commitment to offer more sustainable services by minimizing the carbon footprint of its service network, a modern series of fuel-efficient 23,500+ TEU vessels will replace smaller vessels. 

Impact of shipping alliances on global container market
Being part of the shipping industry, you must have wondered how these alliances affect the global container market. And why do major shipping companies form an alliance with each other? To help you understand this, let's first look at the average operating cost of carriers. 
Over 67% of the total cost of operating a shipping line is spent on operational expenses. Out of this, 46% relate to bunker costs and 21% relate to port charges, both of which are variable costs.
Using shared resources like ships, port facilities, and networks along certain routes is the most effective approach for shipping lines to reduce these variable costs. It is one of the key reasons why they form shipping alliances or vessel-sharing agreements. Another important feature of an ocean alliance is its inherent impact on carriers that can buy mega-ships they might not otherwise be able to own. This allows shipping carriers to not only expand their business but also create an impact on the global economy.
Plus, shipping lines realized they couldn't cover all of their routes by themselves, especially after the cargo ship crises. Doing so would require them to tie up their ships on one route for weeks while leaving the others unattended. And this would affect the entire shipping market. 
Entering into shipping alliances helps large shipping lines rationalize their resources. Whereas, the small lines enjoy extended service coverage without investing in increasing their fleet size.
Pro tip: If you're interested to know more about the global container market and how it's affected by the current happenings of the industry, check out our monthly logistics reports. In these reports, we analyze different market trends and their impact on the shipping industry. 
How do shipping alliances work?
Most of the shipping alliances work pretty much the same. The main areas of communication and information amongst companies are stowage plans, vessel assignment, scheduling, as well as problem-solving. However, alliances do not cover joint sales, marketing, pricing, or the joint ownership of assets, which distinguishes it from other forms of partnerships.
They openly discuss how to regulate fuel types, environmental issues, operational efficiencies, and engine failures. Additional elements in each shipping alliance include capacity planning, the contribution of each individual carrier, and specific compensation. 
But what do freight forwarders and shippers get out of these alliances? Read on to find out. 
What are the benefits of shipping alliances?
We've already discussed that shipping alliances help carriers pool their resources and increase their customer base. But how do these alliances affect freight forwarders or shippers in their day-to-day business? 
For starters, shipping alliances can help carriers facilitate low prices and broad service coverage. With increased competition amongst top shipping lines, you may benefit from getting better services and low transportation rates. 
For instance, if two carriers offer the price you want, but one is part of an alliance that features a member with greater predictability, you might choose the carrier that's in the alliance. Similarly, if you're considering two carriers in the same alliance, you can guess that their performance is likely to be the same. You might then make a choice  based on the free time offered by each carrier and make your choice. 
Ultimately, shipping alliances provide you with more choices and can help you reduce the cost of transporting your client's cargo. This lower cost trickles down to individual customers as well. As a freight forwarder, you can use the reduced cost as an incentive to attract more customers for yourself and expand your business further!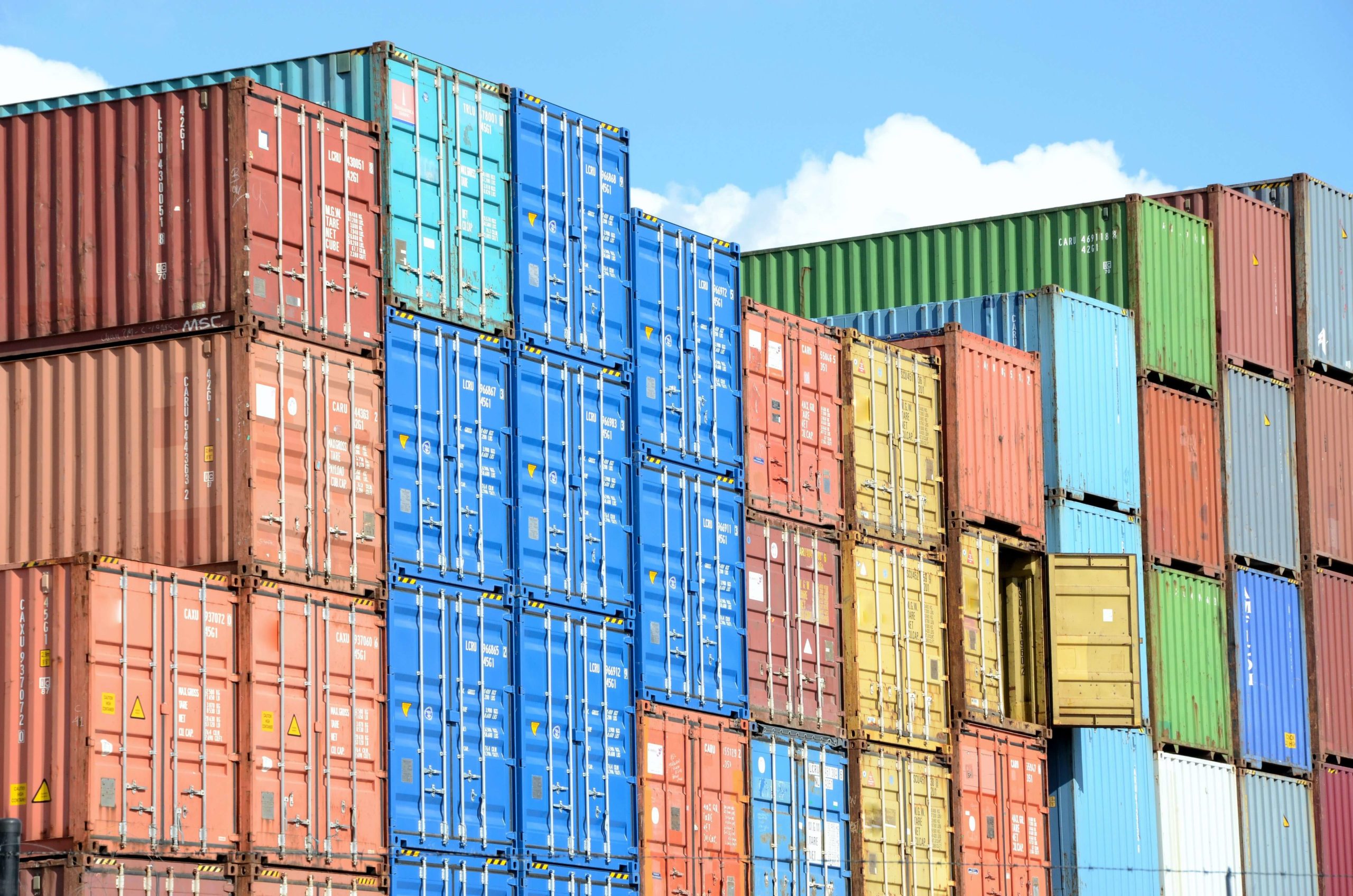 Other types of liner collaboration 
Apart from forming shipping alliances, carriers can also form other agreements with each other. Here are the two most common agreements. 
Slot charter agreement 
Slot Charter Agreement (SCA) is a contract between two partners/ shipping lines who buy and sell a specified number of slots for a certain period of time to widen coverage. 
Hapag-Lloyd, for example, is a slot charterer on the MSC service from South Africa to Europe, even though they have their own ships and services on that stretch. Slot charterers act as an independent shipping line, use their own equipment, issue their own bill of lading and the port directly invoices them for their port charges.
Vessel sharing agreement
A Vessel Sharing Agreement (VSA) is a cooperation between shipping lines to fulfill demand on specific trade lanes through the sharing of vessel space. Vessel sharing agreements are agreements between partners within an alliance in order to operate a liner service along specific routes as partners. The space for each partner may vary from port to port and depends on the individual input per company. A Vessel Sharing Agreement is limited to a specific trade lane. On the other hand, a shipping alliance is a row of VSAs and is more global in nature.
How Container xChange can help you in asset sharing? 
Another form of collaboration between shipping companies is asset sharing. This is where companies share their assets with each other. And that's something we facilitate on Container xChange – the leading online marketplace to buy, sell or lease containers. 
Did you know that every 3rd container is being moved empty? Every year, moving empty containers costs the industry more than $20bn. Now, imagine a way where container owners could find partners to move their containers while container users could find a way to move their cargo one-way! 
That's exactly what we do on xChange. If you're a container owner, you can use our leasing platform to find vetted leasing partners to move your equipment. This way, you don't have to pay additional money for empty container repositioning. The lessor gets to move their cargo in their desired route using a one-way container. It's a win-win! 
More than 1,500 companies in 2500+ locations are already using our platform for smoother container operations. Learn how you can use Container xChange to ease your logistics. Click here to talk to our experts and get a free tour of our platform today.
Get the latest updates from shipping industry in our free report
Being part of the shipping industry, it's important to keep up with the latest industry developments. To help you with that, we regularly publish container logistics research reports each month. 
In our reports, you get information about the latest events in the global logistics and supply chain industries. With our unique and cutting-edge data, these reports explain how these events affect the global economy. 
Plus, we give you insights into the container prices, availability and key market trends. This allows you to plan your logistics better and make more profits! 
Our latest "Where are all the containers" report mentioned carriers could decide to  blank more sailings in the coming months – if the demand is worse than expected after the Chinese New Year holiday. Reportedly, as far as Asia-North Europe trade is concerned, blanked sailings have increased 715% when compared to the figures from 2019. 
Since you now know this valuable information, you can plan your logistics much better. Now imagine getting such information on a month-on-month basis without having to research on your own. All you've to do is click the banner below to get your free copy of our latest logistics report.
Shipping alliances: Common FAQs
What are shipping alliances?
Shipping alliances is a collection of ocean carriers that come together to form a cooperative agreement. The carriers agree to vessel-sharing contracts and combine their fleets of cargo ships inside each alliance to serve the largest possible portion of the ocean transportation market.
Are shipping alliances great for shippers too?
Yes, shipping alliances can help carriers facilitate low prices and broad service coverage through economies of scale and economies of scope. This can benefit shippers and freight forwarders to transport their cargo at lower costs.
What are the three largest shipping alliances?
The three largest shipping alliances are Ocean Alliance (COSCO Shipping, OOCL, CMA CGM, and Evergreen), THE Alliance (Hapag-Lloyd, ONE, and Yang Ming) and 2M alliance (MSC and Maersk). However, the 2M alliance was recently discontinued.
Summary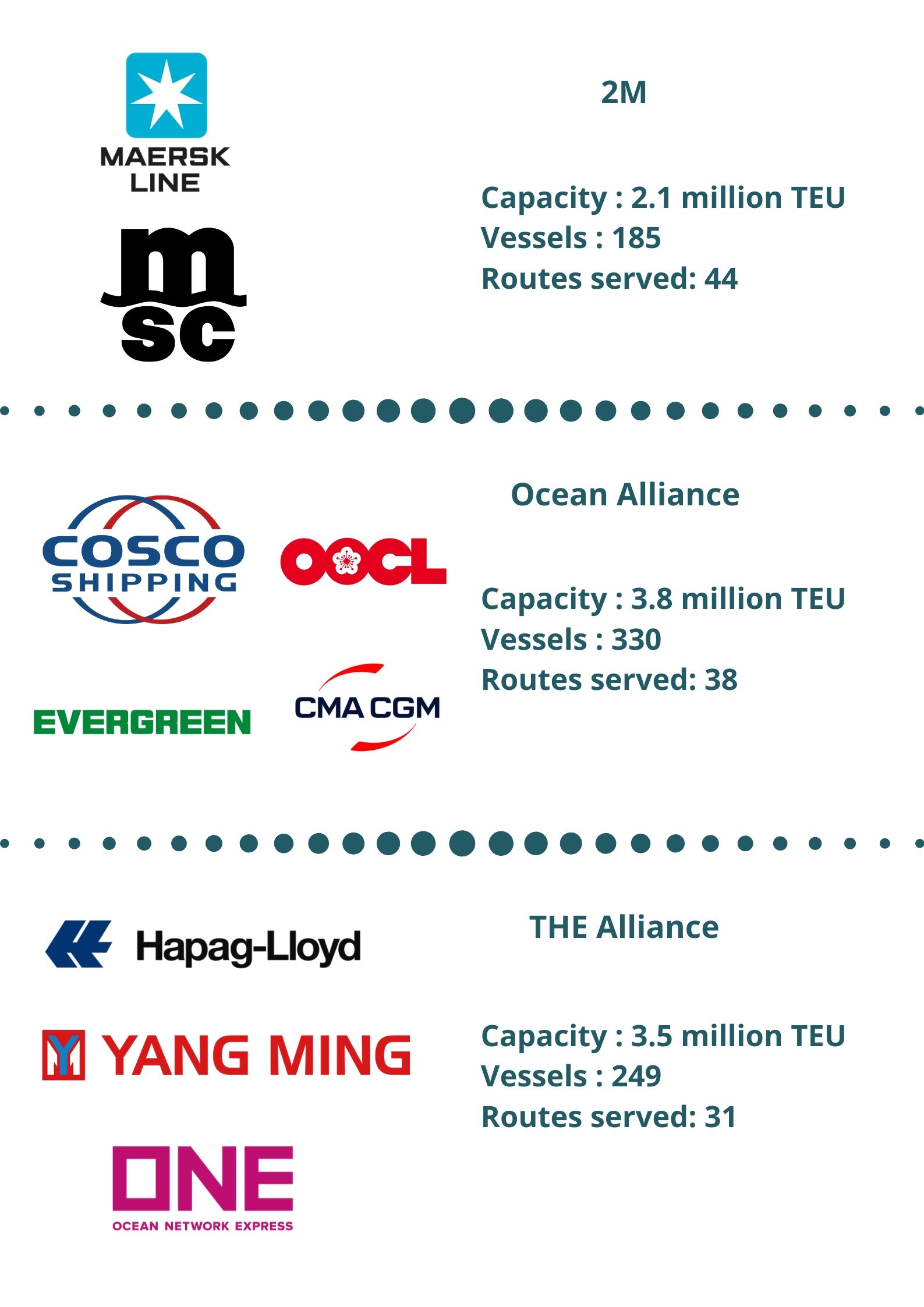 Article Name
What are Shipping Alliances? Best guide [+end of 2M alliance]
Description
Shipping alliances (2M, Ocean Alliance & THE Alliance) account for 80% of the shipping market. Learn all about these alliances and the end of the 2M alliance.
Author
Publisher Name
Publisher Logo