With so many factors influencing a 20ft container rental price, it can be difficult to determine what's best for your budget. In this blog, we'll take a closer look at the prices and one-way lease rates.  As you reach the end of the piece, you'll be able to tell what's the best price to pay and where you can get the most affordable deals.
If you're looking to find a 20ft container rental price that's great value for money, it's best to be as prepared as possible. Getting a good deal on these boxes can oftentimes be hard to come by. Factors such as supply and demand, type, condition, and location could possibly be why you're not finding a price that suits your budget. 
That's why you're here. With Container xChange, you could find and source these boxes and get the best deals on leasing prices without having to scour various websites. Container xChange is dedicated to simplifying logistics operations for you. With over 1500 members and 10k+ transactions per month, our platform is the easiest way to find great deals on 20ft container rental prices. 
If you're ready to go ahead and lease this box, why not try our public search bar? It's simple and easy to navigate. Type in your location and the container you require, which is in this case, a 20ft shipping container. Once you've done that, hit the search button and you'll have a variety of vetted suppliers to choose from, all with competitive pricing, so you'll be able to compare and make an informed decision according to your needs.
20ft container rental price: Overview 2023
20ft shipping containers are the most commonly used container type. These containers are in high demand due to their versatility and convenience. Apart from shipping dry cargo, these boxes can be used for storage and are modifiable. They're also a cost-effective option compared to their counterparts such as reefers and tanks. 
The market for 20ft container leasing is growing and continues to be in high demand. With the rise of e-commerce and the need for additional storage space, many businesses and individuals are turning to container rentals as a flexible and cost-effective solution. Additionally, the construction industry also requires containers for temporary storage during building projects. 
Now, when we talk about cost, the average pick-up rate for a 20ft container ranges anywhere between US$150 to US$500 per month, depending on factors such as location, the condition of the container, and the length of the rental, as mentioned before. 
Moving on to condition, let's take a look at the different pick-up charges of new and used 20ft containers for comparison: 
New and used 20ft shipping container rental price  
The cost of a 20ft container rental can vary depending on whether you choose a new or used container. Here's a comparison of new and used 20ft container rental prices:
New 20ft shipping container rental
Used 20ft shipping container rental

New 20ft containers are typically in pristine condition and are often more expensive to lease than used containers. 

The average monthly rental price for a new 20ft container is US $500 or more, depending on location and the length of the rental.

Used 20ft containers are more affordable than new containers. They may have some dents and scratches, but they're still fully functional and can provide a cost-effective solution for those on a tight budget.

The average monthly pick-up charges can range anywhere between US $150 to US $500, depending on location and the condition of the container.
New and used containers are also popular picks for both shipping and storage purposes. However, one interesting way that these boxes are used is modification. Over the last couple of years, urban dwellers have been converting containers into compact houses and office spaces. Not to mention some are used for classrooms and even make-shift malls, all over the world. This is an innovative way to use them, especially for short-term business ventures. 
Speaking of innovation, we've created a feature for you that will give instant price analysis. Check out xChange Insights – the container market intelligence you need to make smart decisions when it comes to the container market price. With this feature, you can get actual container prices and one-way leasing terms in up to 130 global locations. Find the best time and locations to buy, sell and lease your containers. Don't believe us?  Click here to get a free demo and check it out for yourself! 
20ft container rental price: Pick up charges across 3 popular stretches
As mentioned before, the 20ft container rental price can depend on the location. You might find it less costly to ship across certain stretches.  Let's say you're shipping goods from Shenzhen to the Antwerp on Container xChange, the average pick-up rate in this stretch is US $583.  Now if we look at Shenzhen to the Chicago stretch, it'll cost you about US $269. That's quite a price difference. Why? Because these rates are dependent on things such as the availability or demand of containers in that region and the location. Some locations are much more affordable than others, just as some currencies are stronger than others. It all really depends on the way the market ebbs and flows. 
Below you can see just how different the pickup charges are across 3 popular stretches:
| | |
| --- | --- |
| Nhava Sheva – Ningbo | US $318 |
| Shenzhen – Aarhus | US $800 |
| Bangkok – St. Petersburg  | US $1,172 |
 [Please note that all the rates you see are based on the one-way leasing transactions made on the Container xChange platform and are subject to changes.]
Lease 20ft shipping containers one-way on our platform 
If you're looking to lease your 20ft container just for one trip or one-way, you can effortlessly get your hands on one-way leasing on xChange.
One-way leasing gives you more free days (you pay little per diem charges). Additionally, you can also save money by avoiding container repositioning costs. In fact, in some stretches, the container owner pays you to move their boxes. So, it's a win-win for you!
The lowest pick-up rate for a one-way lease on xChange is US $237 on the Karachi-Keelung stretch, but there are many more deals for you to find and compare on our platform. Just reach out to our support team and let us help you find other hot stretches with lower pick-up rates for your container needs.
20ft container rental price in India 
Speaking of low pickup rates on stretches, the pickup rates for stretches in India is something worth looking into. Here's why:
The price of containers in India are currently dropping. 

The main ports in India have sufficient availability of containers and plummeting prices. In May, the average price of a box was 51.15% lower (US $2,299) than at the same time last year (US $4,494).

The high availability of boxes along with low prices is making the country commercially more attractive.
India is slowly working its way up to becoming one of the hottest container hubs in the industry by expanding and strengthening its trade ties with the rest of the world. Surpassing China, India is now the 'most wanted' by leading global container manufacturers. There's been a massive shift of focus towards manufacturing and growing exports out of India, which means Indian ports are seeing a much bigger number of TEUs. 
Recently, industry giant Hapag-Lloyd took an ownership stake in JM Baxi Ports & Logistics, which is one of India's major private terminal and inland transport service providers.  
"India is uniquely placed naturally to develop into a transshipment hub. With the right investments and focus, the country can be fully equipped to position itself as an important cog in the wheel of the global supply chain," – Christian Roeloffs, CEO of Container xChange.
So, if you're looking for a great deal on 20ft container rental, then India is your best bet. Let's take a look at the average pickup charges for this box across two stretches here:  
| | |
| --- | --- |
| Stretch | Average Pickup charge for 20ft container |
| Nhava Sheva – Hamburg | $555 |
| Mundra – Hamburg  | $699 |
If you want a more detailed and in-depth dive into India's rise to the top of the logistics industry, then download your free copy of our report, Where Are All the Containers, right here.
Get the best deals on 20ft container rental price on Container xChange
Container xChange makes it easy for many freight forwarders like you to find containers on lease. Our neutral marketplace provides you with a wide variety of 20ft containers at the most competitive price.
Our platform also gives you full price transparency for all container types globally. This allows you to compare the rates and choose the best profitable deal without any hassle.
On the xChange leasing platform, you'll get access to more than 1500+ companies in 2500+ locations worldwide. Our platform is already home to big names such as Kuehne+Nagel, Seaco Global, Sarjak, Sorgese, SeaCube, and Conway. It's now your time to join them and work with them.
What makes it easy for you to find the containers you're looking for is our simple search option. Simply fill in your container-type requirement, pick-up, and drop-off locations and hit the search button. Within minutes you'll see a list of deals that match your needs, and you can choose the best one. You can also check individual company profiles before you make a deal. Still on the fence? Then have a look at what the director of NMT Konteyners had to say about working with us: 
"The process of leasing containers for one-way on xChange is very efficient – from supplying containers to transacting. Also, the invoices are concise and contain important information such as the number of containers and free days. It makes it easy for us to keep track of our containers and funds. Plus! I would like to celebrate xChange's operations and customer support team because they're fast. I've never had an unanswered message." – Mr. Burak Cebi, director of NMT Konteyners. 
With Container xChange, you have more control to choose what's best for you and who you wish to work with. Once you've got that sorted, it's you who finalizes which deal you want to say 'yes' to. Sounds easy and hassle-free, right? You can make this your reality by clicking on the banner below and becoming a member of xChange to enjoy these benefits and simplifying your operations.

20ft shipping container rental price: FAQs
How much does it cost to rent a 40 ft container?
The cost of renting a 40ft container depends on different factors. Demand and supply, market situation, and so on can affect the rates. However, you can expect to shell out anywhere between US $945 to US $1,095.
What are the dimensions of a 20ft container?
The dimensions of a 20ft container are as follows: The internal length is 19.4ft (5.9m), the internal width is 7.8ft (2.35m), and the internal height stands at 7.9ft (2.39m).
How much does it cost to rent a 20 ft container?
A 20ft container rent can cost you anywhere between US $100 to US $150. However, you should keep in mind that these rates depend on factors, such as location, container type, demand and supply of a region, etc., and are subject to changes.
Summary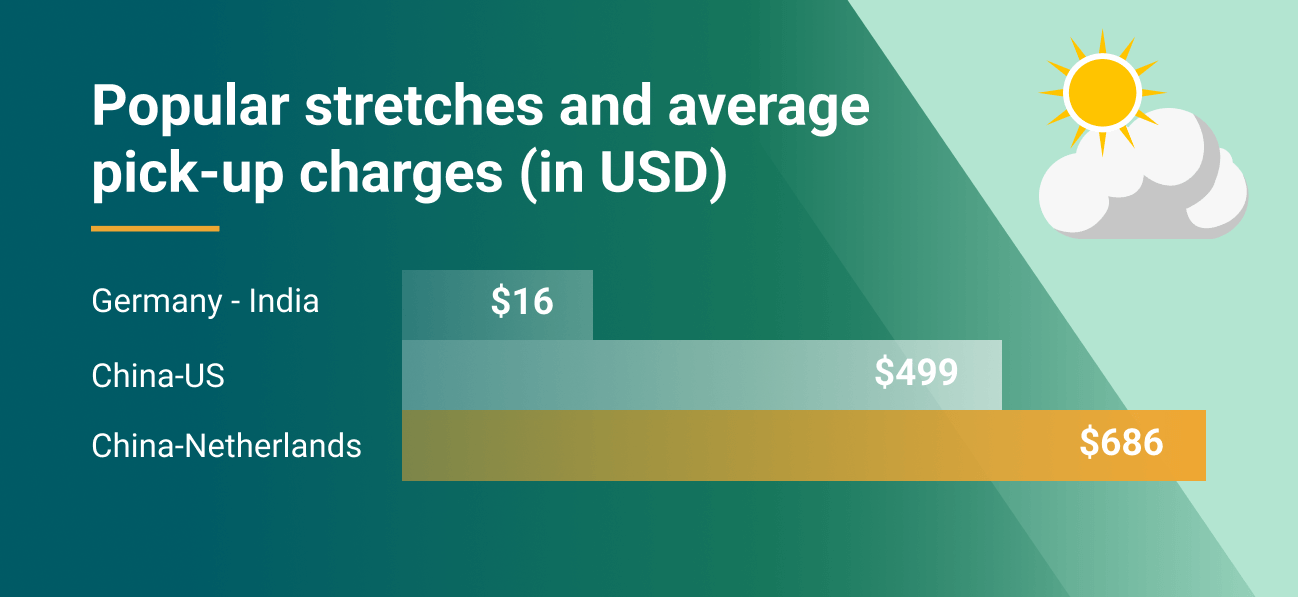 Article Name
20ft container rental price 2022: best price to pay & where to get it?
Description
Looking for 20ft container rental price? Get the best leasing rates for your next box here.
Author
Publisher Name
Publisher Logo