Are you trying to get your hands on a 40ft storage container rental online? Keep reading to find out the easiest and most reliable way to get boxes for your storage needs today.
Imagine a place where you could search for the exact size and type of storage container you wanted, and find 1000s of available boxes all in one place? Wouldn't that make comparing prices so much quicker and easier?
Add to this idea the fact that all of the companies are vetted and have the appropriate stamp of approval, so you don't have to worry about scams or hidden fees. Just how great would it be to have all communications, negotiations, and payments in the same place? Sounds too good to be true, right?
Container xChange offers exactly this. Everything done in one single place: on our platform. Keep track of all of your containers, deals and payments, and say goodbye to drowning in admin and constantly switching tabs and accounts.
Don't believe it's so simple and easy?
Check out our container leasing platform right now. Use the search to find containers to rent at great prices. All you have to do is type in the location and choose the container type. What are you waiting for? Search for your next container below: 👇
40ft storage container rental
So you've got materials you need to store safely and effectively, and you're wondering what the best option is. We say, a container of course!
Why choose a container for your storage needs? We'll tell you exactly why.
Containers are, simply put, metal boxes. They're made out of welded steel, and are incredibly strong, sturdy and weather resistant (as long as they're in a good condition, of course). This ensures that your goods stay dry, preventing them from getting damaged.
Container bolts are also extremely robust, providing excellent security. Need one more reason? They are rodent-proof. Even those incredibly sharp teeth can't bite their way through such thick steel.
Another benefit of using a container for storage is that you can move it around if and when you need to. This is convenient and allows for more flexibility.
Dimensions of a 40ft container
We know that human beings can't agree on much. Whether or not the earth is round or flat, if mankind has walked on the moon or not, how old the planet is…the list is endless. One thing that they have managed to settle on, however, is the exact dimensions of shipping containers. This is very important for standardization and efficiency in the fast-paced global trade industry of today.
Shipping containers need to be able to fit neatly on top of one another, and to be packed like Tetris. Time is money in the logistics industry, so everything needs to move like clock work.
The most commonly used container for storage is the dry container (DC for short), and because of its popularity, it's pretty easy to get your hands on this type of container, no matter where you are in the world.
The 40ft DC container always has these precise measurements:
| | | | | | |
| --- | --- | --- | --- | --- | --- |
| Length (internal)      | Width (internal)    | Height (internal)     | Tare weight | Payload capacity | Cubic capacity |
| 12.03m / 39.5ft  | 2.4m / 7.9ft | 2.39m / 7.9ft | 3,750kg / 8, 268lbs | 27, 600kg / 61, 200lbs | 67.7m3 / 2, 389 cu ft |
Let's get a better idea of what this looks like visually:
You might be wondering, do I need a 20ft storage container or a 40ft? This completely depends on what you'll be storing, and in what quantity. The 40ft has a capacity of double the 20ft. It can hold 23 to 24 Euro pallets or 20 to 21 standard pallets.
Depending on the items you'll be stashing away, it might be easier to use a few bigger containers, rather than lots of smaller ones. The 40ft is especially useful for large or heavy equipment that doesn't fit easily into smaller containers or spaces.
If you've got oddly shaped equipment or very large machinery, you can also opt for a 40ft HC (high cube), which gives you extra height.
If you want to learn more about the different types of containers out there, have a look at this separate blog.
40ft storage container rental: What to look out for
It's important to make sure that the container you choose for storage is in good condition. Otherwise you run all kinds of risks. Your goods could get damaged, soaked or even stolen – such a hassle!
Make sure that you're clued up on all of the red flags, so as not to get caught out – there are always people out there looking to make a quick dollar.
The savvier you are, the better the deal you're likely to make, and the safer your items will be.
Check out the most important container conditions needed for storage below:
Container conditions checklist
Make sure you check each of the following:
Door seals 
If the door seals are not in working order, you run the risk of allowing the elements in. Wind and rain can damage certain types of materials, and cause rusting and wearing. Small bugs or rodents could also squeeze in, and chew up the contents of your container. Make sure that the seals are effective and not worn away.
Flooring
Most containers have wooden flooring, although in some cases, floors may be metal. Make sure that wooden flooring isn't peeling away and doesn't have big gaps that could make it uneven. Also make sure there aren't any major dents in the flooring. Uneven flooring can cause items to wobble or fall, especially while the container is being transported.
Container surface
It's important that the container sits flat on the ground, and is not lopsided or uneven, as this could cause your container to be unstable. This in turn would put your materials at risk of moving or falling inside the container.
Locking bars and brackets
Check that the locking bars and brackets work correctly, and are not bent or broken, as this will prevent your goods from being safe and secure inside the container.
Exterior walls
While a little bit of rust here and there isn't a train smash, check for bigger patches where the paint might be peeling off. Also check for any large dents, as this could mean that the container walls are uneven inside. Lastly, check for any major scratches, as well as that the decal is in good condition.
To learn more about container conditions and grading, check out this blog post. 
40ft storage container rental prices 2022
As with anything, it's important to note that 40ft storage container rental prices fluctuate. Why does this happen, you might ask? Various reasons influence the container price, including the location, the current supply and demand of that particular container type and size, as well as the condition of the container.
Generally, it can cost you anything between $50 and $400 per month to rent a container for storage purposes.
To read more about shipping container lease rates, take a look at this blog.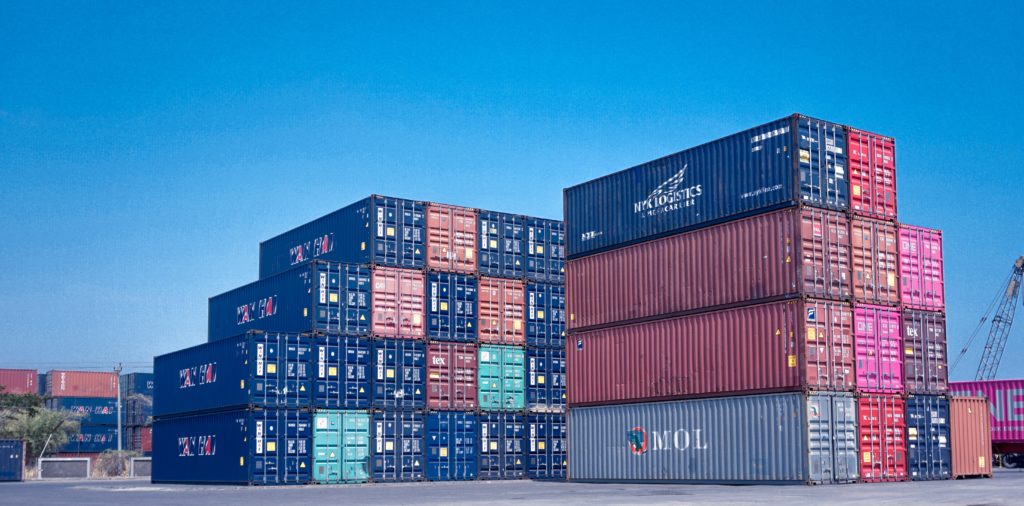 Buy or rent a 40ft storage container: What's best?
So now you know exactly what to look out for. Great! The next dilemma? Whether to rent or buy a box for storage. Let's take a look at when it's better to rent, and when it's better to buy.
Benefits of renting a storage container:
Cheaper
Good for short term or sporadic use
No maintenance required
Great for increasing your fleet during a temporary surge
Benefits of buying a storage container:
Store goods for long periods of time with no rental costs
Move containers around at will
Use to transport goods whenever needed
Can modify containers if needed
For long term storage, it makes sense to buy shipping containers rather than renting them, especially if you plan to store your items for long periods of time. Renting for indefinite periods can become a costly exercise, chipping into your capital. If buying is a better option for you, you've come to the right place. Read on to find out how to buy quality containers at excellent prices.
If you want to be even more clued up on what to look out for when buying a shipping container, have a look at this separate blog all about how to buy containers.
Also learn more about container leasing, owning and exchanging in this blog.
Get a 40ft storage container easily on xChange's trading platform
Container xChange is a neutral container trading market place, connecting container users and container owners. With xChange, you have the opportunity to find all kinds of containers quickly and efficiently, at market value. While it's usually extremely difficult to connect with leading companies in the industry, we put you in contact with over 800 vetted partners, from the moment you sign up. The platform is completely transparent, with all prices stated upfront. So you don't have to worry about any nasty hidden fees or tricky contract clauses coming back to bite you.
Want to know the best part? All prices are negotiable. You can decide to sign a deal only when you're 100% happy with it.
If you're ready to simplify your workflow and digitize your container logistics with xChange, click below to get started with a free demo 👇
Buy 40ft storage containers on Container xChange
Buying 40ft storage containers doesn't have to be a stressful or laborious process, especially when everything can be done on one user-friendly platform. In today's fast-paced, busy and complex world, we all need a little bit of simplicity in our lives, don't we? Container xChange is as simple as it gets.
Check out the three main steps to buying containers below:
Search for containers
With our efficient search function, you can pinpoint the exact containers you want, at a price that suits you. There are currently over 10, 000 containers to buy and sell on xChange, so you'll have plenty of choice!
Negotiate a deal
On xChange, buyers and sellers are connected in order to negotiate a deal that works for everybody. Get ready to find top quality certified partners to work with in no time at all. Communication is easy on the platform, and all your negotiations can be done directly with the seller, no middle men, at last! With instant market price transparency, you'll be able to compare deals, to make sure you're 100% comfortable with what you're paying.
Payment handling
All payments are handled via the xChange wallet, and you'll receive one monthly invoice: neat and convenient. You can also manage release, pick-up and drop-off of containers on xChange. At last, a platform that manages the process from beginning to end!
Are you ready to buy storage containers at excellent prices, from reliable, trustworthy partners? Click below to start your container journey with us!
How much does it cost to rent a 40ft storage container?
The cost to rent a 40ft storage container can vary between $50 and $400 per month, depending on its condition. Container suppliers usually offer substantial discounts to users who lease a container for a year or more, although rentals are generally very flexible.
Can storage containers be rented?
Storage containers can be rented or bought. If you're going to be storing items for longer time periods, however, it makes more sense to buy a storage container once off, rather than paying monthly rent.
[custom-related-posts title="Related Posts" none_text="None found" order_by="title" order="ASC"]
Summary
Article Name
40ft storage container rental: Get one at the best price [2022]
Description
Looking for a 40ft storage container rental? Learn all about prices, alternatives to renting, and the ideal conditions for container storage.
Author
Publisher Name
Publisher Logo