Are you looking for the best container rentals but feeling overwhelmed with all the options out there? Or are you wondering how to even rent a container? If yes, then you're in luck! We're here to take you through the nitty-gritty of all things container leasing.
Renting a container involves considering a number of things. For example, the type of box you need and your budget. And that's just the tip of the iceberg. At times, renting a container can even seem daunting, especially with all the options out there. Not to mention the lengthy process of it all.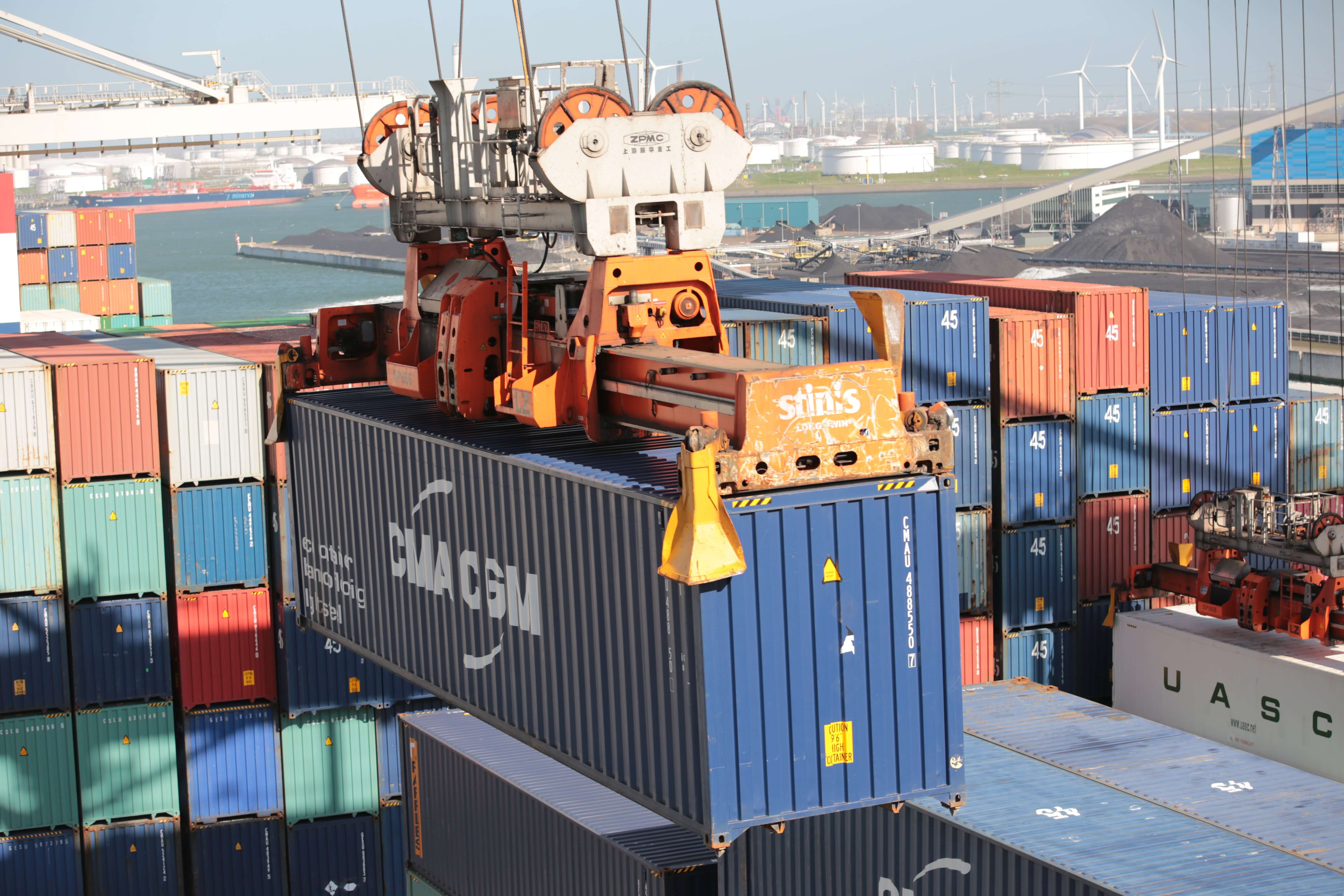 That's why we're here to support you through the entire container rental process. From finding and transacting with container owners to tracking your containers. We've got you covered. With 1000+ vetted members available on our platform and access to leasing options in 2500+ locations. You'll be able to easily find trustworthy partners to lease containers from.
Why don't you give our user-friendly leasing public search a try? Simply select 'I want to use containers', choose a pick-up and drop-off location, and hit that search button.
Find new & old shipping container rentals
Old or new, which one to choose? One of the questions to consider when renting a container is whether you should rent a new container or a used one.
Well, the answer to this question depends on your needs and budget.
A new container has usually completed only one trip. And so, it would be a great choice for you if you want the highest level of quality and have some extra cash to spare.
Now, even though used containers have been in the game for longer, they're still a popular choice amongst freight forwarders. This is because they're more affordable while still remaining durable.
Whichever you decide to rent, you can find both conditions available in 2500+ locations on xChange.
Average shipping container rental prices
It's important to note that leasing rates for shipping containers vary based on market situations. This includes the demand and supply of containers. Leasing rates also vary from location to location.
The condition, age, and type of container can also affect the rate.
Here's a sneak peek of the average one-way leasing rates for standard containers on popular stretches:
Container type
Stretch
Price (USD)
20ft DC

China to US

$1083

China to the UK

$1148

China to Russia

$1400

40ft DC

China to Belgium

$2756

China to Italy

$2445

China to France

$2756

40ft HC

China to Belgium

$3150

China to France

$3500
Interested in learning more about global leasing rates? Download our one-way leasing report today.
Types of shipping containers for rental on xChange
So you're thinking about leasing a shipping container but not quite sure which container will best suit your needs? Well, lean back into your seat because here's a list of containers you can find on xChange: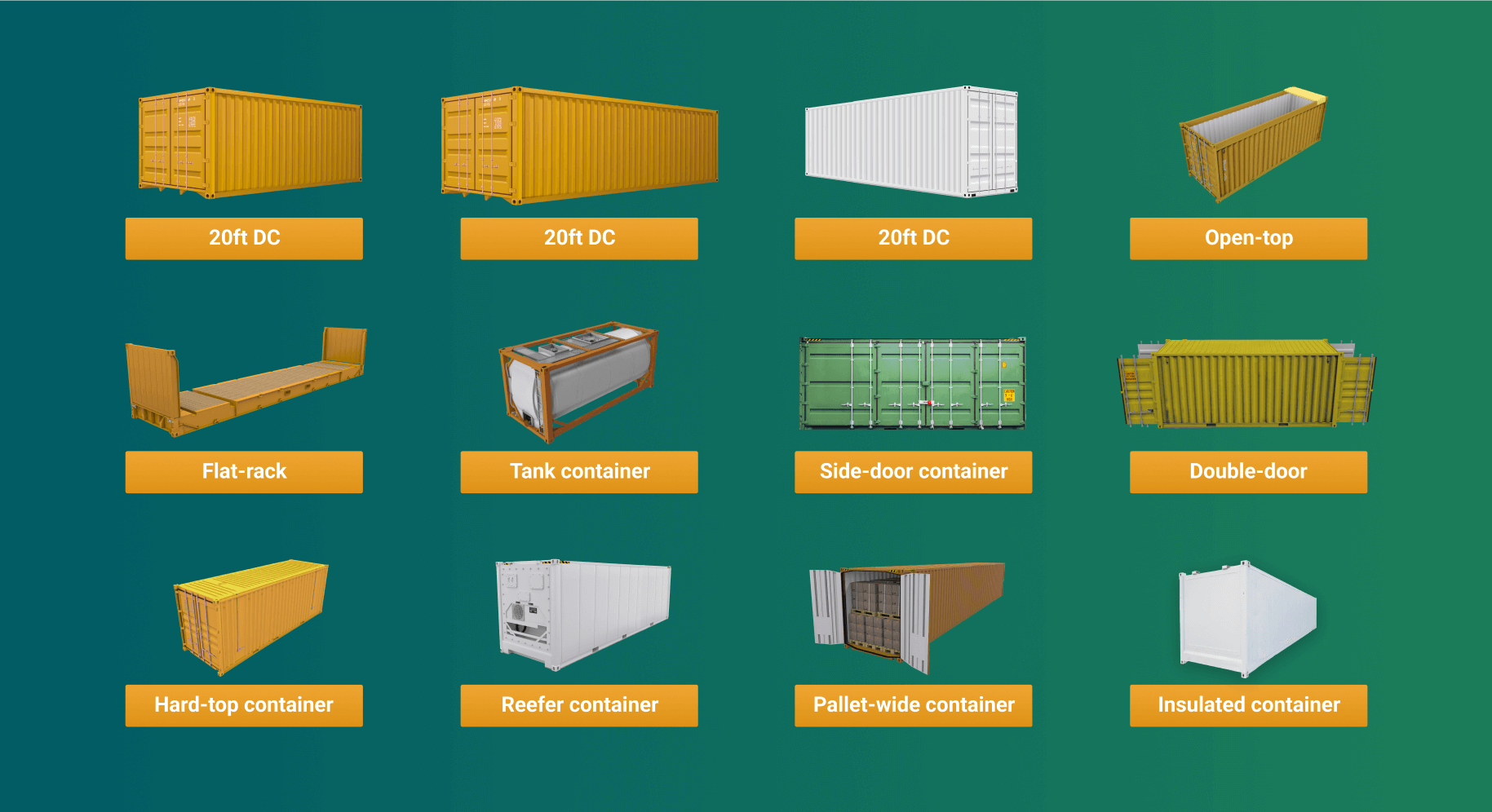 20ft and 40ft containers
The standard 20ft and 40ft containers are by far the most popular containers. Due to their global standard sizes, they can easily be stacked on top of each other- saving you extra transportation costs. They're also made of sturdy corten steel and are air-tight and water-resistant. So worry not because your cargo will be in good hands. Or should we say containers?
High cube containers
With this container, you have extra loading capacity compared to standard containers. A foot to be exact! Even though high cubes are one foot taller, they're still perfectly stackable with standard containers. And they're ideal for transporting your bulky and voluminous cargo. This is why they're a crowd favorite amongst freight forwarders and shippers.
Open top containers
These containers have an open top covered by a tarpaulin instead of a solid roof. This makes it possible to load oversized cargo, such as timber and scrap metal from the top.
Open tops typically also have end doors, like closed containers, to give extra flexibility for loading and unloading cargo.
Double door containers
Ding ding! You guessed it. Double doors have two pairs of doors – one on each short end of the container. The result is a long tunnel that allows you to walk in one entrance of the container, through the center, and out the other side. The most obvious benefit is that they make it easier to load and unload cargo from either end of the container.
Side door containers
These containers have normal doors along the width plus specialized doors along the length. So you can seamlessly load and unload oversized cargo that won't fit through the normal doors. This container is ideal if you're looking to make the most of your available space.
Hard top containers
Hard-tops are just a special type of standard container. The only major difference between the two is that hard tops have a detachable roof and standard containers don't. As a result, you'll find it easier to load and unload very large cargo with a crane.
Reefer containers
Also known as refrigerated containers, reefers are used to transport goods requiring temperature-controlled conditions. Products such as pharmaceuticals, fruit, vegetables, dairy products, and meat are typically shipped in this kind of shipping container.
Insulated containers
Insulated containers keep a consistent temperature inside the container, no matter what the outside temperature is. They often have a double wall. This is vacuumed to prevent heat and cold transfer between the interior and exterior. Hence, these containers are perfect to ship fresh produce, medicine, and temperature-sensitive chemicals.
Flat rack containers
Flat racks only have sides on the short side of the container. So the cargo can stick out the length of the container during transportation. Thus, this is the ideal container to ship very odd-shaped cargo with unique dimensions. Examples include trucks, boats, and heavy machinery.
Pallet wide containers
This type of container is designed to transport Euro wooden pallets. And can take up to 15 Euro pallets instead of the average 11. These pallets tightly hold cargo in place, so you don't have to worry about it slipping or getting damaged.
Tank containers
Tanks are made of strong steel and are surrounded by a protective layer of polyurethane and aluminum. For this reason, they're an ideal candidate to ship both hazardous and non-hazardous liquids, chemicals, and powders.
Dimensions of shipping containers for rental on xChange
So you have a brief understanding of the types of containers you can rent. But you're still not sure of their exact dimensions and specifications?
Fret not! Because we're here to shed some light (or metrics) on the matter.
Below you can find a detailed overview of the various dimensions of standard shipping containers:
| | | | |
| --- | --- | --- | --- |
| Dimensions | 20ft DC | 40ft DC | 40ft HC |
| Internal length | 19.4ft | 39.5ft | 39.5ft |
| Internal width | 7.8ft | 7.9ft | 7.8ft |
| Internal height | 7.9ft | 7.9ft | 8.10ft |
| Tare weight | 2,300kg | 3,750kg | 3,900kg |
| Payload capacity | 25,000 kg | 27,600kg | 28,600 kg |
| Cubic capacity | 1,172 cu ft | 2,389 cu ft | 2,694.5 cu ft |
Keen to learn more about the dimensions and capacities of special containers? Then head on over to this blog.
Container rentals: Renting vs buying shipping containers
So now you've got an idea of the average cost of container rentals and the types of containers you can rent.
But your main concern is how do you even know if renting a container would benefit your business. Should you rather opt to buy?
Renting and buying containers both come with their advantages and disadvantages. It's for this reason that you have to sit down and consider why you should rent a container or buy one. Now, you may be confused or don't even know where to begin. Luckily, we've compiled a list of three crucial questions you must ask yourself. This will help you make the best decision for your situation.
Questions to ask yourself:
What is my available capital?
Why do I need the container?
How long do I need the container for?
Once you've answered these questions, you'll get a clear picture of which route to take.
Let's look at some realistic scenarios in which you should buy containers.
If you have the available capital to buy containers, require containers for a long period, or need to make modifications to the containers. Then buying containers will make more sense.
However, if you have limited capital or only require containers for a short time then renting would be the best solution for you. That way you get to save on maintenance and storage fees.
To simplify things a bit more, here's a table summarizing the scenarios of when to rent or buy containers:
Have you decided that renting a container fits your needs? Or would buying one be better in the long run for you? No matter what you opt for, xChange can help you with both! Simply, click on the banner below to get started.
Benefits of opting for shipping container rentals
By now we all know that leasing a container is great if you're short on capital. But how else can leasing benefit you?
Here are some of the key benefits of leasing a container:
It's cost-effective —you get to save on maintenance and storage fees.
Provides freedom and flexibility.
Perfect for short-term or one-time use.
Types of container rental contracts
There are quite some perks that come with leasing, as discussed earlier. However, there are four main types of lease agreements, each with its benefits and disadvantages.
Master lease
| | | |
| --- | --- | --- |
| Duration | Pick-up & drop-off | Maintenance & repair |
| Variable | Restrictive | Leasing company |
Master lease agreements are the most flexible ones in terms of container quantity and rental rates. However, they usually come with a long list of permitted pick-up and drop-off locations.
These agreements are known to be costly.
Long-term lease
| | | |
| --- | --- | --- |
| Duration | Pick-up & drop-off | Maintenance & repair |
| 5-8 years | Very restrictive | Lessee |
These agreements are less flexible but more cost-effective than master lease agreements. A long-term lease is signed for a fixed amount of time, typically 5 to 8 years. You can agree upon the number of containers, delivery schedule, and duration of usage.
In a long-term lease, the lessee is responsible for maintenance, repair, and repositioning costs.
Short-term lease
| | | |
| --- | --- | --- |
| Duration | Pick-up & drop-off | Maintenance & repair |
| Less than 6 months | Very restrictive | Lessee |
With short-term leases, the rental rates are high and you have to pay for maintenance and repair costs. Hence, this lease is ideal if you need containers for a round trip or less than 6 months.
One-way lease
| | | |
| --- | --- | --- |
| Duration | Pick-up & drop-off | Maintenance & repair |
| Variable | Shipper's desire | Lessee |
Do the above lease agreements not work for you? Or do you need a container for just a one-way trip? Then a one-way lease agreement might be the best option for you. With this type of lease, you'll have the most flexibility. You can select your drop-off location and negotiate price, free days, per diems, and duration.
Now, you may be wondering how do you even find containers for a one-way lease?
Worry not, we've got your back. By becoming an xChange member, you can seamlessly connect and lease containers from 1,000+ vetted container owners in over 2,500 locations.
Plus! You'll be able to easily deal with big leasing companies. These include Trident, Seaco Global, SeaCube and the list goes on and on. Because we know just how challenging and time-consuming it is to gain access to these top dogs.
Added perks: you get to lease containers with 100% transparency, manage transactions in one place, and track your containers in real-time.
Efficiency and security at their best.
So, why not choose a space that's secure, reliable, and transparent? Get the boxes you need at a price you're willing to pay. Simply click on the banner below to see how it all works.
How to rent shipping containers on xChange
The big question has arrived: "How do I rent a shipping container?"
At xChange, we know just how confusing and tedious the container leasing process can get. And how it lacks transparency. That's why we've created a 100% neutral marketplace that provides flexible leasing options in 2500+ locations.
Our leasing process is straightforward. After you've subscribed for a small fee, you'll go through a full background check. This is done to ensure that xChange continues to be a trustworthy and transparent marketplace. So, you and all our members can negotiate and conduct deals with complete confidence. From there, all you have to do is log into your xChange account and follow the simple steps below: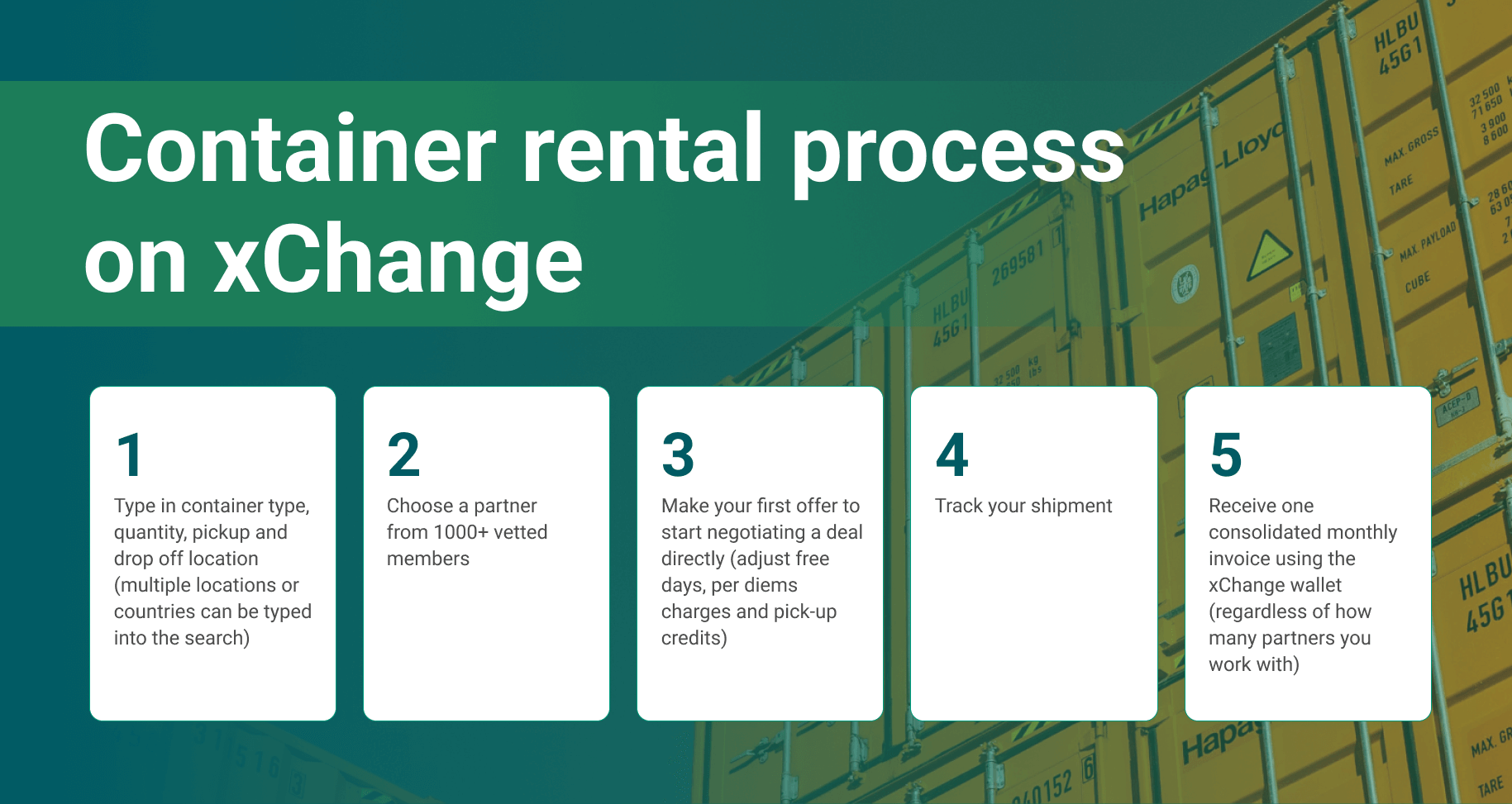 It's as easy as that!
With xChange, you can:
Ready to skip the hassle of lengthy leasing agreements and enjoy all the benefits listed above? Then, click on the banner below to get a quick demo on how to lease shipping containers. Our experts will guide you through all the steps and answer your every question. Give it a try today!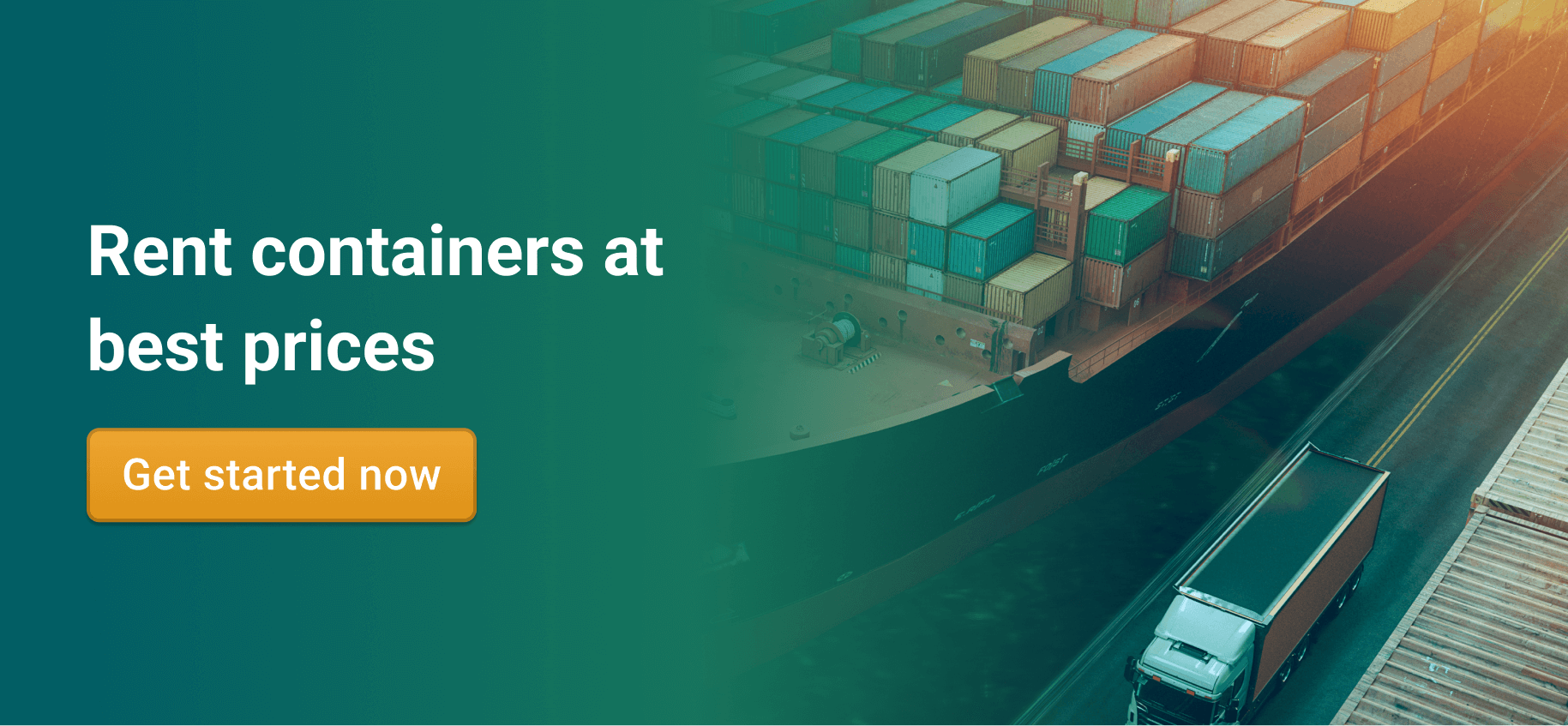 Container rentals: Common FAQs
How much does it cost to rent a 20ft container?
A 20ft container from China to the US costs about US $1083,00 on average to rent. This rate increases to about US $1147,00 if you're leasing a 20ft container from China to the UK.
How much does it cost to rent a 40ft shipping container?
The cost of renting a 40ft shipping container can be anywhere between US $2,800 and US $ 3.100 on average. The cost varies depending on the market situation, supply and demand, and condition of the container.
How do I rent a container?
To rent a container, become a member of Container xChange. On the leasing platform, you can find leasing options in 2500+ locations and easily negotiate with 1000+ vetted members.
[custom-related-posts title="Related Posts" none_text="None found" order_by="title" order="ASC"]
Summary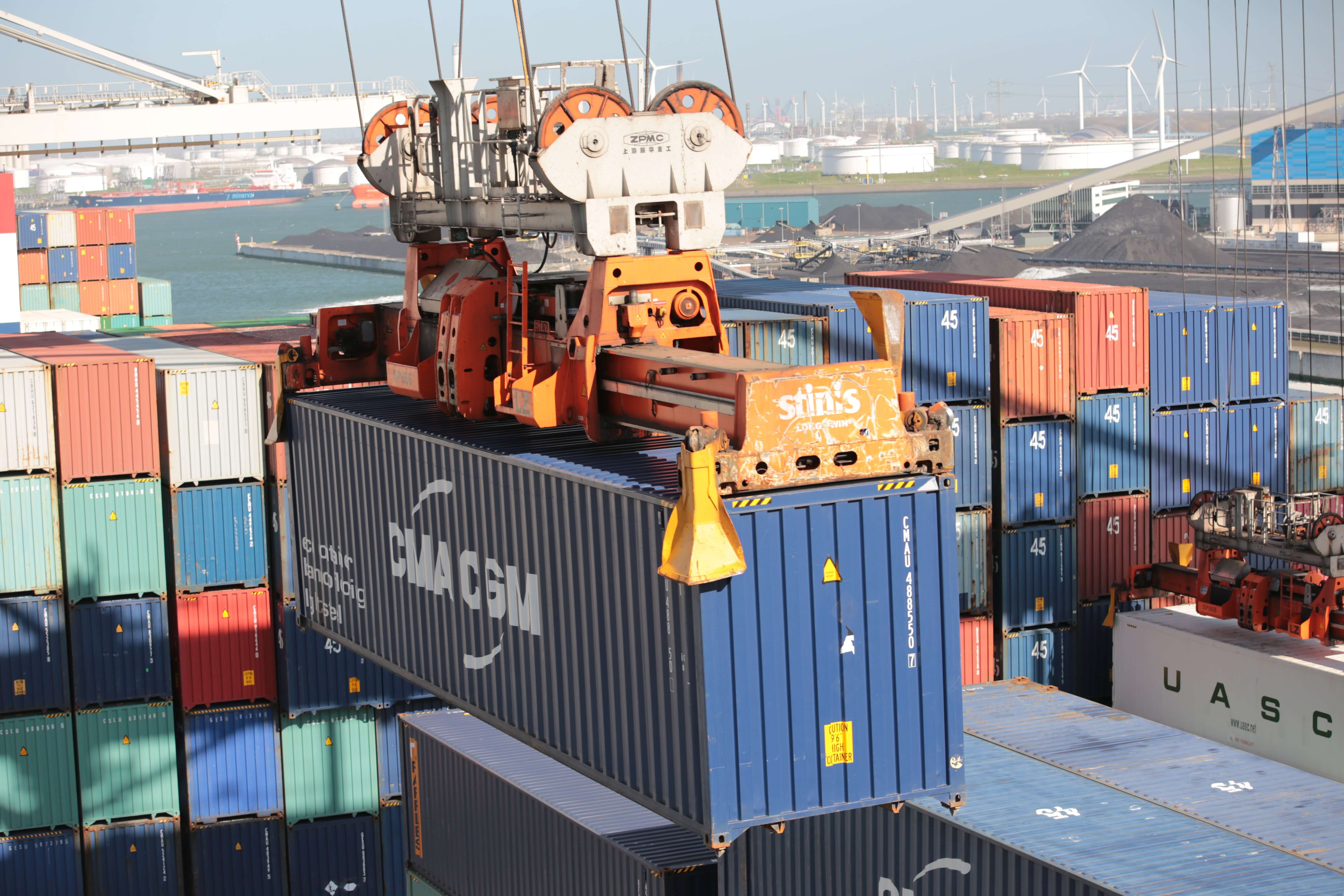 Article Name
Want great shipping container rentals? Get best rental prices [2022]
Description
Are you looking for the best container rentals? Then use xChange to rent containers that meet your needs and budget.
Author
Publisher Name
Publisher Logo