The 20 foot storage container is a popular choice for housing dry goods of all kinds. Find out why it's the perfect fit for storage in this blog. Plus, learn how to get quality containers at the best prices.
20ft shipping containers are one of the most popular containers in the market. They are easily available and are much cheaper than other containers. 
While it's easy to find 20 foot storage containers, you can never be too sure that you're paying the right price for these in-demand boxes. And if you want specialized 20ft containers, there's a good chance that your local sourcing network may not have them.
That's where Container xChange can help you. We're an online container marketplace with 50,000+ containers available in 2500+ locations. On our platform, you get multiple container offers to compare, negotiate, and book directly from suppliers. This way, you can be sure you're buying your containers at the best prices. 
Want to check out the prices and availability of 20ft containers in your location? Simply use the public search below, fill in your container requirements and location, and browse through multiple offers from vetted sellers.
New & used 20 foot storage containers for sale
One of the first things you need to decide before buying 20 foot storage containers is the condition of the container you need. If you plan to use your container for a long time, you should choose a new container. They can last for 15-20 years easily. 
New containers are more expensive than used containers. The average price of a new 20ft shipping container is between $2,000 to $3,000.
However, it makes the most sense to go with either a cargo-worthy or WWT container for storage. These are safe and sealed, but considerably cheaper than new containers. You can get a cargo-worthy 20ft container for as low as $700 on our platform! 
Want to check out the price difference between new and used containers in your location? Click the banner below to see the price difference and make the best container deals!
What are the best types of 20 foot containers for storage? 
Now that you've decided on the condition of the container you need, it's time to decide the type of container most suitable for your storage purposes. Read on to know the different types of containers available and which one is right for you. 
20ft standard containers for sale 
The standard 20ft dry container is a popular choice and for good reason. Its smaller size makes it easy to move and transport, as well as load and unload — making it perfect for storage.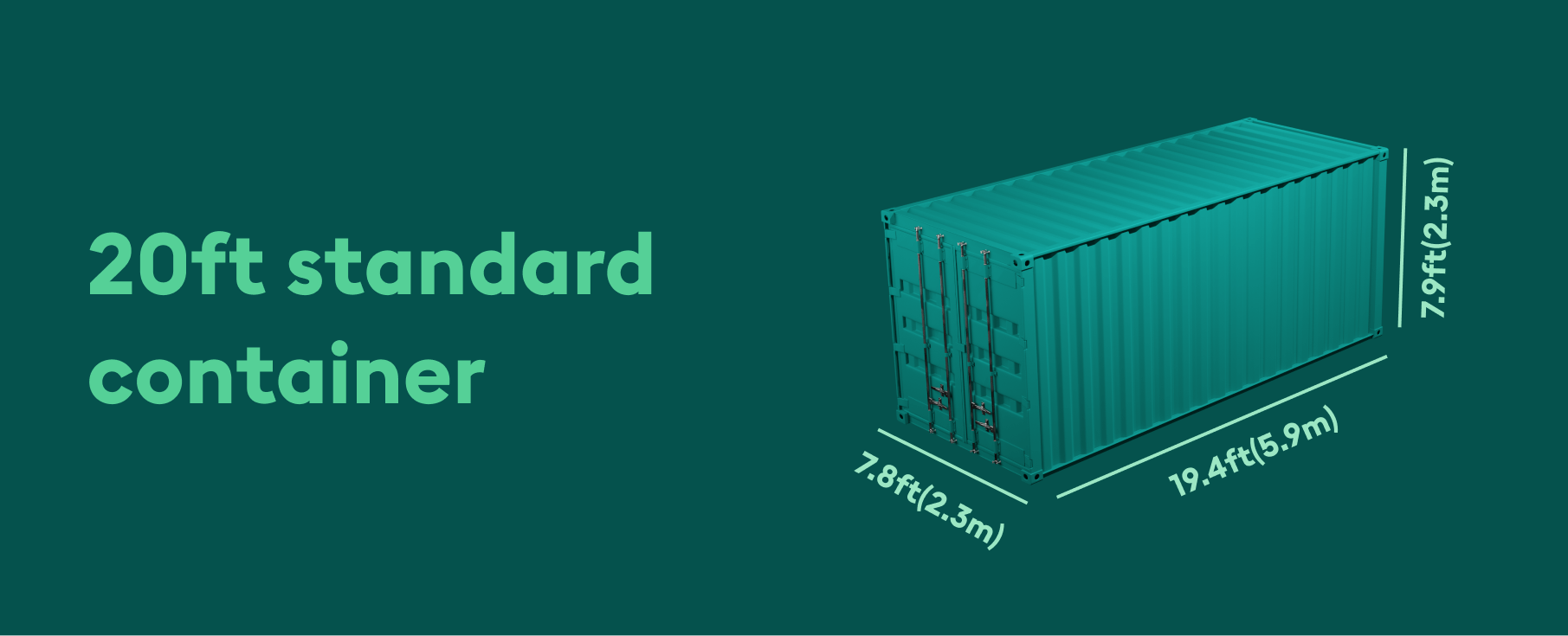 20ft containers are suitable enough to store a wide range of goods. You can get 20ft containers for $700 in some locations on our platform! Click here to check out the prices of 20ft containers in your preferred location.
20ft HC containers for sale
The 20ft high cube is exactly the same as the standard 20ft, with an extra foot of height. This extra height increases your storage space, giving you great value without increasing the floorspace.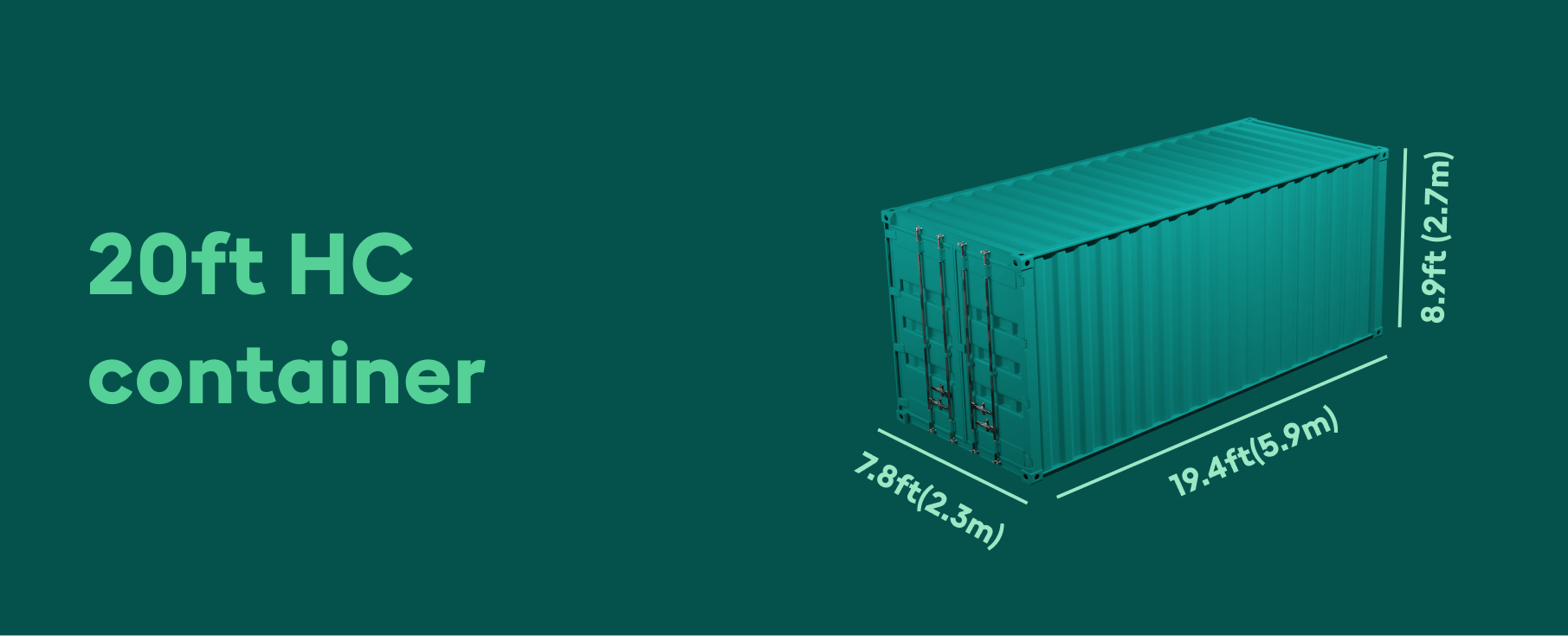 Naturally, a 20ft HC is a better investment if you want to utilize your space well. High cubes are also great for storing larger quantities of goods or taller items. Want to know which locations have the lowest container prices for 20ft HC containers? Click here to check out container offers from 1500+ vetted sellers to find best deals.
20 foot open top containers for sale
An open top container has no roof. Instead, a tarpaulin is used to cover goods and keep them safe from the elements. This container type is ideal for items that are difficult to load through standard container doors due to their size or shape.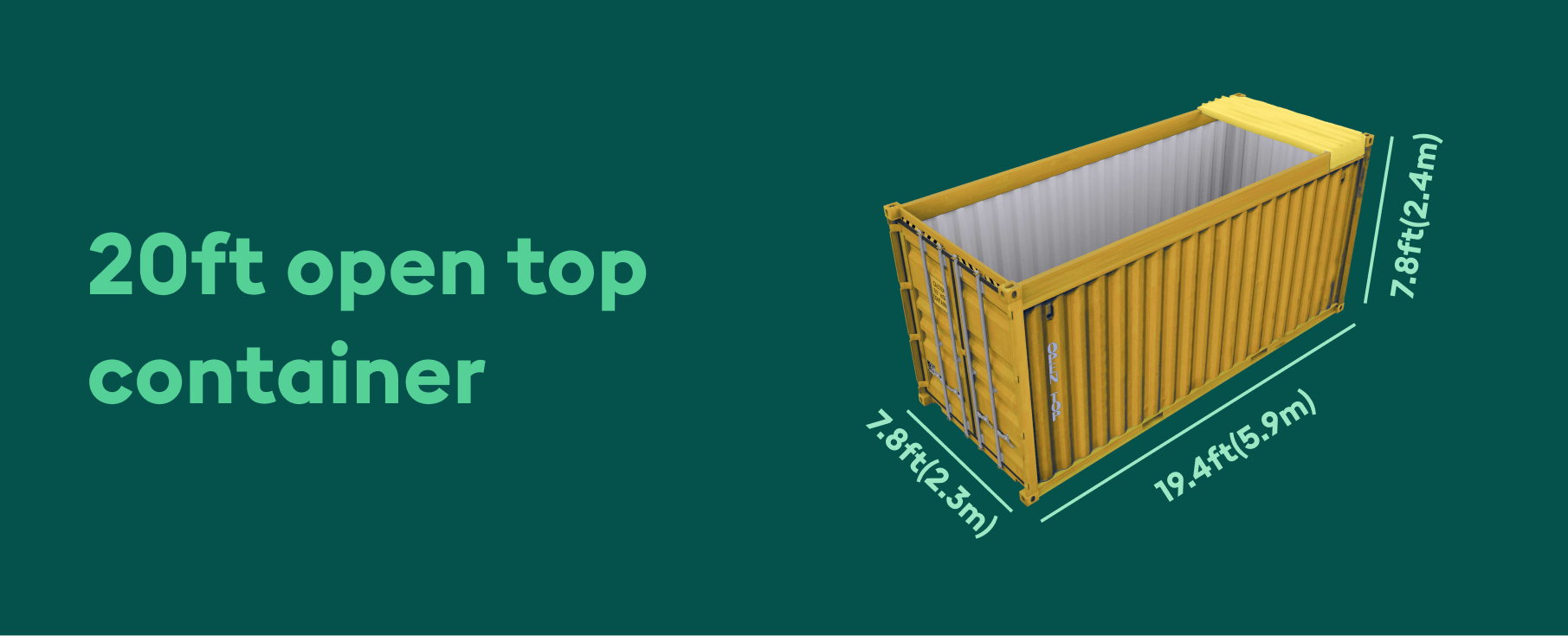 You should choose a 20ft open top container if your goods are over-sized but have a low volume. Simply load your cargo from the top and rest assured the strong side-walls will keep belongings safely in place. 
Open top containers are a bit more expensive than standard 20ft containers. Check out the price difference between the two by clicking here.
20 foot storage container dimensions 
It's important to know the dimensions of the container you're choosing to ensure that your goods will fit. Check out the table below to get the dimensions of the different types of 20ft containers we've discussed above.
| | | | |
| --- | --- | --- | --- |
| Measure | 20ft  | 20ft HC | 20ft open top |
| Internal length | 5.9m / 19.4ft | 19.4ft / 5.902m | 19.3ft / 5.9m |
| Internal width | 2.35m / 7.8ft | 7.7ft / 2.352m | 7.7ft / 2.35m |
| Internal height | 2.39m / 7.9ft | 8.9 ft / 2.698m | 7.8 ft / 2.38m |
| Tare weight | 2,300kg / 5,071.5 lbs | 2,315 kgs / 5103.701 lbs | 2,350 kg / 5,181.8 lbs |
| Payload capacity | 25,000kg / 55,126.9 lbs | 28,160kg / 62082.173 lbs | 28,130kg / 62,026.7 lbs |
| Cubic capacity | 33.2m3 / 1,172 cu ft | 37,28m3 / 1,316.53 cu ft | 32.5m3 / 1,147.3 cu ft |
Capacity of a 20 foot storage container
The capacity is yet another important thing to consider when choosing a container for your storage needs. It's the most realistic metric to tell you how much you can actually store inside a container of a particular size and type.
A standard 20ft container can hold:
200 full-sized mattresses
48,000 bananas
50-60 refrigerators
400 flat-screen TVs
The household items of a one or two bedroom apartment
20 foot storage container price: Access real-time container prices
Now that you've decided which 20ft storage container to buy, it's time to take a look at the container prices. Here are the prices for cargo-worthy 20ft containers in various locations around the globe:
20ft (cargo-worthy) container prices

Location

Price

USA

$1,360

China

$1,167

India

$997

Europe

$1,235

UAE

$1,150
As you can see, the prices vary significantly from one location to another — the lowest being in India. It will make more sense for you to buy 20ft containers from India than from places like the USA. This way you'll save $400 on your container deal! 
However, the pricing of containers keeps changing and depends on the location, current market situation and container condition. One easy way to keep track of real-time container prices is through xChange Insights. 
On Insights, you can access container prices in 180 locations globally. You can also see price development for a week, month, or even several years. This way, you can analyze the pricing trends and identify the best time to buy, sell or lease out your equipment.
Want to know more about Insights and how it can benefit your business? Click here to try Insights for free today!
Buy 20 foot storage container at best prices on xChange
If you've decided that 20ft containers are for you, look no further than Container xChange to get the quality containers you need. 
We have standard, high cube and open tops containers in various sizes and conditions on our trading marketplace. Once you become a member, it's easy to find containers any time. Simply type your requirements on our platform to see container deals by sellers that match your criteria. Compare prices easily by viewing multiple deals simultaneously. 
You can also talk directly to sellers to agree on the terms and conditions of the sale. This way, you can get containers on your terms and within your budget. What's more, all payments are safe and secure and are handled on the platform.
There are 1500+ vetted partners using Container xChange to buy, sell, and lease containers. xChange makes it possible for you to comb through 50,000+ containers in more than 2500 locations worldwide. Simply click the banner below to find the best container deals today!
20 foot storage container: Common FAQs
How much is a 20 foot shipping container?
The price of a 20 foot shipping container varies considerably, depending on the location, condition and market situation. In the USA, you're looking at around US $1,360 for a standard 20ft dry container, in India $997 and in China $1,167.
What is the size of a 20ft container?
A 20ft container has an internal length of 5.9m / 19.4ft, an internal width of 2.35m / 7.8ft, and an internal height of 2.39m / 7.9ft.
How much can a 20ft shipping container hold?
A standard 20ft shipping container can hold approximately 100 washing machines, 200 full-sized mattresses, 400 flat-screen TVs, 50-60 fridges, or 48,000 bananas.
Summary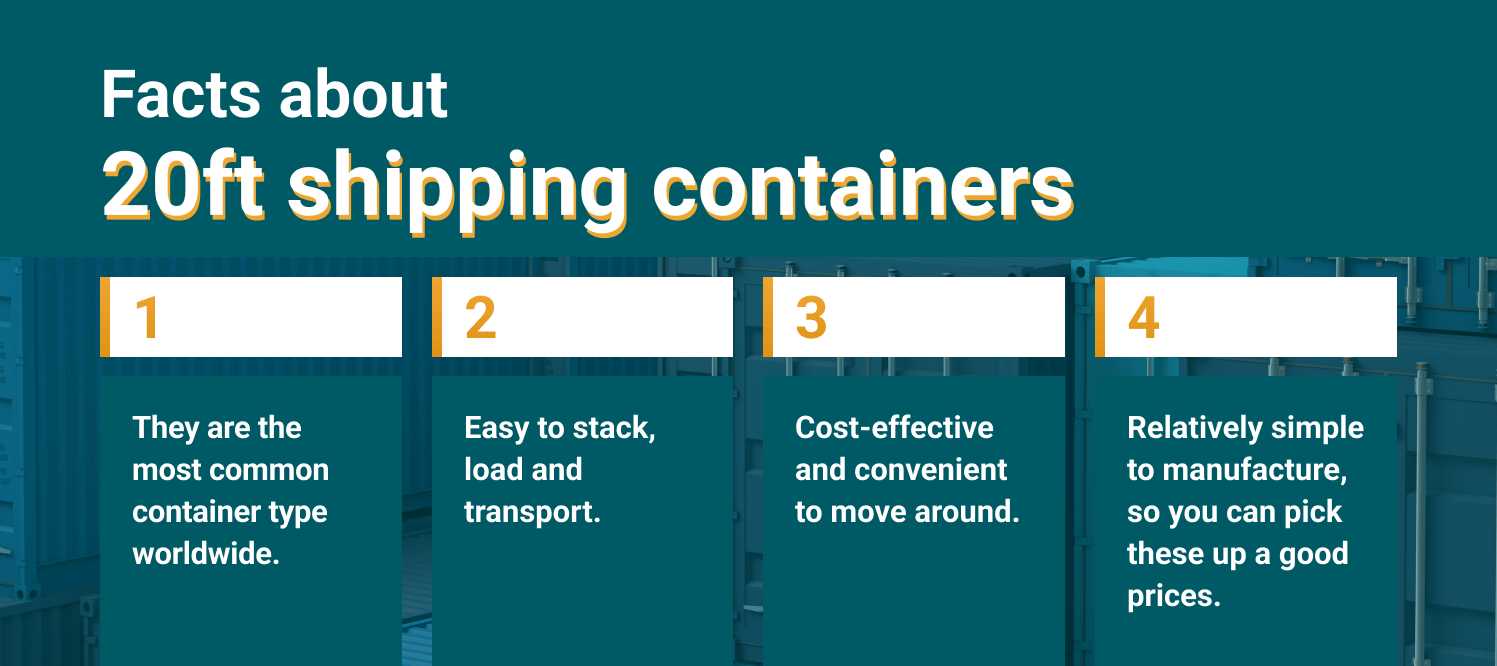 Article Name
20 foot storage container dimensions [+ find best deals]
Description
Looking for 20 foot storage containers? Get them at the best price here. Plus, learn all about 20 foot container dimensions and types.
Author
Publisher Name
Publisher Logo