Container trading is a complex shipping business involving multiple players. Read this blog to learn how containers are bought and sold in the market today. Also, learn how to trade containers to maximize profits in 2500+ locations. Want to skip the blog and directly talk to an expert on trading? Click here to book a free call with our expert team.
The business of buying and selling containers is six decades old. But in this short time, container trading has revolutionized global trade. And even created new economic opportunities all across the world.  
But the process of trading is not simple. The trading industry is highly dependent on networking and manual processes. You'll find it surprising to know that traders spend most of their time building networks to leverage any buying or selling opportunities. 
As you can guess, profits are not always guaranteed. Especially, when the industry is so fragmented with hardly any price transparency. But all that changes when you buy and sell containers on an online marketplace like Container xChange. 
On our neutral trading platform, you can expand your network by connecting with 1500+ buyers and sellers in 2500+ locations worldwide. Receive offers on containers, compare the prices, and choose the ones that meet your budgetary requirement the best. 
Sounds too good to be true? Use our trading public search to see these offers now. Just submit your requirement and press the 'Search' button. Browse through the hot offers at your location in a matter of a few clicks. Give it a try now!
Do you want to buy a single container? Then try out our basic trading membership, ideal for one-time buyers!
What is container trading?
Container trading is an integral part of modern container logistics. It sounds simple: One party sells containers and another buys them. But it's not as simple as it might sound. There are many shipping players that buy and sell containers. And the end users form a very small fraction of the buyers. So if the end users are not buying the containers, then who are actually traders selling to?  
To put it simply, buying containers is mostly about building a container fleet for leasing out containers. And selling containers is mostly about earning profits or liquidating assets in the re-selling markets. We'll learn more about this in the next section.
Who are shipping members involved in container trading?
As known by now, container trading involves a number of shipping players. Here are the most common parties in trading:
Manufacturing companies
As the name indicates, container manufacturers are companies that build shipping containers. It's important to remember that manufacturers are different from suppliers. Suppliers source and acquire quality containers from manufacturers. Whereas, manufacturers actually create the boxes from raw materials. 
Manufacturers sell the equipment in big batches built to order. It takes a minimum of 30 days to get your containers delivered from the manufacturing unit. And if you're not a long-time customer, you'll be asked to make a pre-payment upon order. You can read more about the top 10 biggest container manufacturers in the world right here. 
Container leasing companies
Container leasing companies form the primary customers of container manufacturers. These companies buy containers in very big quantities and then lease or sell them. These companies act as container suppliers. 
Usually, a regional manager from the leasing company is responsible for selling containers in specific regions. You'll mostly find equipment at the end of their leasing period forming the sales stock. Read more about the top 10 container leasing companies in the world here.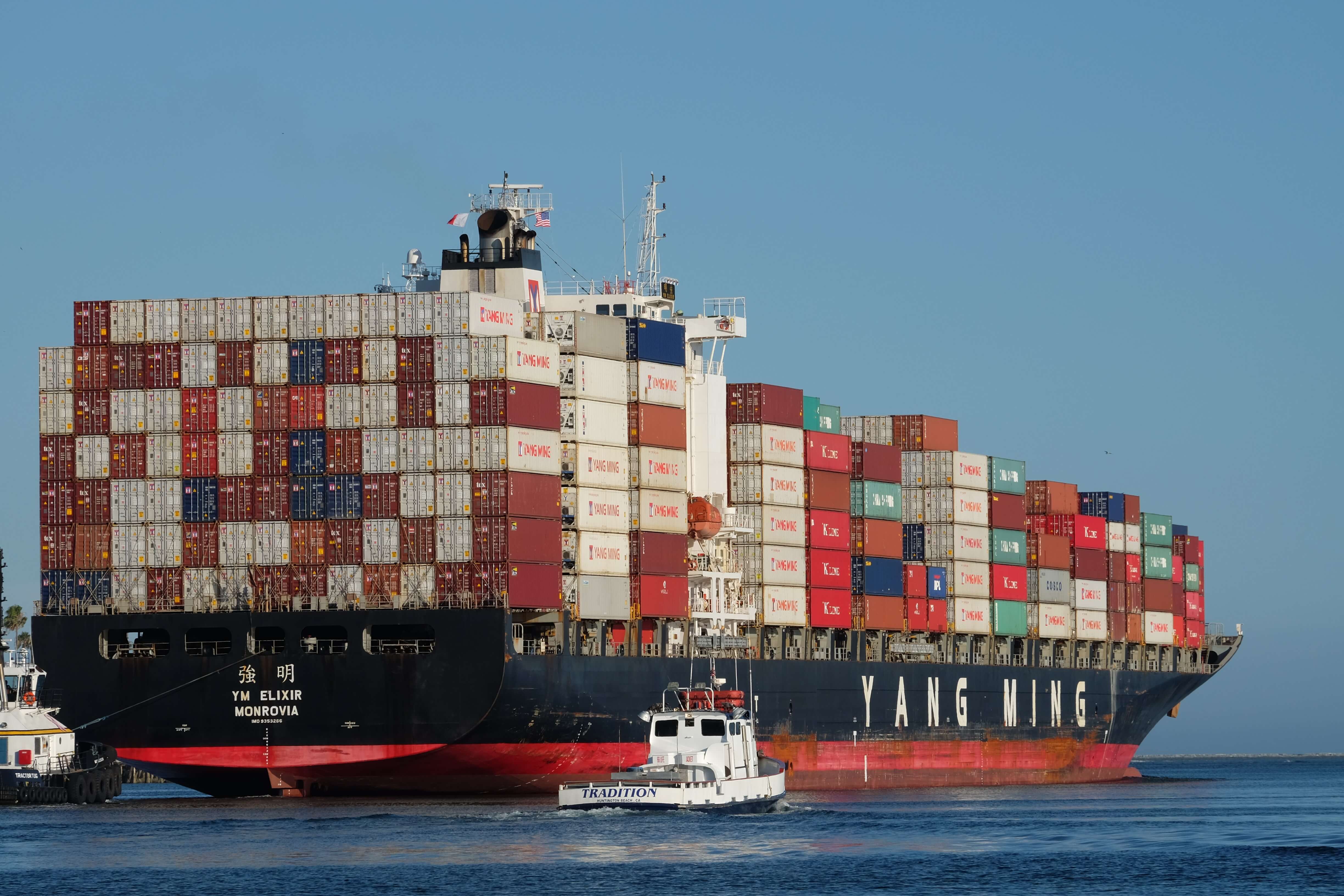 Carriers and shipping companies 
Carriers and shipping lines own very big fleets of containers. They also buy containers from manufacturers. But trading is a very small part of their business. 
Carriers sometimes sell their used containers to a few big container traders. This helps them keep the process predictable and easy to manage. 
Container traders
The main business of container traders is to buy and sell shipping containers. They also have region-specific sales managers responsible for selling containers. But not all container traders conduct their business the same way. A big container trader has a well-established network of buyers in many countries. Whereas, a mid-sized container trader specializes in trading in just a few locations.  
NVOCCs
NVOCCs are ocean carriers that transport your cargo without operating any vessels. They buy space from vessel-operating common carriers (VOCC) and resell it to shippers. For ease of doing their business, NVOCCs sometimes operate their own container fleet between the ports they offer their services. And hence, they buy containers from suppliers and traders to sustain their business. 
They also earn profits by buying containers at a cheap location, repositioning to and selling them at a profitable location. They also sell their own containers that have ended up in a location that's not good for export.
Individuals and end users
People might also be interested in buying a container. Many times it's for recycling purposes or long-time storage. Do you want to buy a single container? Then try out our free basic trading membership, ideal for one-time buyers!
Market overview of container trading
Container trading is crucial to the sustainability of the shipping industry. The buying and selling of shipping containers by all the above-mentioned parties maintain the resilience of the logistics industry. Even in the face of disruptions. In fact, the global pool of shipping containers increased by 13% to almost 50 million TEUs in 2021. 
China is the top manufacturer of containers. Almost 88% of the shipping containers are produced by three main manufacturers: CIMC (48% market share), Dong Fang (26%), and CXIC Group (14%). Economically, China offers the perfect manufacturing environment with low labor costs, cheap steel production, and high exporting volume. And so, China is a trading hotspot for the rest of the world. Traders buy containers from China and then sell them in regions like the US, UK, and Europe.
This is also the reason why shipping containers are expensive in China. Here's a rule of thumb: Shipping containers will be priced higher in locations with a high export volume. So, China, Vietnam, Indonesia, and Singapore sell containers at higher prices than other locations.
In fact, the trade is so heavily dependent on China that the country has a monopoly with over 90% market share in containers globally. In a bid to break this monopoly, India has decided to become self-sufficient in shipping containers. The South Asian country, backed by supporting government policies, is rapidly boosting container manufacturing. 
Now that we know the overall picture of the container trading market, let's look at the ground report of how containers are actually traded. 
How container trading works 
For many years, container trading has been something you did manually. You depend on having a big personal network, existing partnerships, and industry experience. At times, you even need online research skills.
Let's go over how container trading works. Let's imagine that you're a medium-sized freight forwarding company. You urgently need to buy containers in Rotterdam. 
What do you do?
You decide what container type you want to buy.

You decide on a budget for those containers. The estimates are based on earlier prices or market knowledge.

Then, you check the availability of that container type in your area. You do that by searching online, sending out emails, and calling around in your network.

When you've found a seller who has containers you're interested in, you look for their contact details and negotiate details.

Last but not least, you finalize the purchase legally.
Container brokers help source containers 
Normally, you find a person in your network who can help you get in touch with other sellers and traders. Especially, if you've been in the industry for a while. Then you'll most likely know someone who knows someone.
If you don't have a big extensive network, the other standard option is to go through a broker. A broker is an intermediary between you and the seller. Container brokers usually have a strong regional network. They can take care of the entire matter as long as you pay them.
However, there are downsides to using container brokers. They're notoriously known for being non-transparent when it comes to their prices. They even add extra charges without you knowing it. You also don't know who your partner is or how they found them. These are some of the reasons why online container brokers are making their way into the market. Learn more about container brokers in detail in this blog.
Container trading today: Rise of online container brokers
So, that's how container trading used to be – and how it still is for many today. But there's no reason for you to spend hours sending out email after email. Neither do you have to wait, hoping that someone in your network knows someone who might have containers for sale. And who likes to throw hard-earned money after something you don't know what's for? 
What if we tell you that you can easily skip the hassle? You no longer need to send lengthy emails and waste your time on leads. On Container xChange, you find 1500+ sellers and buyers with container offers in 2500+ locations on an online marketplace. 
All you have to do is submit your requirements, including the container types and location. And you'll receive offers from buyers and sellers in one dashboard in just a few seconds. This way, you can compare availability, prices, and company reviews to shortlist the ones that suit you the best. Just negotiate and book containers in a few easy steps. Pretty convenient, right? 
This way, you get complete transparency over prices for your business and control over the process. Learn more on how you can find the best price on containers in your location. Just click on the banner and talk to our experts who'll answer all your queries. 
Do you want to buy a single container? Then try out our basic trading membership, ideal for one-time buyers!
Top 10 container trading companies on xChange 
Transparency has long been a foreign word in the industry. But we are changing that on xChange. We give you complete transparency over who you are dealing with. You can check out each member's company profile and peer reviews for a better trading experience. And you'll also be able to see who they've worked with before.
Here are the top 10 rated container traders on the xChange trading marketplace:  
CR Container Trading GmbH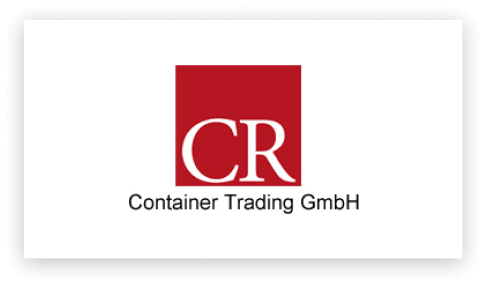 With an experience of 20 years, CR Container Trading GmbH is active all over the globe, trading in both new and old containers with some of the market's biggest and most influential companies. The core business of CR Container Trading GmbH is the purchase and sale of containers of all types, as well as renting and positioning them worldwide. 
Container Trade Solutions k.s.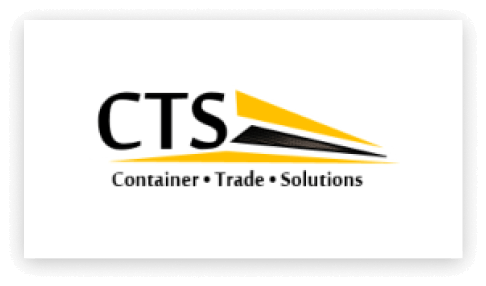 The company mainly focuses on container trading. It operates especially in Central Europe, CIS, and Asian (North-East Asia) countries.
CSI Container Services International
CSI is a container service company that is active in buying, selling, and one-way lease of new and used containers.
Gateway Container International Limited
Founded in 2010 in Shanghai, the main business is railway forwarding & container one-way leasing between Eurasia countries. The company has also become an active container trader and is especially a container supplier for China and Europe.
iCON International Container Service GmbH
iCON International Container Service is a trading company providing rental, transport, storage and repair of various container types to customers worldwide. Founded in 1998 in Hamburg, iCON has become a leading partner in logistics offering individual solutions in a global network run by four main offices. 
Logic Shipping & Trading ApS
Logic Shipping & Trading ApS was formed in 2014 and is based in Denmark. The company is set up as an NVOCC using its own containers. The main focus is on container transport but it's also involved in container trading.
OCEANBOX Containers Ltd

OCEANBOX is a customer-focused shipping container provider. They supply and deliver shipping equipment worldwide based on requirement levels and aim to balance sustainability in the global equipment resources. Company containers are available either ready on the ground, with FOT releases, as well as their sought-after off-hires with free deliveries directly into your nominated depots in the locations that the customer requires.
O.V. Lahtinen Oy

O.V. Lahtinen is a Finnish container trading company providing global sales and rental of new and used containers. The company operates a large network also offering one-way services connecting Europe and Asia.
Titan Med S.a.r.l.

Founded in 1987, Titan is a worldwide supplier of shipping containers. The company has been a member of Container xChange since 2018.
Sogese SRL 

Sogese SRL is a worldwide container trading company with a strong business focus in Europe, the Middle East, and China and 40 years of experience in the container industry. They manage 20ft, 40ft, and 40ft HC ISO standard units – both dry and reefer. 
Top global container trading markets and best prices
As we have seen earlier, China dominates the container trading market — thanks to container manufacturing units and high volume export. Consequently, shipping container prices are high in the country. Although, there are a lot of factors that impact container prices. Read this blog to learn all about shipping container prices. 
Let's see how the socio-political factors have impacted the prices in China. The graph below states the price development of 20DC in China over the last year.
Looking at the graph, we can see how the prices of 20ft DC were high during last year's peak shipping season. And as expected, the prices began to fall during the holiday season and Chinese New Year in December-February. But the prices should have risen after that. 
Unfortunately, China underwent several strict COVID-19 lockdowns during the first quarter of 2022. Plus, the Russia-Ukraine war further impacted the industry for the worse. As you can see from the decline in the graph, the shipping container prices have taken a hit because of these disruptions. 
And so, the prices of shipping containers can be volatile for more than one reason. Let's see this for top container trading markets in the world. The table below will give you an overview of container price development for cargo-worthy containers. 
Average container prices 2021-22 for 20ft DC
Countries 
2021
2022
China

$2,028

$2,149

The US

$1,723

$1,541

India 

$1,940

$2,372

UAE

$1,620

$2,080

Netherlands

$1,836

$1,691
As you can see, the prices of containers differ from location to location. But you can still get cargo-worthy containers at such good prices. In fact, you can find the best prices for 11 different types of containers across conditions. Let's see how. 
How to buy containers at best prices? 
There's an overall lack of transparency when it comes to container prices. This makes it nearly impossible for you to buy containers on your own terms. Especially, when there's no reliable source to learn the ongoing market trends in different locations. This is where xChange can help you. 
On our trading platform, you can go beyond your local sourcing channels and trade with members beyond your network. Once you enter your requirements, including the location and equipment type, you'll receive offers from multiple sellers in one dashboard. This way, you get market price transparency at your location.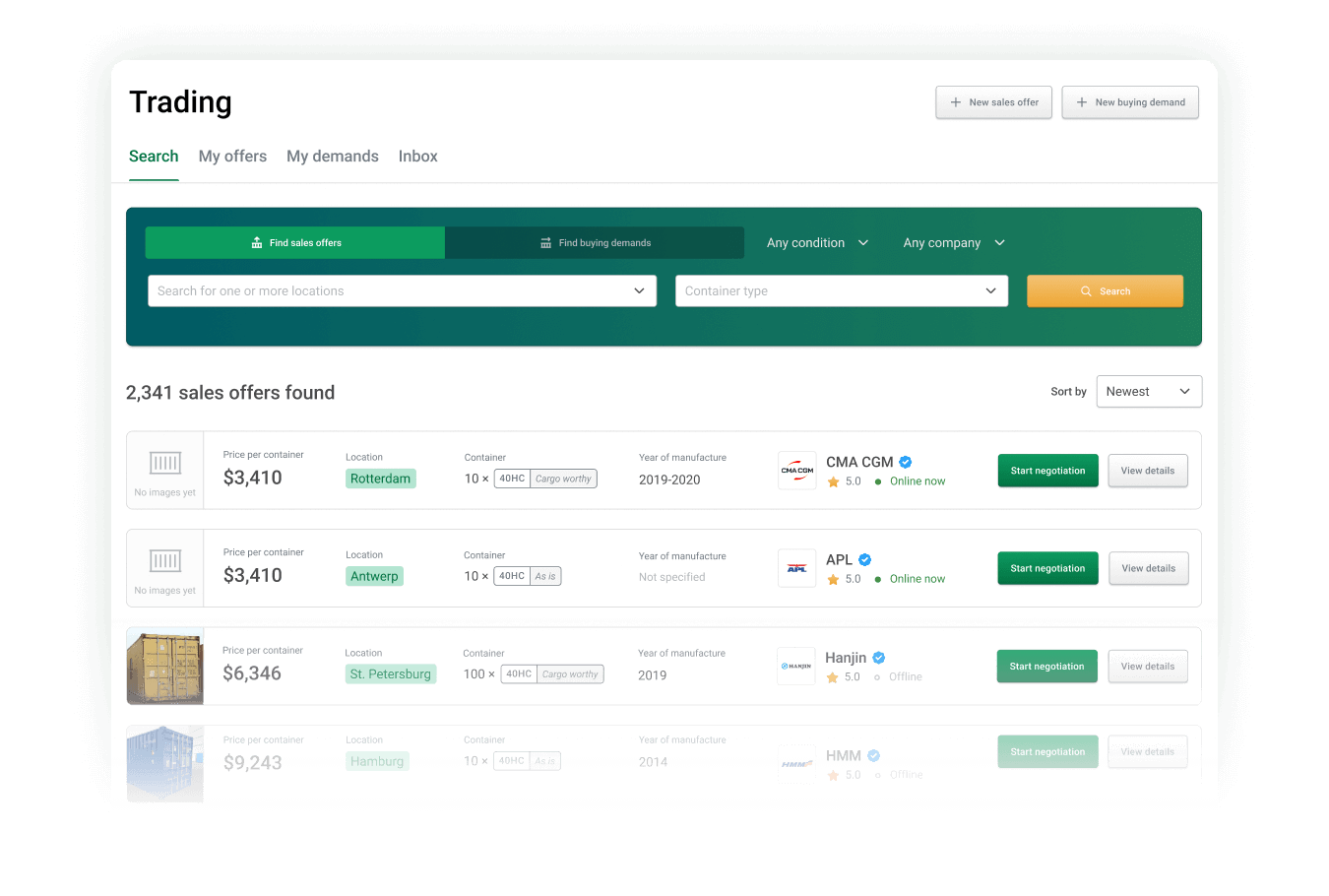 And most importantly, you get to compare the offers and choose the one that fits your budget the best. So, be assured to find shipping containers of all types at the best price in the market. 
And that's not it. You can further bring down the price by negotiating directly with the sellers of the offers you choose. The best part is that you have full control over the process. And all the 1500+ members are vetted — so you get only genuine offers, on your own terms! 
Want more information on these prices? Click here to check out the prices of both standard and special containers in 2500+ locations globally. 
How to sell containers at profitable places? 
There are advantages for the sellers as well. Usually, small to mid-sized container-selling companies are limited to only specific regions. The lack of budget to expand to another location makes it nearly impossible to find new customers. Especially, when the demand is saturated in their location, the traders begin to experience losses rather than profits. Our trading platform solves this issue very easily. 
On xChange, you can expand your container-selling business without setting up any additional infrastructure. On our online trading platform, you can find 1500+ buyers in 2500+ locations. This way, you connect with more buyers from all over the world. You earn a bigger audience for your business by putting your name out there for traders all around the globe. It's one of the most lucrative ways of finding new customers without investing in business development. 
Our online marketplace also makes it significantly easier for you to sell your stock. As we've seen earlier in the blog, buying and selling is a highly manual process. By making your containers available for sale on xChange, you eliminate sending out your excel stock lists via emails to clients.
The best part is you get assured payment. Since all the members have undergone strict background checks, be assured to only find trusted partners. Our xChange digital wallet also assures you automatic payment on the booking of containers. So not only do you definitely get paid but you also get paid on time! 
Want to see the current demand for your containers? Check out the buying demands for your container types in the location of your choice. 
Use Insights to buy & sell containers for maximum profits
Since container trading involves a lot of money, it's only natural to want to earn good profits on transactions. A seller should ideally sell their stock at a high-profit margin. And a buyer should buy containers at a low price. And finding the right time and place to trade is the key to maximizing profits for your business. 
But how do you uncover that information? On Insights, you get real-time data on container prices in 60 locations. The data-driven tool gives you access to market prices for dry containers, high cubes, and reefers in different locations and conditions for the last 2 years. You can even compare the prices and container volumes in 3 locations for a more detailed overview of the global trading trends. Use this information to analyze and identify the most-profitable locations and times to buy and sell containers. Make only informed decisions in this volatile market.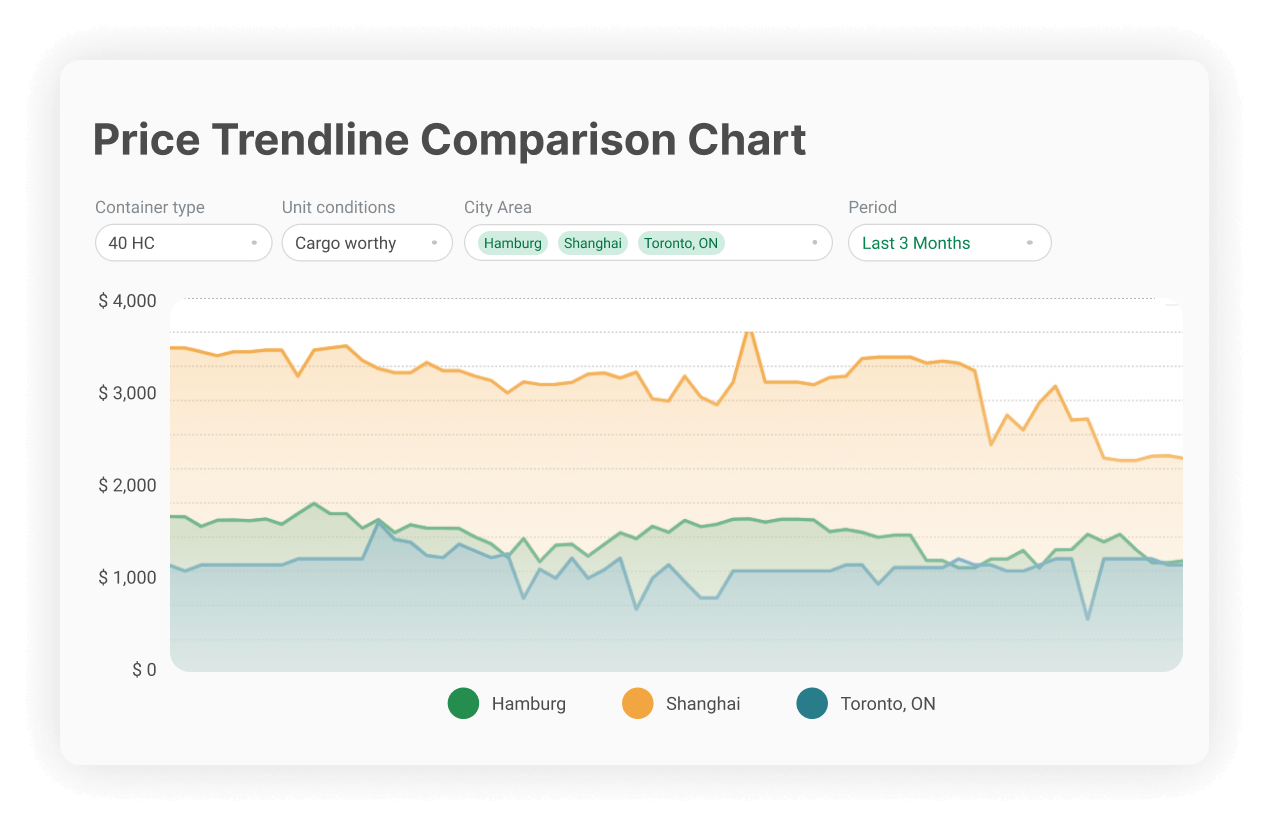 What's best is that Insights is the most-trusted online rescue for container prices. You can first identify market opportunities on Insights and quickly trade containers on the trading platform to earn profits.
In fact, investors can maximize their earnings by buying, repositioning, and selling containers based on Insights data. Are you wondering how? All you have to do is: 
Identify locations with cheap prices for containers.

Buy containers from that location. 

Identify locations with high container prices. 

Reposition the container to that location. You can

use our leasing platform for one-way leasing.

 

Sell containers at this location to earn from both leasing and selling. 
Are you interested to see such market opportunities? You can sign-up for a free 7-day trial of Insights. Just click on the banner below to see the platform. Or, you can directly talk to our experts to get a walkthrough of our trading, leasing, and Insights platforms. Try now! 
Buy and sell containers commission free on xChange 
Do you need a container type that you can't find in your current sourcing channels? We have 10,000+ containers located across 2,500+ unique locations at your disposal. Just browse through the offers and trade containers in just a few easy steps. And you get to that without paying us any commission!
Do you want to buy a single container? Our free Basic trading membership is ideal for exactly your needs.
We are a 100% secure platform with all vetted members. We also protect the buyers. So, you don't have to worry about paying and not getting your assets. Our dedicated Customer Service team makes sure that your container operations go smoothly. And that your payments are completely secure.
Plus, you get to expand your business without making much effort. Want to see how you can do business with companies such as Trident, SeaCo Global, and SeaCube? Then, click on the banner below and book a free tour of the platform with our expert team. They'll answer all your questions and tell you about hot trading offers on xChange. Check it out now! 

Container trading: Common FAQs
Are shipping containers profitable?
The profitability of shipping containers depends on several factors like the demand and supply, availability, location, and market conditions. Owning shipping containers are profitable in the long run, as it saves money on leasing.
Are containers a good investment?
Shipping containers are a good investment if you have a long-term use. When not using containers, you can lease them out to container users to earn passive income.
Is there a market for shipping containers?
There is an online market for shipping containers. On Container xChange, you can buy, sell and lease all types of standard and special containers in 2500+ locations in the world.
How do you make money selling shipping containers?
One of the profitable ways of making money selling shipping containers is by making them available in locations with high demand. This way, you can sell your boxes at higher price.
[custom-related-posts title="Related Posts" none_text="None found" order_by="title" order="ASC"]
Summary
Article Name
Container Trading | Companies, brokers and platforms
Description
How much does a shipping container cost? - is probably one of the most searched logistics related questions on the internet. But to get a proper answer you must know the basics in container trading. And most importantly, the right techniques to search. We decided to make this process a bit easier for you. So, here is everything we know about container trading in 2020.
Author
Publisher Name
Publisher Logo