When you Google "container trading" you get hit with a ton of search results. Brokers, traders, and even statistics pop up all around you. We get that it can be exhausting and complicated trying to navigate in. So, we want to give you a helping hand in your container trading search. Want to skip the blog and directly talk to an expert and see how buying and selling containers works on xChange? Click here to book a free call with our expert team. 
Here's a quick rundown of what we'll go over:
A container trading intro
Competitive container prices
Top 10 container traders on our platform
Now, you might be thinking who are these people on Container xChange and why are they helping me?
Well, we're an online neutral platform that brings together buyers and sellers of containers on our commission-free trading marketplace. We want to make it easy to sell and buy containers with partners you can trust. That's why we came up with the marketplace. And it works just that way – as a marketplace.
Think back to the last time you went grocery shopping. When you looked up and down the shelves, did you try to find the best-looking vegetables – at the best possible price? I know I did.
Then imagine, that instead of walking around surrounded by foods from all over the world, you'd be surrounded by containers. And just as with the groceries at your local store, you'd be able to see all the prices for the different containers. That way you could find the container with just the right height, width, color, and condition for you. At the best price possible. That would be an easy and convenient way to find containers, right?
That's what we thought. And in our quest to make the industry more transparent, we want to help sellers and buyers of containers get the best prices for the equipment when striking deals with vetted trustworthy partners.
Container traders like Oceanbox and O.V. Lathinen already trade on our platform. Want to see what got them using our marketplace? Click on the banner below and our team will give you a free tour of the platform.
Do you want to buy a single container? Then try out our basic trading membership, ideal for one-time buyers!
Now, let's get started on the intro 👇
Container trading 101: An introduction
Are you already a container trading expert? If you're looking for trustworthy partners or want to know what a competitive price is for different container types, feel free to skip this section.
Or for a quick run-down, watch our video here:
Container trading is an integral part of modern container logistics. It sounds simple: One party sells containers, another buys them. But it's not as simple as it might sound. Because what kind of companies sell containers – and who want to buy? Here are the most common parties in container trading:
Manufacturing companies
Container manufacturers are the ones, that make the new boxes. They sell the equipment in big batches. You can read more about the biggest manufacturers worldwide right here. 
Container trading/leasing companies
These companies often own new as well as old containers that they put up for sale.
Logistics companies
This is where it becomes more tricky. Many different types of logistics companies – big as small – are often involved in container trading. These companies can be interested in both selling and buying boxes. Their demand depends on the size and purpose of the company. They might look for/sell a brand new or second-hand container
Individuals
People might also be interested in buying a container. Many times it's for recycling purposes or long-time storage.
How container trading used to be
For many years, container trading has been something you did manually. You depend on having a big personal network, existing partnerships, and industry experience. At times, you even need online research skills.
Let's go over how container trading works. For all intents and purposes, let's imagine that you're a medium-sized freight forwarding company. You urgently need to buy 3 containers in Rotterdam. 
What do you do?
You decide what container type you want to buy.

You decide on a budget for those three containers. The estimations are based on earlier prices or market knowledge.

Then you check the availability of that container type in your area. You do that by googling, sending out emails, and calling around in your network.

When you've found a seller, who has containers you're interested in, you look for their contact details and negotiate details.

Last but not least, you finalize the purchase legally.
Who can help you?
Normally you find a person in your network who can help you get in touch with other sellers and traders. Especially, if you've been in the industry for a while. Then you'll most likely know someone who knows someone.
If you don't have a big extensive network, the other standard option is to go through a broker. A broker is an intermediary between you and the seller. Container brokers usually have a strong regional network. They can take care of the matter from A to Z as long as you pay them. However, it has its downsides using container brokers. They're notoriously known as being non-transparent when it comes to their prices and adding extra charges without you knowing it. You also don't know who your partner is or how they found them. These are some of the reasons why online container brokers are making their way into the market.
Container trading today
So, that's how container trading used to be – and how it still is for many today. But there's no reason for you to spend hours sending out emails after emails, hoping that someone in your network knows someone who might have containers for sale. Unless you have a large network, you might as well whistle for that. And who likes to throw hard-earned money after something you don't know what's for? Speaking for myself, I never swipe around with my credit card before I'm sure of the price.
If you're like me, you like to know what your money is spent on. And to make it even better – who doesn't like a good deal? Here's how to get it 👇
Skip the hassle, lengthy email correspondences, and hairpulling frustrations of looking for traders offering competitive pricing. But how can you know that for sure? Container xChange wants to clear up that hesitant question.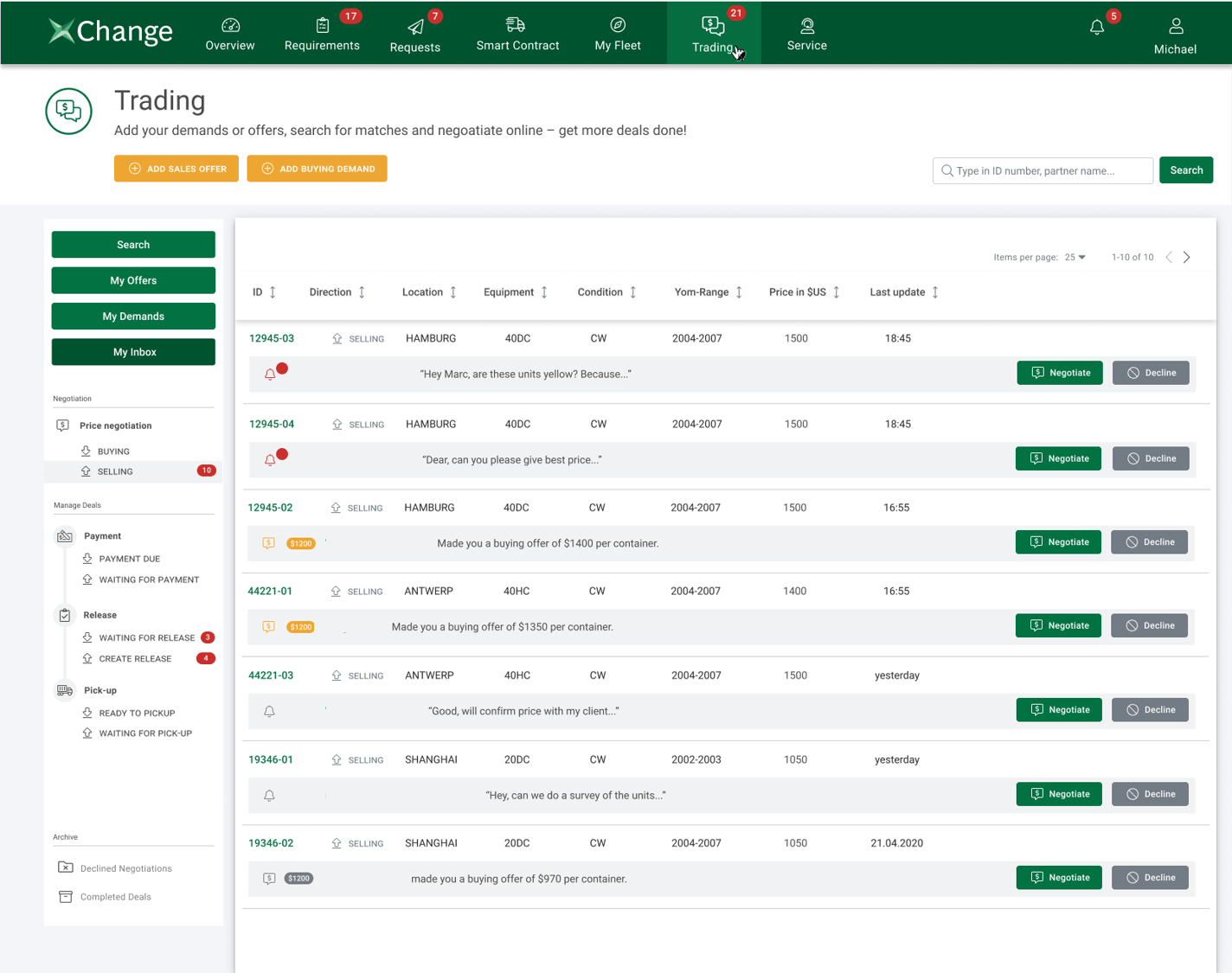 With our neutral online marketplace, you become a part of an international trading network. Here you can scroll through sales offers, and see the prices of all the containers. That way you can compare the prices with each other – just like when you're out shopping. Easy, right?
Do you want to buy a single container? Our basic trading membership is ideal for exactly your needs.
Is container buying and selling instead a part of your business? Then we've got a solution you don't want to miss out on!
Grow profits with xChange trading
For just US$190 per month, you get unlimited access to the platform and its 1,500+ members. As a professional member of the trading platform, you can:
Find vetted partners and make deals. Riskfree.
All companies undergo a mandatory vetting process before becoming members. This means, that you can do business with all xChange members. Risk-free. On top of this, all companies also have public profiles. Here, you can see reviews from previous partners – and how they've rated them. Want an extra layer of security? Keep on reading!
Make 100% secure transactions
Not only, does xChange ensure that all sellers are vetted. We also protect the buyers. So, you don't have to worry about paying and not getting your assets. Our dedicated Customer Service team makes sure that your container operations go smoothly. And that your payments are completely secure.
Know market cost and get better price on containers
Find the containers that fit your needs – and compare prices with other offers. On the trading marketplace, you get a full overview of available containers. And you can see what other sellers want for their boxes. Not satisfied with the price? Text the seller right on the platform and agree on a price right then and there.
Choose between 10,000 boxes and make unlimited deals
Do you need a container type that you can't find in your current sourcing channels? Don't worry. With over 10,000 containers located across 2,500+ unique locations, Container xChange makes it easy for you to find the containers you need.
You get all this right from your computer screen and much more for just US $190 per month. Want to see how you can do business with companies such as Trident, SeaCo, and SeaCube?
Then click on the banner below and book a free 15-minute tour of the platform with our expert team.
What's a competitive container price
Through the container marketplace on xChange, we can see what the average container prices are. The prices vary depending on where the container is located as well as what container type you're after.
Here's an overview of some of the standard containers, that are frequently traded on the platform. The numbers have been updated on 12.03.2021.
| | | |
| --- | --- | --- |
| Type | Condition | ~ Price |
| 40FT | Brand new | 3820 USD |
| 40FT | Cargo worthy/ AS-IS | 3110 USD |
| 20 FT  | Cargo worthy | 1905 USD |
| 40 High Cube | Cargo worthy | 2790 USD |
As you can see, brand new containers, based on their type, might cost between 3600-4800 USD. Used boxes are cheaper, but they also come in different conditions. They can be cargo-worthy, WWT, or As-is. If you're feeling a bit confused with the different container conditions, you can learn all about it in this blog post.
On our platform, we can see that the ports of e.g. Shanghai, Hamburg, Rotterdam, Antwerp, Jebel Ali, Chennai, have the most containers for sale. However, you'll find sales offers in many other ports as well.
10 top-rated container traders on xChange Trading Marketplace
Are you still wondering what companies you can trust when trading containers? So far, it's been difficult to know who you should or shouldn't make deals with. Transparency has for long been a foreign word in the industry. On Container xChange we want you to feel comfortable knowing who you're dealing with. That's why you can see your partners' company profiles. Here there are peer reviews and ratings. And you'll be able to see who they've worked with before.
So, we've gone through the ratings, and here are the 10 top-rated container traders on the xChange trading marketplace:  
With an experience of 20 years, CR Container Trading GmbH is active all over the globe, trading in both new and old containers with some of the markets biggest and most influential companies. The core business of CR Container Trading GmbH is the purchase and sale of containers of all types, as well as renting and positioning them worldwide. 
The company mainly focuses on container trading. It operates especially in Central Europe, CIS and Asian (North-East Asia) countries.

CSI is a container service company that is active in buying, selling and one-way lease of new and used containers.
Founded in 2010 in Shanghai, the main business is railway forwarding & container one-way leasing between Eurasia countries. The company has also become an active container trader and is especially a container supplier for China and Europe.
iCON International Container Service is a trading company providing rental, transport, storage and repair of various container types to customers worldwide. Founded in 1998 in Hamburg, iCON has become a leading partner in logistics offering individual solutions in a global network run by four main offices. 
Logic Shipping & Trading ApS was formed in 2014 and is based in Denmark. The company is set up as an NVOCC using its own containers. The main focus is on container transport but it's also involved in container trading.
OCEANBOX is a customer-focused shipping container provider. They supply and deliver shipping equipment worldwide based on requirement levels and aim to balance sustainability in the global equipment resources. Company containers are available either ready on the ground, with FOT releases, as well as their sought after off-hires with free deliveries directly into your nominated depots in the locations that customer requires.
O.V. Lahtinen is a Finnish container trading company providing global sales and rental of new and used containers. The company operates a large network also offering one-way-services connecting Europe and Asia.
Founded in 1987, Titan is a worldwide supplier of shipping containers. The company has been a member of Container xChange since 2018.

Sogese SRL is a worldwide container trading company with a strong business focus in Europe, the Middle East, and China and 40 years of experience in the container industry. They manage 20′, 40′, 40'HC iso standard units – both dry and reefer. 
These are only a few of the certified trading companies you'll be able to make deals with on our neutral marketplace. Click on the banner below and get in touch with our team. They'll happily show you the trading marketplace, and explain you all the benefits. Ready to make container trading simple and convenient?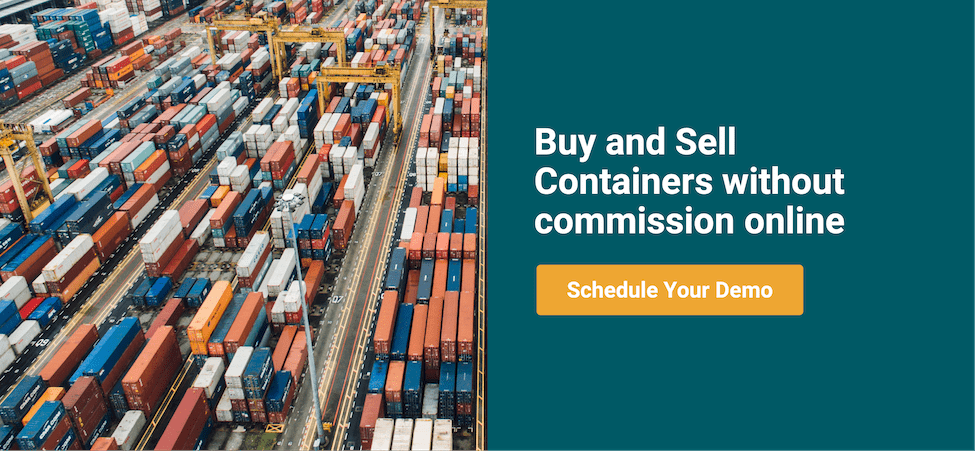 Summary
Article Name
Container Trading | Companies, brokers and platforms
Description
How much does a shipping container cost? - is probably one of the most searched logistics related questions on the internet. But to get a proper answer you must know the basics in container trading. And most importantly, the right techniques to search. We decided to make this process a bit easier for you. So, here is everything we know about container trading in 2020.
Author
Publisher Name
Publisher Logo