It's always tough to move your boxes around. And this is true especially when you're looking for the best rates with an assurance of on-time and safe delivery. If you also want the best deals without compromising trustability, keep reading!
In this blog, you'll learn: 
Ocean freight rates are witnessing inflammation due to various factors. Post-COVID supply-demand change and fluctuation of international dynamics with the potential war in the picture are some reasons.

Ocean freight is safer and more cost-efficient than air freight. It reduces incidents of accidents and soaring trade rates

SOC containers help you save demurrage and detention costs and you can get best deals on xChange

The average price for a container at xChange range from US $815 to US $2,560
Are you having a tough time understanding the recent ocean freight scenario across the global waters? That's entirely normal, especially after the unsettling dynamic between nations in the past few months. It's not only getting harder to find the best label to rely on but also finding affordable ocean freight rates (as per one's needs). 
So you can take the longer route of exploring whom to trust with best ocean freight rates and opt for the hit & trial method. Or you can simply become a member at xChange and find the container you need at the best price without burning a hole in your pocket.
But before you set sails to buying a container, let's explore the basics of ocean freight more.
Ocean freight rates: Definition & price
Cargo is a tricky business and its transportation, trickier. Leaning on a forwarder with your goods is like handing them over a bag full of precious jewels. That's because your business is just as treasurable. That's what makes the process a cumbersome one. And the entire process from the past few months has been a little hazy. It's so especially with business people not being aware of the current ocean freight rates.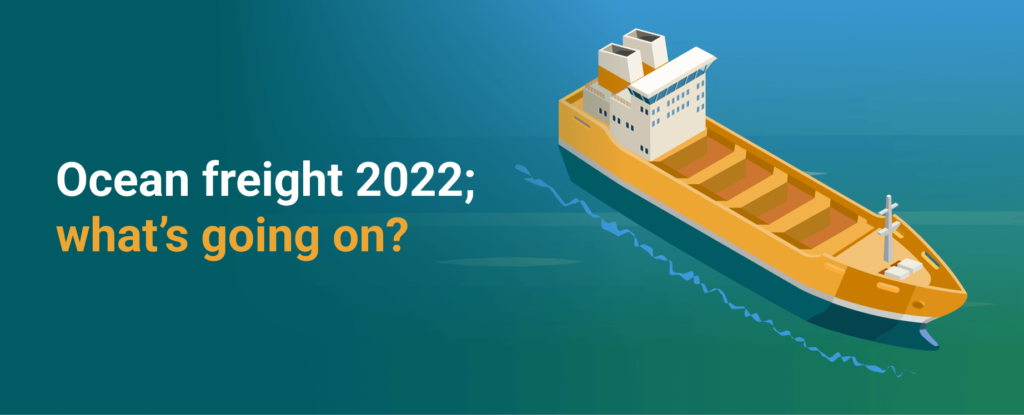 On the other hand, ocean freight rate further refers to the price of commuting shipments directly by the sea. The cost includes the approximate summary of the process during the entirety of the transportation process – including pick-ups, trucking, warehousing etc.
You can't fall in line with the container vocabulary and connect with the above? – Don't worry, we're going to start slow. Let's start with what ocean freight means before we go any further. 
Ocean freight refers to the goods or cargo being transported from point A to B, helping you move your articles hassle-free. Now you'll wonder about air freight being just as sufficient or quick — surprisingly, it isn't. 
Air freight takes the same air route as that for the passengers. It flies the cargo to the destination, making it consume less time to be transported. However, the cost of it is high as it includes a chargeable weight, statistically calculated by combining the weight and size of the consignment, making it costly. Ocean freight is more affordable.
The rates of ocean freight are often fluctuating but the average price* for containers ranges from US $205 to US $2,560.
**This is the average price of container shipping at xChange – based on various transactions happening on the trading platform and are subject to changes
Global economic slowdown: Impact on ocean freight rates
Market volatility is nothing new. In fact, it's something that happens on a regular basis, usually due to unforeseen circumstances. However, there are times when market volatility can be exacerbated by political or economic factors. For instance, the outbreak of a pandemic and in recent times — the brewing tension between two nations is driving up prices and causing inflation. 
While market volatility can't always be predicted, there are ways to minimize its impact on your cargo record/ transactions. xChange helps you to understand the real-time scenario of the industry, and keeps the external factors in check by offering:
Transparency through the entire process

Real-time container tracking and whereabouts

1,000+ vetted members to connect with

Over 10,000+ containers to pick from across 2,500+ locations

10,000+ trusted trading transactions monthly
xChange also offers the best deals and enables you to choose from the routes and big industry names as per your needs. If you're here to get an idea of the latest ocean freight rates, keep reading!
Benefits of using ocean freight and the latest rates
There are many advantages to using ocean freight over other modes of transportation such as: 
It's generally more economical, especially over long distances

It's more efficient in carrying large volumes of cargo

Ocean freight is ideal to transport your oversized or bulky items that might be difficult to transport by air or land 

It's generally very safe, with a low incidence of accidents and 

It's also more environmentally friendly than other modes of transportation such as airfreight. 
Consequently, ocean freight is often the most preferred choice for businesses and individuals when shipping goods.
Latest ocean freight rates to keep in mind
At xChange, we observed a reasonable trade price for all our containers ranging from an average of US $815* for a 20ft DC, US$1,123* for 40ft DC and US $2,560* for a 40ft HC container. 
*The above rates are based on the transactions taking place on the xChange trading platform and are subject to changes.
Want to look for your perfect fit and check its real-time price? You can do that right here-
Calculate ocean freight rates with ease
Ocean freight calculator is a tool that catalyzes smooth transportation of containers as the finances become clear in the initial phase itself, saving future-hassle. Here are the perks of it:
Using an ocean freight calculator enables you to have a clearer idea of your cargo. 

It helps you understand and fix a budget, depending upon your load and requirement.

It lets you free your monetary margins for other processes as you can precisely estimate the cost of moving your containers from desired point to the final destination.

It's calculated as per LCLWhat is less than container load? Less than container load (less than container load, LCL) is a shipping term that refers to the delivery of cargo in smaller quantities than a full container load. A f... More and FCL basis. If you aren't aware of them, here's a quick overview to help you choose your pick –
– A full container load (FCL) shipment is a type of containerized shipping where the shippers pays for the entire cost of the container. They also have exclusive use of it for their shipment, even if they don't have enough goods to fill it up. FCL shipments are typically used when shipping high-value or perishable goods, or when time is of the importance.
– LCLWhat is less than container load? Less than container load (less than container load, LCL) is a shipping term that refers to the delivery of cargo in smaller quantities than a full container load. A f... More shipments are shipped in shared containers. While opting for these, shippers only need to pay for the space they're using . This can be a more cost-effective option for smaller shipments. In addition, LCLWhat is less than container load? Less than container load (less than container load, LCL) is a shipping term that refers to the delivery of cargo in smaller quantities than a full container load. A f... More shipments tend to be faster and more convenient than FCL shipments, as they do not require the time-consuming process of loading and unloading a full container. As a result, LCLWhat is less than container load? Less than container load (less than container load, LCL) is a shipping term that refers to the delivery of cargo in smaller quantities than a full container load. A f... More is a popular choice for smaller shipments that need to be delivered quickly.
Save money on ocean freight rates with SOC containers 
Freights in ocean for businesses is more or less an everyday deal. As a shipper, if you're using containers frequently and lending them from a carrier, it might add more pressure on you. Thus the idea of getting one's own box, i.e., SOC container, seems to be an advantageous one with lesser hassle.
SOC or  Shipper Owned Container, saves you the hassle of looking for a carrier. It further allows you to be flexible with your shipment. Moreover, it gives you  other monetary benefits such as a direct control over the additional costs. Helps you avoid demurrage and detention costs — as you aren't supposed to move containers within a certain time period.  SOC makes the process seamlessly cost-efficient. 
Planning to move your goods through ocean freight? Get your box here. 

xChange helps you pick the right container at your fingertips
Helping you navigate through 10,000+ containers across over 2,500 locations, xChange helps you select your perfect fit in containers. From standardized to special containers & unmatched deals on prices, xChange provides a whole platform to its customers. It allows you to seamlessly transport your cargo without an additional worry on your plate.
xChange provides an easy way for you to connect with reliable container trading companies . Whether you're new or experienced, our platform can help you find the perfect supplier that fits your needs. We do this by giving access not only on xChangers but also some big names in shipping such as Kuehne+Nagel, COSCO and Maersk themselves.
Want to get started and be a part of xChange family? Connect with our support team today and they are happy to take you through the marketplace in action. Click on the banner below to get a call from our team. 
What do we mean by ocean freight rates?
Ocean freight rates refer to shipping charges for trading or leasing containers to transport cargo/ goods.
How to calculate ocean freight rates?
Ocean freight rate is calculated by weighing or measuring (W/M) which is often based on 1000 kgs or 1.000 M3 whichever is more.
Why are ocean freight rates so high?
Ocean freight rates are high because of the ongoing Covid-19 pandemic. Many countries have cut down exports in order to maintain supplies for their citizens. This has created an imbalance between demand and supply. Being in a disturbed international dynamic with a war brewing is another reason that's causing pricing pressures on both sides of the market. Suppliers want higher prices while consumers are looking out only towards themselves with desires that can be met by these increased costs.
[custom-related-posts title="Related Posts" none_text="None found" order_by="title" order="ASC"]
Summary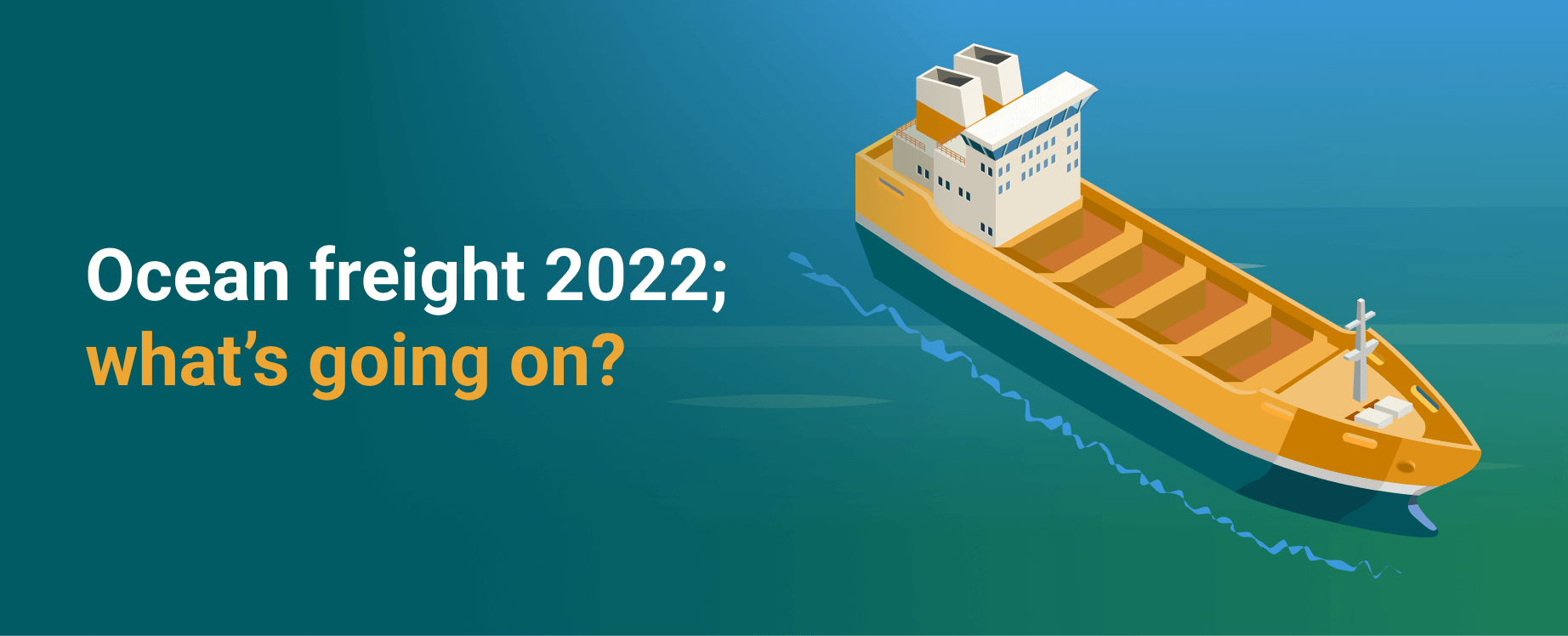 Article Name
Ocean Freight Rates and Coronavirus: Rising rates in the Shipping Industry
Description
Want to know how much it costs to transport your cargo in these unpredictable times? Read on to get the latest ocean freight rates in 2022.
Author
Publisher Name
Publisher Logo